Unveiling the Mysteries of Ontario, Canada
Welcome to Ontario, a province that is as diverse as it is vast. From the bustling urban centers to the tranquil beauty of its forests and lakes, Ontario is a land of contrasts that offers an array of experiences for every type of traveler. Whether you're an outdoor enthusiast, a history buff, or someone who loves to explore cities, Ontario has something to offer that will exceed your expectations. So, let's embark on an unforgettable journey to discover the many treasures hidden in this Canadian gem.
Where is Ontario located?
Situated in east-central Canada, Ontario is a province of contrasts, from the Hudson Bay in the north to the Great Lakes in the south. It's flanked by Quebec to the east and Manitoba to the west. Known for its cosmopolitan cities and natural wonders like Niagara Falls, it's a province that offers something for everyone.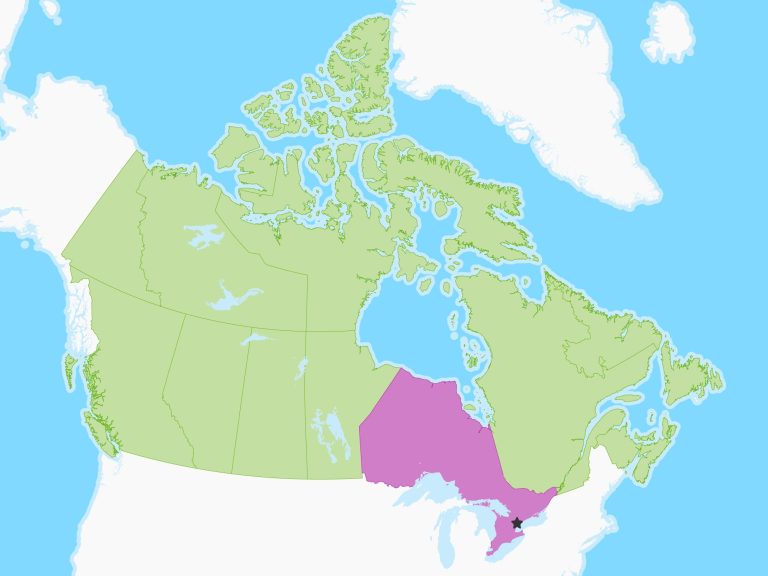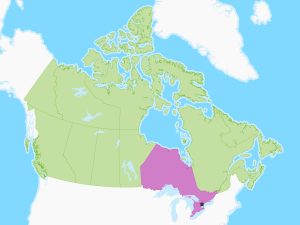 Ontario is located in Central Canada, the country's most populous province. Geographically, it is bordered by Manitoba to the west, Hudson Bay and James Bay to the north, and Quebec to the east and northeast. To the south, Ontario shares borders with the U.S. states of Minnesota, Michigan, Ohio, Pennsylvania, and New York. The province's coordinates are approximately 49°15′N 84°30′W. Ontario's border with the United States primarily follows inland waterways, stretching over 2,700 km and including major rivers and lakes of the Great Lakes/Saint Lawrence River drainage system. The province is divided into two main regions: Southern Ontario, which is more densely populated and includes the cities of Toronto and Ottawa, and Northern Ontario, which is sparsely populated and heavily forested.
Geography: A Panorama of Natural Beauty and Urban Sophistication
Ontario, the most populous province in Canada, is a marvel of geographical diversity. It's not just about the four Great Lakes that grace its borders; it's also about the smaller lakes and rivers that crisscross the province, providing endless opportunities for water-based adventures. The northern part of Ontario is a wilderness haven, with places like Algonquin Provincial Park offering a pure, unfiltered experience of Canada's natural beauty. Conversely, southern Ontario is a tapestry of cosmopolitan cities, with Toronto—often dubbed "Canada's New York City"—the pinnacle of urban sophistication.
Seasonal Facts/Trends in Ontario
| Season | General Weather Description | Temperature Range (°C) | Temperature Range (°F) |
| --- | --- | --- | --- |
| Summer | Hot and humid | 20°C to 30°C | 68°F to 86°F |
| Winter | Cold and snowy | -20°C to 0°C | -4°F to 32°F |
| Spring | Mild and rainy | 5°C to 15°C | 41°F to 59°F |
| Autumn | Cool and colorful | 8°C to 18°C | 46°F to 64°F |
Explore the Seasons: A Comprehensive Guide to Ontario's Weather
Ontario, one of Canada's most populous provinces, offers a diverse range of weather conditions, each with its own set of unique activities and experiences. From the warm summers to the snowy winters, here's what you can expect from the weather in Ontario throughout the year.
Summer: A Season of Lakes and Outdoor Activities
Summer in Ontario is generally warm and humid, with temperatures ranging from 20°C (68°F) to 30°C (86°F). This is the perfect season for enjoying the province's numerous lakes and rivers. Whether it's kayaking, paddleboarding, or simply lounging by the beach, Ontario's summer is all about water activities.
Winter: A Wonderland of Snow and Ice
Winter in Ontario is a season characterized by cold and snowy conditions, with temperatures ranging from -20°C (-4°F) to 0°C (32°F). The province offers a variety of winter sports like skiing, snowboarding, and ice skating. Ontario's winter festivals, such as Winterlude in Ottawa, add a cultural dimension to the season.
Spring: A Time for Renewal and Blossoms
Spring in Ontario is a mild and rainy season, with temperatures ranging from 5°C (41°F) to 15°C (59°F). This is the time when the landscape starts to come alive, with blooming flowers and the return of migratory birds. It's an excellent season for enjoying the outdoors, whether hiking, bird-watching or simply taking a stroll through the parks.
Autumn: A Season of Harvest and Vibrant Colors
Autumn in Ontario is a season of cool temperatures and vibrant colors, ranging from 8°C (46°F) to 18°C (64°F). The changing foliage offers a picturesque backdrop for hiking and apple-picking outdoor activities. It's also a great time to enjoy the province's harvest festivals and explore its scenic drives.
A Journey Through Time: Ontario's Rich Historical Tapestry
Ontario's history is a rich and complex tapestry that reflects its diverse population. The province was initially inhabited by various Indigenous peoples who have left an indelible mark on its culture and history. European explorers arrived in the 17th century, adding another layer to Ontario's rich cultural mosaic. The province played a significant role in forming Canada as a nation, from the fur trade era to the War of 1812 and, later, the Confederation in 1867. Today, Ontario is a melting pot of cultures, thanks to its history of immigration, making it one of the most diverse places in North America.
The Cultural Cornucopia: Ontario's Diverse Arts and Traditions
Ontario is a cultural hub that celebrates diversity in all its forms. From the world-renowned Toronto International Film Festival to the indigenous Pow-Wows, the province offers a range of cultural experiences that are both enriching and enlightening. The Art Gallery of Ontario and the National Gallery in Ottawa are must-visits for art lovers. Music lovers can revel in the sounds of the Toronto Symphony Orchestra or catch live performances at the many music festivals throughout the province.
Cities to Fall in Love With: From Toronto to Thunder Bay
Ontario's cities are as diverse as its landscapes. Toronto, the capital, is a bustling metropolis that offers everything from high-end shopping to a vibrant arts scene. Ottawa, the national capital, is steeped in history and politics, while cities like Kingston and Thunder Bay offer a mix of natural beauty and urban convenience. Each city has unique charm and attractions, making them worthy of a spot on every traveler's itinerary.
Top Cities to Visit in Ontario
If you plan a trip to this beautiful region, visit some top cities showcasing Ontario's unique charm and culture.

Toronto, the capital city of Ontario, is a bustling metropolis known for its iconic skyline and multicultural atmosphere. Here, you can explore world-class museums like the Royal Ontario Museum or indulge in retail therapy at trendy boutiques and shopping districts such as Yonge Street or Queen Street West.

Next up on your list should be Ottawa, Canada's capital city. With its historic landmarks like Parliament Hill and Rideau Canal and numerous national museums and galleries, Ottawa offers visitors an opportunity to delve into Canadian history and culture.
For those seeking outdoor adventure combined with urban amenities, head over to Kingston. Situated on Lake Ontario at the eastern end of the St. Lawrence River Thousand Islands region, Kingston offers plenty of opportunities for boating, hiking trails along waterfronts, or exploring Fort Henry National Historic Site.

Further north lies Thunder Bay – a gateway to breathtaking natural wonders such as Sleeping Giant Provincial Park and Kakabeka Falls. This vibrant city also boasts rich Indigenous heritage, which can be explored through art galleries showcasing local talent from First Nations communities.

Last but not least, Niagara-on-the-Lake is famous for its wineries and scenic beauty; it's no wonder this charming town attracts visitors year-round! Take part in wine tours or simply stroll through picturesque streets lined with shops selling artisanal goods and delicious treats!
These are just a few examples of the top cities worth visiting when exploring Ontario – each offering its unique blend of history, culture, and activities.
Must-See Attractions in Ontario
Ontario, Canada, is renowned for its stunning natural landscapes and vibrant urban centers. Countless must-see attractions are scattered throughout this diverse province, catering to all interests and preferences.

One of the most iconic tourist destinations in Ontario is Niagara Falls. Witnessing these majestic waterfalls' sheer power and beauty is an unforgettable experience. Take a boat tour or stroll along the promenade to get up close and personal with this natural wonder.
A visit to Parliament Hill in Ottawa is a must for history buffs. Explore the historic buildings that house Canada's federal government and learn about the country's political heritage through guided tours and exhibits.

Toronto, Ontario's largest city, offers an array of attractions for visitors. The CN Tower dominates the skyline and provides breathtaking views from its observation deck. Discover world-class museums like the Royal Ontario Museum or indulge in retail therapy at Toronto's trendy shopping districts, such as Queen Street West.

Escape into nature by visiting Algonquin Provincial Park, known for its picturesque lakes, lush forests, and abundant wildlife. Hike scenic trails or paddle along pristine waterways while immersing yourself in the tranquility of this wilderness paradise.

The Thousand Islands region on Lake Ontario offers a unique attraction – exploring beautiful islands on boat cruises or kayak adventures. Marvel at charming cottages perched atop tiny islands as you navigate through crystal-clear waters.

These are just a few highlights among many must-see attractions that make Ontario an incredible destination worth exploring! Whether you're drawn to natural wonders, cultural landmarks, or vibrant cities – there is something here for everyone.
The Great Outdoors: Ontario's Adventure Playground
Ontario, Canada, is a paradise for outdoor enthusiasts. Its vast and diverse landscape offers countless opportunities to explore nature and embark on thrilling adventures. Whether you're seeking adrenaline-pumping activities or simply want to immerse yourself in the beauty of the great outdoors, Ontario has something for everyone.

Hiking enthusiasts will find themselves spoilt for choice with stunning trails. From the rugged terrain of Bruce Peninsula National Park to the breathtaking vistas along the Niagara Escarpment, there's no shortage of scenic hikes leaving you in awe.
For those who prefer water-based activities, Ontario's lakes and rivers provide ample opportunities for canoeing, kayaking, and fishing. The iconic Algonquin Provincial Park allows paddlers to navigate pristine waters while taking magnificent views of untouched wilderness.

Thrill-seekers can get their adrenaline fix by exploring Ontario's caves or trying out rock climbing at places like Rattlesnake Point Conservation Area or Bon Echo Provincial Park. These exhilarating experiences offer a unique perspective on Ontario's rugged landscapes.

During winter, skiing and snowboarding enthusiasts flock to resorts such as Blue Mountain and Mount St. Louis Moonstone. With well-groomed slopes catering to all skill levels, these destinations are perfect for beginners and experienced riders.

If wildlife spotting is your passion, head to one of Ontario's many national parks, where you can spot elusive creatures like moose, black bears, bald eagles, and more in their natural habitats.

With so many outdoor activities available year-round in Ontario, it's no wonder this province attracts adventure seekers worldwide. Whether hiking through majestic forests or conquering towering cliffs, something exciting is always waiting around the corner here! So grab your gear and prepare for an unforgettable adventure in beautiful Ontario!
Ontario's Culinary Landscape: A Feast for the Senses
Ontario's culinary scene is as diverse as its population. The province is known for its farm-to-table cuisine, with local produce featuring prominently on most menus. From the wineries in the Niagara region to the multicultural food markets in Toronto, Ontario, it offers a culinary journey that is both unique and delightful.
Did You Know?
Ontario is home to Canada's tallest structure, the CN Tower, the tallest freestanding structure in the world until 2009.
The name "Ontario" is believed to be derived from the Iroquoian word "Kanadario," meaning "sparkling" or "beautiful" water.
Ontario has over 250,000 lakes, containing about one-fifth of the world's fresh water.
The world's largest freshwater island, Manitoulin Island, is located in Ontario.
Ontario produces over 70% of Canada's manufactured goods.
Google Maps Ontario
Ontario Cities
Embark on a journey through Ontario, a province known for its bustling cities, diverse cultures, and scenic landscapes. From the cosmopolitan allure of Toronto and Ottawa to the natural beauty surrounding smaller cities like Huntsville and Kenora, Ontario offers a wide range of experiences for every type of traveler. Here is a list of cities in Ontario, organized by their size:
Toronto, Ottawa, Mississauga, Brampton, Hamilton, London, Markham, Windsor, Kitchener, Sudbury, Barrie, Burlington, Kingston, Guelph, Thunder Bay, St. Catharines, Oshawa, Cambridge, Waterloo, Brantford, Pickering, Niagara Falls, Peterborough, Sault Ste. Marie, Kawartha Lakes, Sarnia, Norfolk, North Bay, Welland, Belleville, Cornwall, Haldimand, Timmins, Quinte West, St. Thomas, Woodstock, Brant, Stratford, Orillia, Prince Edward, Brockville, Owen Sound, Clarence-Rockland, Thorold, Kenora, Pembroke, Elliot Lake, Temiskaming Shores, Dryden, and more.
Ontario Lakes, Rivers, and Locations
Discover the natural wonders of Ontario, a province that offers an array of lakes, rivers, and unique geographical locations perfect for outdoor enthusiasts. Whether captivated by Lake Superior's vastness or intrigued by the historical significance of the Ottawa River, Ontario provides a diverse range of natural attractions. Below is a list of notable lakes, rivers, and locations in Ontario:
Albany River, Attawapiskat River, Big Trout Lake, Ekwan River, Georgian Bay, Hudson Bay, James Bay, Kesagami Lake, Lac Seul, Lake Abitibi, Lake Huron, Lake Nipigon, Lake Nipissing, Lake of the Woods, Lake Ontario, Lake Simcoe, Lake Superior, Lake Temagami, Lake Timiskaming, Mattagami River, Missinaibi Lake, Missinaibi River, Missisa Lake, Moose River, North Caribou Lake, Nungesser Lake, Ogoki River, Otoskwin Lake, Ottawa River, Rainy Lake, Sandy Lake, Severn River, Shibogama Lake, Trout Lake, Winisk Lake, Wunnummin Lake.
Conclusion
Ontario, Canada, is a destination that should be on your travel list. With its stunning natural landscapes, vibrant cities, rich history, and culture, there's something for everyone to enjoy in this province.

Ontario has it all, whether you're a nature lover seeking outdoor adventures or a city dweller looking for urban excitement. From the breathtaking Niagara Falls to the picturesque Muskoka region with its countless lakes and forests, endless opportunities exist to explore and connect with nature.

Not only does Ontario offer incredible natural beauty but also an abundance of cultural experiences. The province boasts diverse communities that have shaped its history and heritage. Explore the multicultural neighborhoods of Toronto, visit historical sites like Fort York, or immerse yourself in the indigenous culture at one of many First Nations reserves.

Ontario is also home to some top-notch cities that are worth exploring. Toronto is not only Canada's largest city but also a melting pot of cultures, offering world-class dining, shopping, and entertainment options. Ottawa, the nation's capital, showcases impressive architecture, such as Parliament Hill, and offers fascinating museums like the Canadian Museum of History.

If you're an adventure seeker or adrenaline junkie, Ontario won't disappoint either! Embark on thrilling activities such as hiking through Algonquin Provincial Park or participating in water sports along Lake Erie's coast. There are plenty of opportunities for fishing enthusiasts, too!

Whether you're interested in experiencing natural wonders or immersing yourself in urban life – Ontario truly has it all! Its stunning landscapes, rich history, and diverse culture make it an irresistible destination for travelers from around the globe. So pack your bags and get ready to explore everything this magnificent province offers – you won't be disappointed!