Manitoba facts
Capital: Winnipeg
Population: 1,342,153 (2021)
Date of Admission: 1870
Provincial Motto: Glorious and Free
Provincial flower: prairie crocus
Time Zone: Central (CST) – (GMT − 6 hours)
Total Area (Sq Km): 647,797
Total Area (Sq Mi): 250,116
Quick links: About, Major places, History, Geography, Climate, Google Maps, Facts, What to do, Accommodation, Pictures, Useful information, Further readings.
---
Manitoba is a Canadian province located between the Atlantic and Pacific oceans. It is bordered by Nunavut, Hudson Bay, Ontario, Minnesota, North Dakota, and Saskatchewan. Manitoba contains many lakes, including Lake Winnipeg, and has a large forested area. The capital city of Manitoba is Winnipeg. Manitoba became a province in 1870. It has a large agricultural sector, a mixed economy, and an urban orientation. Its political and cultural life has largely avoided the extremes that characterize Western Canadian society.
About Manitoba, Canada
Manitoba is one of Canada's Prairie Provinces and lies between the Atlantic and Pacific oceans. The territory of Nunavut bounds Manitoba to the north, Hudson Bay to the northeast, Ontario to the east, Minnesota and North Dakota to the south, and Saskatchewan to the west. Manitoba is one of Canada's wealthier provinces and contains more than 100,000 lakes. The province is also heavily forested, with two-fifths of the landmass covered in trees. The largest city in Manitoba is Winnipeg, the provincial capital. It was named for the Cree word meaning "the narrows of the Great Spirit," referring to Lake Winnipeg, which only gets wider towards its middle.
Manitoba, which is Canada's fifth province, became part of the Confederation in 1870 when the Red River Settlement was absorbed by Canada. Today, Manitoba straddles the boundary between Prairie and Central Canada, and it has a large agricultural sector and topography similar to those of Alberta and Saskatchewan provinces. The Canadian West is even more complex than it might seem. For example, Winnipeg has a mixed economy, a modern infrastructure, and a multiethnic character. It also shares many similarities with Ontario, while other areas in the Canadian West have experienced economic booms and busts. Manitoba hasn't had these problems. Likewise, the province's political and cultural life has largely stayed away from extremes that often characterize Western Canadian society. The province spans 250,116 square kilometers (or about 647,797 square miles) of land and water.
Principal cities and towns
The Canadian province of Manitoba is one of the country's three prairie provinces. The province is home to a population of 1.3 million people, which ranks 5th among all the provinces and territories in Canada. Additionally, Manitoba covers an area of roughly 649,950 km2, 8th among all the provinces in Canada. To be designated as a city in Manitoba, an urban municipality must have a population of 7,500 or more. Manitoba's 10 cities with this designation are the largest, with Winnipeg as the provincial capital.
10 Biggest Cities in Manitoba by Population: Winnipeg, Brandon, Steinbach, Thompson, Portage la Prairie, Winkler, Selkirk, Morden, Dauphin, Flin Flon.
History
Aboriginal peoples in the Manitoba region first came into contact with Europeans through the fur trade. The Hudson's Bay Company was established in England in 1670 and given a monopoly over the fur trade in the area. The company faced competition from French traders, who eventually organized the North West Company. The two firms competed against each other for several decades before merging into the Hudson's Bay Company in 1821.
The successful settlement of the western United States in the 19th century encouraged expansionists in Central Canada to look to the western regions of British North America as Canada's natural hinterland. The agricultural potential of the vast prairie lands west of Red River was documented by two scientific expeditions in 1857: the Palliser Expedition, commissioned by the British government and led by John Palliser, and the (Henry Youle) Hind expedition, authorized by the government of Canada. Negotiations between the Hudson's Bay Company, the British government, and the government of the new Dominion of Canada resulted in an agreement in 1869 to transfer Rupert's Land to Canada. In 1870, under the Manitoba Act, the territory joined the Confederation as a province; the remaining lands were designated the Northwest Territories.
Geography
One of the unique regions in Southern Manitoba is part of the Saskatchewan Plain. This area includes some of Manitoba's richest, most level prairies and rolling pastures and its vast basin, which borders Lake Winnipeg and Lake Winnipegosis. The Red River of the North and the Assiniboine River are famous rivers near Lake Winnipeg. Various landforms shape the area, including upland plateaus, wooded river valleys, limestone outcrops, forests, and swamps. This natural floodplain has often been flooded; modern-day flood-control measures have mitigated this problem.
Near the province's southeast corner is the Hudson Bay Lowland, which goes about 160 km / 100 miles inland as a flat plain of tundra and muskeg bog. Ontario's Central Lowland extends from this boundary eastward. It is bounded by an anticline or arch of up-faulted rocks that create a natural plateau on which elevations are highest near Lake Superior. The Eastern Upland rises to 213 meters / 700 feet. The Manitoba Escarpment is the highest point in the Riding, Porcupine, and Duck Mountains. The terrain in this area varies from south to north, with fertile soil found just south and west of Lake Winnipeg. North of that, you'll find poorer-quality soils and peat. The Manitoba Escarpment's shield varies in quality, but overall it's not conducive to cultivation.
Mountains to see Baldy Mountain, Turtle Mountain, and Hart Mountain.
Climate
Manitoba's location at the center of North America means it can experience extreme weather. Temperature and precipitation decrease going south, and precipitation decreases as you go east. The flat landscape in some areas also makes Manitoba susceptible to multiple weather systems, icy Arctic high-pressure air masses from the northwest. These usually happen during January and February. Air masses often emerge from the Southern United States in the summer when intense air pressure ridges into North America. Warmer, wetter air is drawn northward from the Gulf of Mexico. Generally, this happens primarily in July or August.
Google Maps Manitoba
Manitoba is a province in central Canada that is home to various exciting objects and places you can discover using Google Street View. Here are a few examples:
The Forks: This historic site in Winnipeg is home to a market, restaurants, and other attractions. It is a popular spot for tourists and locals alike to shop, eat, and enjoy the outdoors.
Churchill Northern Studies Centre: This is a research facility located in Churchill dedicated to studying the natural history and culture of the region. It is a great place to learn about the Arctic and its wildlife, including polar bears and beluga whales.
Riding Mountain National Park: This is a beautiful park located in the Manitoba Escarpment that is home to a variety of plant and animal species. It is a popular spot for hiking, camping, and other outdoor activities.
The Canadian Museum for Human Rights: This is a museum in Winnipeg dedicated to exploring the concept of human rights and how they have been violated throughout history. It is a unique and thought-provoking attraction that is well worth a visit.
Manitoba Legislative Building: This is a historic building in Winnipeg that serves as the seat of the provincial government. It is a beautiful example of Beaux-Arts architecture and is open to the public for tours.
These are just a few of the many interesting objects and places you can discover using Google Street View in Manitoba. We are sure you'll find many more as you explore this beautiful part of the country!
Did you know?
Manitoba has a lot of ethnic diversity, with many groups settling in different parts of the province.
Manitoba is home to many North American aboriginal groups, including the Assiniboin, Ojibwa, Cree, Chipewyan, and Inuit.
Aboriginal peoples have lived in the region for thousands of years, but their numbers have been reduced due to exposure to European diseases like smallpox.
The Métis people, who have indigenous and European ancestry, developed a unique plains culture in the early 19th century.
After 1896, immigrants from Eastern Europe arrived in Manitoba in large numbers. The province's population declined during the Great Depression and World War II but has grown steadily.
The largest religious denominations are Roman Catholicism and the United Church of Canada, but many smaller groups are also represented. Winnipeg has the largest Jewish community in the Prairie Provinces.
Although the climate and soil types limit agricultural production in Manitoba, it remains an essential sector of the economy. In some places, farming has been a tradition for generations with limited success.
What to do in Manitoba
There are many different things to do in Manitoba, all depending on what you are interested in. There are several different trip options, such as going up north to see the aurora borealis or taking a paddle steamer down south. If you are more into city life, downtown Winnipeg has different programs and events. Outdoor enthusiasts will find plenty of opportunities to enjoy nature, with numerous hiking and biking trails throughout the province. No matter your interests, you will find something to do in Manitoba!
Manitoba is the home of many unique landmarks and attractions, such as the Canadian Museum for Human Rights, Riding Mountain National Park, The Forks Market, Winnipeg Art Gallery, Manitoba Museum, Assiniboine Park Zoo, and more.
With its many amazing tourist attractions, there are plenty of things to do when visiting Manitoba. These include visiting the Forks Market in Winnipeg for summer and winter activities, Grand Beach Provincial Park, and going to the Icelandic Festival of Manitoba in Gimli and neighboring Whiteshell Provincial Park.
Churchill in Manitoba is the perfect destination for a tour and close-up views of bears. Visit in October and November to catch a glimpse of them. Or, take a tour at the Assiniboine Park Zoo and get up close with some live bears.
Winnipeg is a city with a lot to offer visitors. There are many different attractions to see and activities to participate in. Whether you're interested in exploring the city's history or enjoying its modern amenities, there's something for everyone in Winnipeg.
Accommodation in Manitoba
Manitoba has many different types of hotels and motels to choose from, depending on your budget and style preferences. If you're looking for a luxurious experience, plenty of 5-star hotels will offer all the amenities you could ever want or need. For those traveling on a tighter budget, don't worry - plenty of great options are available to suit your needs without breaking the bank. Whatever your style or budget, there's sure to be an accommodation option in Manitoba that's perfect for you!
Those in Manitoba looking for budget-conscious accommodations will be pleased to find many affordable options with great amenities. You may find features like air conditioning, wireless internet, and television. While budget-friendly locations tend to be more minimalistic, Mid Range places will have more excellent amenities. They are often centrally located and more desirable for that reason. The most expensive accommodations in Manitoba include high-end options that offer world-class amenities, such as swimming pools, saunas, jacuzzis, and spas. Those are more luxurious.
Reserve a room
Tips for accommodations in Manitoba:
| | | |
| --- | --- | --- |
| Budget-Friendly | Mid Range | High End |
| Bellas Castle Bed and Breakfast, Morden | Victoria Inn Hotel and Convention Center Winnipeg | Delta Hotels by Marriott Winnipeg |
| Aromansse Bed & Breakfast, Winnipeg | The Fairmont Winnipeg | Mariaggi's Theme Suite Hotel & Spa, Winnipeg |
| Micro Inn and Suites by Wyndham Portage La Prairie | The Fort Garry Hotel, Spa and Conference Center, Ascend Hotel Collection, Winnipeg | The Souris Hotel |
Some notable downtown hotels are the Fairmont Winnipeg, Fort Garry Hotel, The Grand Winnipeg Airport Hotel, and the Alt Hotel. The city also has many chain hotels like Hampton Inn & Suites by Hilton, Marriott Hotels of Canada, Hilton Hotels & Resorts, and Best Western Premier.
While most people think of a bed and breakfast as a quaint country inn, this is not always the case. Many bed and breakfasts are located in urban areas, some even in large cities. There are many bed and breakfasts located in Winnipeg, Canada.
Pictures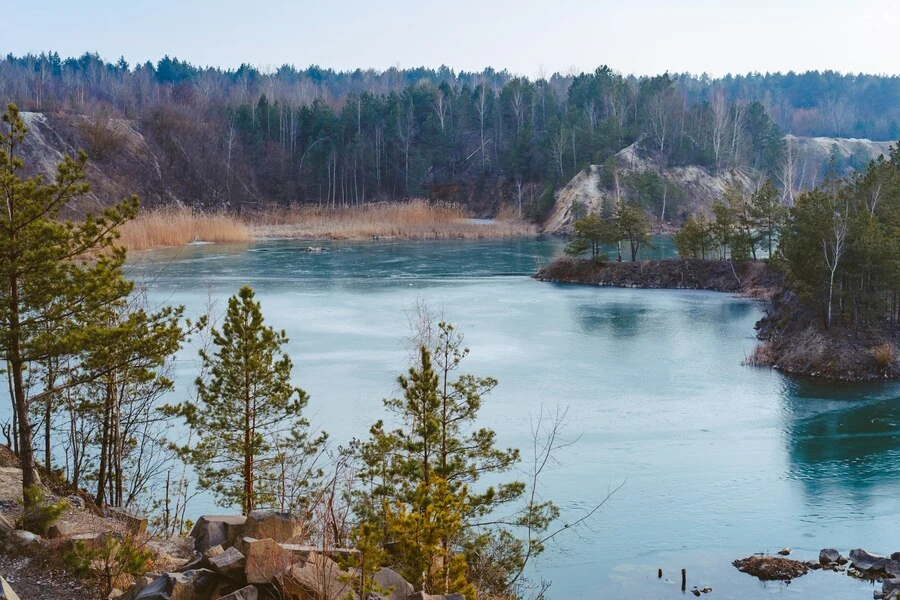 Useful information
Whether you know where your journey will end or if you're just along for the ride, Manitoba has some fantastic destinations. Its capital city, Winnipeg, welcomes families with its many attractions and options. Located on the edge of the Arctic Circle, Churchill is home to polar bears and a popular destination for wildlife viewing.
For general travel information or trip planning, visit the Travel Manitoba site.
Car: Visit this site for Manitoba road conditions.
Bus: There are many bus lines and companies that let you travel to Winnipeg and dozens of other destinations in Manitoba, while public transportation is available in Winnipeg, Brandon, and Thompson.
Maple Bus Lines, Northern Manitoba - Winnipeg Depot: 936 Sherbrook Street, R3A 1N2
Mahihkan Bus Lines, Northern Manitoba - Winnipeg Depot: Winnipeg James Armstrong Richardson International Airport, Main Terminal, Bus Loading at Pole #1.
Rail: Canada's major rail passenger service, VIA Rail Canada, arrives and departs from Winnipeg and reaches many of Manitoba's smaller and northern communities, including Churchill. VIA Rail Canada Inc. - VIA Ticket Office: 146-123 Main Street, Winnipeg, MB R3C 1A3.
Plane: Winnipeg welcomes passengers from around the world via the James Richardson International Airport. Many destinations in the province have airports that serve regional carriers, but if you're going to Brandon, you'll appreciate the Brandon Municipal Airport. If you're going remote with no airport, your best option is to stop at an airstrip or use a plane that flies on floats.
You may also be interested in
Did you like this Manitoba map and information page? Please don't forget to share or bookmark this content on Canada Maps.com!