British Columbia facts
Capital: Victoria
Population: 5,000,879 (2021)
Date of Admission: 1871
Provincial Motto: Slendor sine occasu (Splendour without diminishment)
Provincial flower: Pacific dogwood
Time Zone: Pacific (PST) – (GMT − 8 hours) | Mountain (MST) – (GMT − 7 hours)
Total Area (Sq Km): 944,735
Total Area (Sq Mi): 364,764
Quick links: About, Major places, History, Geography, Climate, Google Maps, Facts, What to do, Accommodation, Pictures, Useful information, Further readings.
---
British Columbia is Canada's westernmost province, bounded by the Pacific Ocean. It's known for its natural beauty, as its name suggests ("Columbia" is a Latinized version of the explorer George Vancouver's last name). The province includes mountainous terrain, including North America's highest peak outside Alaska, Mount Robson. British Columbia also has densely forested areas and rivers like the Fraser River, which flows through Vancouver.
About British Columbia, Canada
British Columbia is a province in Western Canada, north of Washington and south of Alaska. It is bounded on the east by Alberta and Yukon, to the west by King George Island in the southern end of the Gulf of Alaska and the Pacific Ocean, and to the north by Yukon Territory. British Columbia is approximately 1,180 km / 750 miles long and 1,030 km / 600 miles wide at its widest point. There is an unbelievable amount of diversity in this land, from the coast to the mountains. The coast has stunning views and fjords, while the mountains are vast with diverse climates and scenery.
British Columbia is one of the last regions in North America that was explored and settled. In the second half of the 20th century, it emerged as one of the leading provinces in Canada for population, economic wealth, and overall growth. With Vancouver at its center as one of Canada's largest ports and western North America, British Columbia is a land with something for everyone. You will find perennially snow-covered peaks, windswept beaches, endless rainforests, and verdant valleys. The population includes five million people in the province plus three million more in Metro Vancouver, Victoria, and nearby regions.
Principal cities and towns
BC is home to 52 cities, the largest and smallest being Vancouver and Greenwood. The top 10 largest cities are Vancouver, Surrey, Burnaby, Richmond, Abbotsford, Coquitlam, Kelowna, Langley Township, Saanich, and Delta.
History
When Europeans first arrived in British Columbia, more than 80,000 Indians lived there. These people lived in coastal groups, including the Kwakiutl, Haida, and Coast Salish. These groups primarily relied on resources from the sea and the large cedar trees of the coast. Experts at fishing used traps, nets, hooks, spears, and an ingenious toggling harpoon for hunting whales. Indigenous people would wear clothing made of skins and cedar bark covered by patterned blankets woven from the wool of mountain goats. They would live in rectangular buildings that were divided into compartments for families. Homes were located near beaches suitable for canoe landings with just a high tide mark for safety. These peoples were already enterprising traders of copper, blankets, elk hides, furs, shells, and enslaved people. They also enjoyed a rich social life with potlatch ceremonies around giving gifts to guests from competing families. The purpose of these ceremonies was to establish bonds between communities and celebrate important events in an individual's life, like birth or coming-of-age ceremony.
Geography
British Columbia is one of the few provinces that sits entirely in a mountain system called a cordillera. Most of this province aligns along the west coast, sloping upwards to form ranges that cut through the center of BC, dividing it into many valleys. Human settlement has been concentrated on this plateau. The Coast Mountains, which lie in the western part of BC, and the Canadian portion of the Rocky Mountains in the eastern part are the two significant ranges in British Columbia. The province reaches its highest elevation at Mount Fairweather (4,663 m /15,300 ft), located on the Alaska border in the St. Elias Mountain range, a branch of the Coast Mountain range. Vast lowlands and pieces of land are situated between the mountains on Vancouver Island and the mainland. Hundreds of narrow fjords curl around the base of towering mountains, including the Gwaii Haanas National Park Reserve. The Fraser River delta is at the coast's edge, behind Vancouver to the south. It has vast lowlands that pocket many locations in its coastal region. Inland across Canada's larger plateaus, canyons cut deep into them, and mountain ranges like Hazelton, Skeena, and Cassiar Mountains surround them.
Major lakes are Williston Lake (1,761 km2 / 680 sq mi), Nechako Reservoir (890 km2 / 340 sq mi), Atlin Lake (775 km2 / 299 sq mi), Babine Lake (495 km2 / 191 sq mi), Kootenay Lake (407 km2 / 157 sq mi).
Climate
Latitude, mountains, and the Pacific Ocean influence the weather in British Columbia. Temperature, average rainfall, and hours of sunshine can vary over short distances. However, generally, temperatures are warmer in the south and mild points on the coast, and rainfall is heaviest in coastal communities.
British Columbia is home to many climates, mainly due to the Japanese current, Kuroshio. The southwest corner of the province, where the Kuroshio warms the coast and adjoining mountain ranges, experiences one of the most beneficially temperamental climates because the current tempers it. The winds coming from the Pacific, flowing over successive mountain ranges, cause plenty of variation in temperature and precipitation. Summers are comfortably cool, whereas winters are not severe; temperatures hardly go down to 0 °F (- 18 °C). In the Okanagan and Cariboo regions to the east, though, wider variations are recorded; summers are hot while winters are colder. In the farther east regions, up against the Rockies, similar temperatures prevail with heavier snowfall. However, the norms are severely cold winters and hot summers in the Peace River region and northern interior.
Google Maps British Columbia
British Columbia is a province located on the west coast of Canada that is home to various exciting objects and places you can discover using Google Street View. Here are a few examples:
Stanley Park: This beautiful park in Vancouver is home to various plant and animal species and several popular attractions, including the Vancouver Aquarium and the Stanley Park Miniature Train.
Capilano Suspension Bridge: This popular tourist attraction in North Vancouver has a series of suspended bridges and walkways that offer stunning views of the surrounding forest.
Butchart Gardens: This is a beautiful garden located in Victoria that is home to a variety of plant species and outdoor sculptures. It is a popular spot for visitors to relax and enjoy the area's natural beauty.
Whistler Blackcomb: This popular ski resort in the Coast Mountains offers a variety of winter sports and activities, as well as stunning views of the surrounding landscape.
Haida Gwaii: This is an archipelago located off the coast of British Columbia that is home to a variety of plant and animal species, as well as several Haida villages and cultural sites. It is a beautiful and unique part of the province that is worth exploring.
These are just a few of the many interesting objects and places you can discover using Google Street View in British Columbia. We are sure you'll find many more as you explore this beautiful part of the country!
Did you know?
British Columbian society is one of the more British of Canada's 10 provinces but is also one of its most ethnically diverse.
When the California Gold Rush peaked in 1848, more than 25,000 miners poured into Victoria. The British government dispatched officials and Royal Engineers to administrate the colony.
There was a significant influx of immigrants from the British Isles in the early 1900s. This reinforced the ethnic character of the province.
The earliest British Columbia settlers were natives who had enjoyed a long prehistory. The memory of their history lives in the names they gave to many of the geographic features. Many mixed-race people also settled along the frontier; by 1850, there were 34,000 whites and 47,000 mixed-race inhabitants.
British Columbia is a heavily mountainous province with rivers and lakes, meaning valleys have always been important to British Columbians. For example, southern British Columbia has more population density due mainly to the many valleys.
British Columbia's economy comprises a mixture of public and private enterprises. The service industry has become the largest sector, followed by manufacturing.
Agriculture is integral to British Columbia's economy, but it is very diverse and limited by the province's geography.
British Columbia is home to a significant forestry industry that has undergone some changes in recent decades, including an increase in production in the province's interior and a shift towards a few large multinational corporations. In the 1990s, public concern over logging practices led to conservation becoming a significant government issue.
Several species of Pacific salmon traditionally provided the foundation for British Columbia's sportfishing and commercial fishing activity, but groundfish now makes up the largest portion of the annual commercial catch. Halibut, herring, and various shellfish are also much sought after.
What to do in British Columbia
There are plenty of things to do in British Columbia; For those who love the outdoors, plenty of trips and programs are available. BC offers some of the best hiking trails in the world and great biking and camping opportunities. Vancouver is an excellent city for shopping and exploring, while Whistler is perfect for a ski trip. Plenty of cultural activities are available, such as visiting First Nations villages and participating in traditional ceremonies.
When in British Columbia, visit Gwillim Lakes in the Kootenays. This is one of many beautiful hikes in the province with a rich hiking tradition. Some other great trails include the Sunshine Coast Trail, Juan de Fuca Trail, Icicle Creek Canyon Trail, Iceline Trail, Rim Trail, and more.
British Columbia is home to many spectacular natural and man-made sights and attractions, such as the elegant Stanley Park, breathtaking Whistler Blackcomb, great Capilano Suspension Bridge Park, the stunning Butchart Gardens, Big White Ski Resort, Yoho National Park Of Canada, and many more.
Vancouver is an exciting and lively city with lots of beautiful outdoor attractions. One of the most popular parks in Vancouver is Stanley Park, which includes the Vancouver Aquarium. There's also Capilano Suspension Bridge Park and a variety of museums, gardens, art galleries, and tons more!
There's plenty to do in Vancouver: Hike the iconic Brockton Point Totem Poles, watch the unique Ski Grouse Mountain, and spend time admiring the Museum of Anthropology. You can also relax at Kitsilano Beach.
Accommodation in British Columbia
British Columbia is a diverse and beautiful province in Canada that offers visitors a wide range of accommodation options. Here are some tips for finding a place to stay in British Columbia:
Research different areas: British Columbia is a large province with many different regions, each with their unique characteristics and offerings. Research different areas to find the one that best suits your interests and budget.
Consider vacation rentals: Vacation rentals, such as cabins, cottages, and chalets, can be a great option for those looking for a more private and secluded experience. They are also often more budget-friendly than traditional hotels.
Look into bed and breakfasts: Bed and breakfasts offer a more personal and intimate experience and are often run by local residents who can provide valuable information and insights about the area.
Check out hostels: Hostels are a budget-friendly option for travelers and offer shared accommodations and common areas. They are perfect for solo travelers or backpackers.
Look for deals and discounts: Many hotels and vacation rentals offer discounts and deals, especially during the off-season. Be sure to check for promotions and special offers when planning your trip.
Be aware of the peak seasons: Some areas can be very busy during the summer, and it's better to book well in advance or look for accommodation in less crowded areas or during shoulder seasons.
Choose the type of accommodation that fits your needs: Some travelers prefer camping, some prefer luxury resorts, some like to stay in hotels, and others like to stay in vacation rentals. Make sure you find the type of accommodation that fits your needs and preferences.
Keep in mind that British Columbia is quite a big province, so depending on the season and the area you're looking to visit, availability and prices may vary.
Tips for accommodations in British Columbia:
| | | |
| --- | --- | --- |
| Budget-Friendly | Mid Range | High End |
| Salt Spring Inn, Ganges | Wisteria Guest House, Ganges | Quarrystone House B&B, Fernwood |
| Heron's Landing Hotel, Campbell River | Swans Brewery, Pub & Hotel, Victoria | Crown Mansion Boutique Hotel & Villas, Qualicum Beach |
| The Craigmyle, Rockland, Victoria | Old House Hotel & Spa, Courtenay | Prestige Oceanfront Resort; BW Premier Collection, Sooke |
Reserve a room
Looking for accommodation in British Columbia? There are plenty of options to choose from, whether you're looking for a hotel, motel, or vacation rental. And with so many beautiful places to stay, it's easy to find the perfect place to call home away from home.
Tips for accommodations in Vancouver:
| | | |
| --- | --- | --- |
| Budget-Friendly | Mid Range | High End |
| Victorian Hotel | Blue Horizon Hotel, West End | Fairmont Pacific Rim |
| Best Western Plus Sands, West End | Auberge Vancouver Hotel | Shangri-La Vancouver, West End |
| YWCA Hotel Vancouver | Pan Pacific Vancouver | JW Marriott Parq Vancouver |
Vancouver has surprisingly many cheap hotels, but most are located on the east side of Downtown and aren't very nice. If you're on a budget, staying at hostels or the YWCA is better. Still, there are plenty of mid-range hotels which offer fair prices. Vancouver is a tourist town, so be sure to book early during the summertime because it will get hard to find space. The best options are in the West End because it is convenient, quiet, and close to Stanley Park. If you can't afford anything better, Gastown (east of Downtown) and Chinatown (west of Downtown) offer cheap accommodation. Still, it might be unsafe to walk around after dark – especially in Downtown Eastside (east of Gastown).
Pictures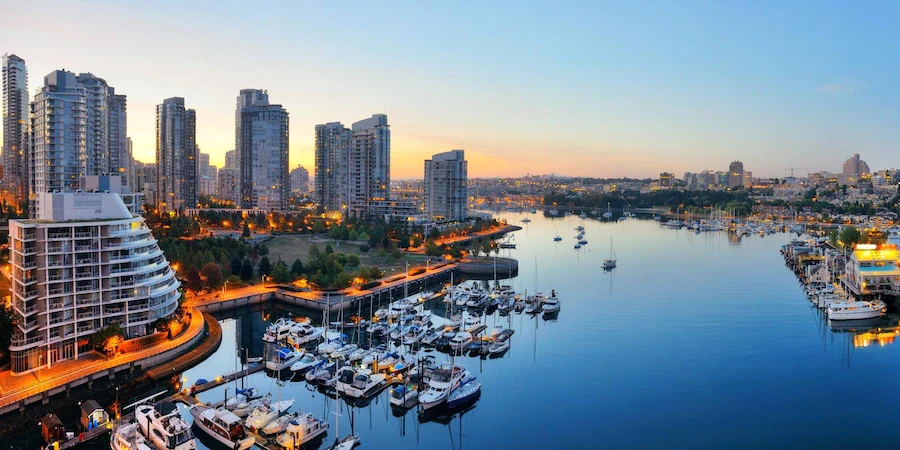 Useful information
There are many ways to get around British Columbia, including by plane, train, boat, or car. Please consult the following websites for more information.
British Columbia site helps you to learn everything you need to know about British Columbia, Canada, with its handy guide. It includes an overview of your BC hotel taxes, the Canadian border and customs application process, facts about banks and currency, and much more.
Travel British Columbia site is owned by the BC Lodging and Campgrounds Association. It has information on camping, tenting, and RVing in BC, as well as alternative lodging options to hotels such as cottages, cabins, lodges, and glamping (glamour camping). Designed to help people find information about the kinds of travel or vacation experiences they can encounter in British Columbia, the site assists tourists, campers, and RVers in locating accommodations with links to maps, circle tours, camping, and RVing tips, travel information, and more.
Air: Vancouver is the main gateway to British Columbia. There are dozens of smaller airports throughout BC, and seaplane and helicopter services are available along the coast. BC has major airlines such as:
Bus: BC Transit is the provider of public transportation services in most cities and towns in British Columbia. On Vancouver Island, BC Transit operates the Victoria Regional Transit Service. In Metro Vancouver, which consists of 21 municipalities, buses are operated by TransLink. TransLink has a webpage dedicated to bus schedules and a trip planner. Various bus and coach lines offer intercity travel or tours in British Columbia and smaller operators for charters and shuttle services. Some companies are listed below.
Ferry Travel: British Columbia has numerous coastal and inland ferry routes to explore.
BC Ferries operates over 30 destinations in Metro Vancouver, Vancouver Island, Sunshine Coast, Southern Gulf Islands, Northern Gulf Islands, Central Coast, and Haida Gwaii regions. There is a per-person and vehicle fare to travel on BC Ferries.
Inland ferries in British Columbia cross 14 lakes and rivers, all free of charge and operated by the Ministry of Transportation. Click here to find the route and schedule for each one.
Highways: British Columbia has a well-maintained network of roads and highways, with good signage. That makes driving an excellent way to see the province. Car rental companies are conveniently located at many airports and all major towns. RV travel is also popular here, and many campgrounds offer RV-specific accommodation, with hook-ups for the power supply, for example. Most RVs don't require a special license to drive or tow.
Road conditions: For the most accurate and up-to-date information on BC road conditions 24 hours a day, check the DriveBC website. The Ministry of Transportation and Infrastructure operates this site.
As with any major weather event, safety is essential. Weather can change rapidly and significantly affect road conditions. For this reason, the website's information may not reflect current changes that have taken place since the last update. Drivers should adjust their speed and driving actions to the changing weather forecast and conditions.
Rail: Amtrack Cascades operates a connecting passenger train service between Vancouver, BC, and points across the Northwest via Washington state. Direct service is offered between Seattle, WA, Portland, OR, and Vancouver.
The British Columbia Rapid Transit Company (BCRTC), on behalf of TransLink, maintains and operates the Expo Line and Millennium Line, as well as the West Coast Express.
Via Rail Canada serves over 450 destinations, including rapid intercity services, cross-Canada routes, and destination packages and services to remote communities.
Rocky Mountaineer is a transportation company specializing in luxury train journeys through British Columbia and Alberta. Packages go both ways on the three routes, so passengers can start from either Vancouver or the Rockies.
SkyTrain has three automated lines around Metro Vancouver:
You may also be interested in
Did you like this British Columbia map and information page? Please don't forget to share or bookmark this content on Canada Maps.com!