New Brunswick facts
Capital: Fredericton
Population: 775,610 (2021)
Date of Admission: 1867
Provincial Motto: Spem reduxit (Hope was restored)
Provincial flower: purple violet
Time Zone: Atlantic (AST) – (GMT − 4 hours)
Total Area (Sq Km): 72,908
Total Area (Sq Mi): 28,150
Quick links: About, Major places, History, Geography, Climate, Google Maps, Facts, What to do, Accommodation, Pictures, Useful information, Further readings.
---
New Brunswick is a region of incredible scenery, abundant forests, and some of the world's most amazing attractions. The Bay of Fundy has the world's largest tides to give you an idea of what's here. There are more whales here than anywhere else in the world. Along with stretches of wilderness coastline and charming harbor villages, there is more marine life than anywhere else in the world.
Add a list of top-tier cuisine, beautiful architecture, and some of the friendliest residents found anywhere in Canada. You'll likely be asking yourself how the population can remain so laid-back. The truth is that New Brunswick has been around for centuries – and its past isn't without its fair share of tumultuous moments. Flanked by Moncton and Fort Beauséjour, trees thick with fruit perfume the air with their sweet scent. On this bloodstained ground in 1755, one of the last battles for possession of Acadia took place as British soldiers overcame their French counterparts. British Loyalists had settled other areas in New Brunswick, American colonists residing under British rule after the American Revolution, and Irish immigrants fleeing famine at home – which is why a trip to this province feels more like two vacations split into one.
When it comes to being a visitor to New Brunswick, there's something for everyone. From grand gestures like the Bay of Fundy and the Giant Rock Formations carved by its tide to small gestures like the gifted touch of a sculptor in their studio. From experiences as colorful as Shediac's annual Lobster Festival and the scenic mountains of lobster to ones with less color, such as gentle waves on Baie des Chaleurs. With all these things, you'll never be bored in New Brunswick – there are inns with five stars and also camping under a million stars.
New Brunswick is affectionately referred to as the "hub of the wheel" because it is situated at the heart of Maritime Canada. The province is largely surrounded by water, and its love for the sea can be seen everywhere! The warm waters of Baie des Chaleurs, the Gulf of St. Lawrence, and Northumberland Strait provide a multitude of opportunities for those who enjoy swimming in open water. Those looking for more adventure can find high-octane activities like whale watching and kayaking as some of the best outdoor offerings this province has.
About New Brunswick, Canada
New Brunswick is a Canadian province that borders Maine and the USA. It's Canada's only officially bilingual province, so French and English have equal status. It was one of four original provinces to make up the country in 1867. Together with Nova Scotia and Prince Edward Island, it forms a regional grouping known as the Maritime Provinces. New Brunswick is roughly rectangular, about 340 km / 210 miles from north to south and 300 km / 185 miles from east to west. New Brunswick is bordered to the north by Quebec, to the east by the Gulf of Saint Lawrence and the Northumberland Strait, and to the south by the Bay of Fundy. These two bodies of water are separated by Chignecto Isthmus, which links New Brunswick to Nova Scotia to the southeast. To the west lies Maine, in the United States.
New Brunswick was chartered in 1784 and bore the name of the royal house of Brunswick. Its capital, Fredericton, was named after King George III's son Frederick. New Brunswick is one of Canada's smaller provinces and traditionally occupied a minor role in the national economy, but it has contributed significantly to Canada as a whole. More recently, its natural attractions, including its forests, rivers, and lakes, have mainly remained unspoiled by industrialization. The province covers an area of 28,150 km2 / 72,908 sq mi.
Principal cities and towns
Moncton is the largest city in New Brunswick, with an estimated 79,470 residents (as of 2018). Saint John is the second largest (by land area, the largest is 315.59 km 2 / 121.85 sq mi), with an estimated population of 70,785 residents. The smallest city by population and land area are Campbellton and Miramichi.
The 10 most significant cities in New Brunswick are Moncton City, Saint John, Fredericton, Dieppe, Riverview (town), Quispamsis (town), Miramichi, Edmundston, Tracadie (Regional Municipality), and Bathurst.
History
The French were the first Europeans to claim New Brunswick's province. The British took over Acadia in 1713, although the French claimed and defended the new Brunswick area until they were defeated militarily in the 1750s. The British expelled or dispersed most French-speaking Acadian settlers in 1755 (many of whom eventually returned) and governed the area as Nova Scotia until 1784 when New Brunswick was established as a separate province with its present boundaries.
The first English-speaking settlers arrived in the St. John River valley in 1762 and founded the town of Maugerville. However, the arrival of 14,000 loyalist refugees from the American Revolution in the late 1700s created pressure for separate provincehood. The loyalist city of Saint John became Canada's first incorporated city in 1785, and smaller settlements were established in St. John and St. Croix valleys.
Geography
The land in some places rises abruptly and in others dramatically out of the Bay of Fundy. The rest of the province, except sea-level marshlands in the southeast, river valley floodplains, and low-lying lands adjacent to beaches near the east coast, consists of rolling hills and rocky outcroppings. There are no true mountains, but ranges of rugged hills run east-west a few miles from the Bay of Fundy coast and in the north-central part of Nova Scotia. The highest elevation is Mount Carleton at 817 meters / 2,680 feet.
New Brunswick has been affected by the Atlantic Ocean and the Bay of Fundy, which causes high tides in the region. The 673-km / 418-mile long St. John River and all its adjacent rivers drain New Brunswick. The high tides from the Atlantic Ocean can make it rise as far inland as 150 km / 95 miles. On the eastern side of New Brunswick, there are different bodies of water, including the Restigouche River, Miramichi River, and Petitcodiac River. These lakes affect New Brunswick's climate, culture, ecosystems, and recreational activities.
Climate
Fredericton has four seasons, each characterized by a few key traits. The winter months are cold and snowy, while the summer lasts long and is pleasant. Fall is particularly spectacular. Temperatures range from -37 C / -35 degrees Fahrenheit to 37 C / 99 degrees Fahrenheit, with a mean daily temperature of -10 C / 14 in January and 19 C / 67 in July. The southern coastal regions have more moderate temperatures. Fredericton receives an average of fewer than three feet of snow each year, and the city gets about 1,100 mm / 43 inches of precipitation a year, which includes snowmelt.
Google Maps New Brunswick
New Brunswick is a province in eastern Canada that is home to a variety of exciting objects and places you can discover using Google Street View. Here are a few examples:
Hopewell Rocks: These are massive sandstone formations located along the Bay of Fundy that the tides have shaped over thousands of years. They are a popular tourist destination and offer beautiful views of the surrounding area.
Kingsbrae Garden: This is a beautiful 27-acre public garden located in St. Andrews that is home to a variety of plant species and outdoor sculptures. It is a popular spot for visitors to relax and enjoy the area's natural beauty.
Reversing Falls: These are a series of rapids and waterfalls in Saint John caused by the enormous tides of the Bay of Fundy. The falls reverse direction twice a day when the tide comes in and out, creating a unique and dramatic sight.
Old Government House: This is a historic building located in Fredericton that served as the official residence of the lieutenant governors of New Brunswick from 1828 to 1891. It is now a museum open to the public and home to several exciting exhibits.
Mount Carleton Provincial Park: This is the highest peak in New Brunswick and is located in the heart of the Appalachian Mountains. It is a popular spot for hiking, camping, and other outdoor activities and offers beautiful views of the surrounding landscape.
You can discover these interesting objects and places using Google Street View in New Brunswick. We are sure you'll find many more as you explore this beautiful part of the world!
Did you know?
The English-speaking majority of Canadians are primarily from Great Britain, with some Irish and Scottish backgrounds. They also include descendants of the loyalists who fled to Canada after the American Revolutionary War.
The French-speaking minority is descendants of 17th-century Acadian settlers, augmented by French Canadians from the Quebec region. They are concentrated in Maine's northern and eastern counties.
Most of the province's first inhabitants are descendants of people from other continents. They now live on a federally administered reserve (reservation) along the east coast, in the St. John Valley, or have integrated into one of the many towns and villages near those reserves.
The economy of New Brunswick is largely based on forestry, mining, and fishing. However, there is also some growth in tourism, agriculture, small-scale manufacturing, and the service sector. Overall, the province's economy is doing well, with real economic growth above the regional average for the Atlantic Provinces region.
Only around 20% of the land in the province is suitable for agriculture, and less than one-third of that (11% of the province) is currently being used for cultivation.
The largest farms in New Brunswick specialize in cash crops, dairy products, and potatoes. These farms are located in south-central and southeastern areas and benefit from large-scale food-processing plants.
Other significant commodities produced in the province include poultry, eggs, maple products, and blueberries. Provincial policy focuses on soil conservation and new product development.
What to do in New Brunswick
This scenic province is home to unique attractions, including the beautiful Fundy National Park of Canada, the magnificent Hopewell Rocks Provincial Park, and the stunning Kouchibouguac National Park. You'll also love visiting the New Brunswick Museum and Fundy Trail Parkway. These are just a few of their marvelous sights!
There are plenty of cool things to do in New Brunswick, like hiking the Fundy Trail Parkway, whale watching from St. Andrews-by-the-Sea, and beholding the beauty of Kingsbrae Botanical Garden.
Look at everything New Brunswick offers with our great outdoor adventures and ample indoor entertainment. Whether you're pulling out the snow gear to go on a snowy getaway or are looking for a friend's or couple's weekend in the city, there's something here for everyone.
Accommodation in New Brunswick
In the beautiful province of New Brunswick, you'll find budget-friendly and mid-range lodgings. Budget-friendly accommodations make up the majority of available rooms in this area. Mid-range accommodations vary in size but feature reasonable rates for a more comfortable room.
Tips for accommodations:
| | | |
| --- | --- | --- |
| Budget-Friendly | Mid Range | High End |
| Days Inn by Wyndham Miramichi, NB | Residence Inn by Marriott Moncton | The Algonquin Resort St. Andrews by the Sea, Autograph Collection |
| Auberge De La Baie, Caraquet | By The River B&B, Fredericton | Coté's Bed & Breakfast, Grand Falls |
| Coastal Inn Moncton / Dieppe | Best Western Plus, Bathurst Hotel & Suites | Hotel Shédiac |
Reserve a room
Most travelers plan their New Brunswick vacation months before, including picking a high-end hotel. These hotels are in high demand, so you will need to reserve space far in advance. They offer large rooms with amenities, including swimming pools, saunas, jacuzzis, and other state-of-the-art facilities.
Pictures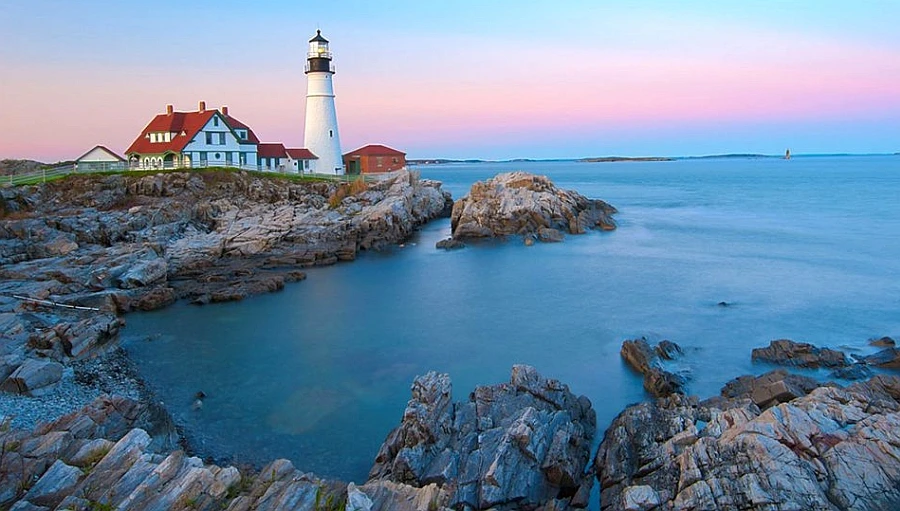 Useful information
Looking for more New Brunswick trip ideas? Visit https://tourismnewbrunswick.ca or https://www.thetravel.com for more travel tips and activities.
For road conditions in New Brunswick, visit: https://511.gnb.ca
You may also be interested in
Did you like this New Brunswick map and information page? Please don't forget to share or bookmark this content on Canada Maps.com!