Prince Edward Island facts
Capital: Charlottetown
Population: 154,331 (2021)
Date of Admission: 1873
Provincial Motto: Parva sub ingenti (The small under the protection of the great)
Provincial flower: lady's slipper
Time Zone: Atlantic (AST) – (GMT − 4 hours)
Total Area (Sq Km): 5,660
Total Area (Sq Mi): 2,185
Quick links: About, Major places, History, Geography, Climate, Google Maps, Facts, What to do, Accommodation, Pictures, Useful information, Further readings.
---
About Prince Edward Island, Canada
Prince Edward Island is a Canadian province off the east coast of Canada. It ranges from North Cape to East Point, and it's about 225 km / 140 miles long, between 3 to 65 km / 2 to 40 miles wide, and 46°-47° N latitude and 62°-64° W longitude. The Northumberland Strait separates Prince Edward Island from the mainland provinces of Nova Scotia and New Brunswick. Its location, along with the island's fertile red soil, has given it two nicknames: the "Garden of the Gulf" (referring to the Gulf of St. Lawrence) and the "Million-Acre Farm." It is sometimes called "Spud Island" because of its significant potato production.
The most densely populated and smallest of Canada's 10 provinces, the island of Prince Edward Island has three counties: Prince, Queens, and Kings. Only 8 miles long and 12.9km in total, the Confederation Bridge was inaugurated in 1997. It is the world's longest bridge over waters that freeze over in winter and connects the island to its neighboring province of New Brunswick. The capital city of Charlottetown is named after Queen Charlotte – the wife of King George III – who visited on a trip to America in 1749.
Principal cities and towns
The largest 10 cities in Ottawa by their population in 2016 are Stratford Queens (9,706), Three Rivers (7,169), Cornwall (5,348), Kensington (1,619), Alberton (1,145), Souris (1,053), O'Leary (815), Borden-Carleton (724), Tignish (719), North Rustico (607).
History
Before European colonization, the Mi'kmaq Indians from the mainland used P.E.I. to hunt, fish, and plant in the warmer seasons. Vikings visited in 1000 CE, and Basque fishers arrived in the early 1500s. John Cabot might have come in 1497, but the Italians, an English-sponsored Genoese-Venetian explorer, may have discovered it two years later. During the seventeenth century, it was claimed for France in 1603 by Samuel de Champlain, the first governor of French Canada (who called it Île Saint-Jean) but was not colonized until 1720. In addition, fishers and trappers from the French-speaking mainland colonial settlement in Acadia established several other small communities on the island. The French regime lasted only 38 years before the British occupied the island in 1758 and dispersed more than 3,500 settlers.
Geography
Along the irregular coastline are numerous streams, bays, and tidal estuaries. On the north side, coastal bays are blocked by dunes, but on the east and south, there are good natural harbors. Along 1,800 km / 1,100 miles of shoreline, red sandstone cliffs average about 6 meters / 20 feet in height but occasionally exceed 15 meters / 50 feet. The island is within 8 km / 5 miles of the open sea or a tidal inlet, and no spot is more than 16 km / 10 miles from salt water. Prince Edward Island has not had extensive water pollution (mainly because of its few industries and lack of heavy manufacturing). Still, the food and fish processing industries, manure, pesticides, fertilizer runoff, soil erosion from intensive potato cultivation, and oil leakage contribute to pollutants in Prince Edward Island's water. Evidence can be found in cases where massive fish kills have been reported at least since 1962 and documented since 1994.
The beautifully diverse landscapes of Prince Edward Island covers a wide range of landscape. From rolling hills in the north to more level terrain in the west, it's important to consider where you'd like to live. The highest peak is 142 meters / 466 feet above sea level in Prince County. Nearly half of PEI supports the cultivation of red Sandy Loam. Mountains to see: Jones Hill. Lawtons Hill, Moores Hill, Yankee Hill, and Fox Hill.
Climate
The climate of Prince Edward Island is impacted by the surrounding ocean, with warm waters in the fall and early winter but then cool air most of spring and summer. With this "oceanic pump" effect, the onset of seasons is delayed several weeks compared to Canada. The average mean temperature in Prince Edward Island is about 6 °C / 40 F, and the mean annual precipitation is about 1,000 mm / 40 inches. Such mean temperatures, however, conceal some of the most variable day-to-day weather experienced in the country. The mean maximum temperature in July is the low 20 C / about 74 °F, while the mean minimum in February is about −12 °C / about 11 °F. Measurable snowfalls are expected over the long winter season from November to April.
Google Maps Prince Edward Island
Google Street View is a feature of Google Maps that provides 360-degree panoramic images of many locations worldwide, including the province of Prince Edward Island. Here are a few exciting objects and locations that Google Street View on Prince Edward Island has captured:
The Confederation Bridge: Google Street View has captured images of the Confederation Bridge, a bridge that connects Prince Edward Island to the mainland of New Brunswick.
The Anne of Green Gables Museum: Google Street View has captured images of the Anne of Green Gables Museum, a museum in the town of Park Corner dedicated to the popular children's book character Anne of Green Gables.
The Green Gables Heritage Place: Google Street View has captured images of the Green Gables Heritage Place, a historic farmhouse in the town of Cavendish that inspired the Anne of Green Gables series of books.
The Charlottetown Harbour: Google Street View has captured images of the Charlottetown Harbour, a busy port located in the capital city of Charlottetown.
The Province House National Historic Site: Google Street View has captured images of the Province House National Historic Site, a historic building in Charlottetown, Canada's oldest legislative building.
The Cavendish Beach: Google Street View has captured images of Cavendish Beach, a popular beach located in the town of Cavendish, known for its sandy shores and warm waters.
The Island's Folklore Centre: Google Street View has captured images of the Island's Folklore Centre, a museum in Victoria-by-the-Sea dedicated to preserving Prince Edward Island's cultural heritage.
Did you know?
The capital of Prince Edward Island is Charlottetown. It had a population of 38,809 in the year 2021.
The city, Charlottetown, was created in 1763 after Queen Charlotte of Mecklenburg, the wife of King George III, who was called the father of British North America.
Charlottetown is considered the Birthplace of Confederation, and they are celebrating its 150th anniversary this year. The city played an essential role in Canada's formation by hosting the Charlottetown Conference – which paved the way for Confederation and the creation of this great country.
The Mi'kmaq were the first to explore and live on Prince Edward Island. They called the island Epekwik – meaning resting on the waves.
Prince Edward Island (P.E.I), a Canadian province, was named after Queen Victoria's father – Edward, Duke of Kent.
Approximately three-quarters of the island's population lives in a town or city, and the rest live in rural areas.
Prince Edward Island is 220 kilometers / 136.70 miles long by 6 to 64 kilometers / 3.72 to 39.76 miles wide; there is nowhere on the island that's more than 16 kilometers / 9.94 miles away from the ocean.
Confederation Trail is a 273-kilometer / 169,63 miles pathway that spans from one island's tip to the other. Whether walking, cycling, running, using your wheelchair, or snowmobile, you'll see plenty of historical sites and beautiful landscapes along this trail.
There is a new trail on Prince Edward Island called The Island Walk. This is modeled after the Camino in Spain. It's 700 kilometers / 434,95 miles long and includes 32 sections.
On the summer solstice (on the longest day of the year), it happens at 5:20 AM and 9:08 PM, while on the winter solstice (on the shortest day of the year), the sun rises in Charlottetown at 7:52 AM and sets at 4:28 PM. on Prince Edward Island.
Lobster season is a bright time for some and a gloomy one for others. The first runs from May 1st until the end of June, while the second kicks off in the middle of August and ends in the middle of October.
What to do on Prince Edward Island
Prince Edward Island is one of the most remarkable destinations in Canada. Home to the setting of a best-seller, the longest bridge in North America, and breathtaking terrain, it's no wonder fans pop here for vacations. Here are our top suggestions to visit on Prince Edward Island: Confederation Centre of the Arts, Green Gables Heritage Place, Prince Edward Island National Park, Greenwich, PEI National Park, Confederation Trail, Victoria Row, Basin Head Provincial Park, West Point Lighthouse, Confederation Bridge, and the Links at Crowbush Cove.
Prince Edward Island is a fantastic destination for outdoor enthusiasts. People who visit often enjoy several activities, including seeking out strolls along the water's edge, soaking in the scenic beauty of the island's shoreline, interacting with nature and wildlife, and more.
Accommodation on Prince Edward Island
Budget-friendly accommodations can be found on Prince Edward Island. Those places may include several amenities, such as air conditioning, wireless internet, and television. One of the perks with a Mid Range accommodation in Prince Edward Island is that the pricing is always affordable. This can be because the property is centrally located and famous, which makes it more desirable for guests. Choosing a place to stay on Prince Edward Island isn't always easy. Luckily, there are high-end accommodation options that can offer some of the most luxurious amenities. These accommodations are generally more expensive.
Reserve a room
Our tip for accommodation in Prince Edward Island (PEI) would be to consider staying in a traditional "beach town" or a "bed and breakfast." Prince Edward Island is known for its picturesque beaches and red sandstone cliffs, and staying in a beach town like Cavendish or North Rustico can provide an opportunity to experience the region's natural beauty. Many beach towns have cottages, inns, and bed and breakfasts that offer comfortable and cozy stays.
Another tip would be to consider staying in a bed and breakfast, as many of them are located in historic homes and offer a unique and authentic experience. Many of these B&Bs offer comfortable and affordable accommodations and often provide a delicious breakfast made with local ingredients. If you're looking for a more traditional option, you can also consider staying in a hotel or a resort; these options are located in the main cities like Charlottetown and Summerside and offer the convenience of being close to downtown and amenities while also providing great service and comfortable stays.
We've done the work for you; Below, you'll find some of the best price/value average hotels in Prince Edward Island.
| | | |
| --- | --- | --- |
| Budget-Friendly | Mid Range | High End |
| The Eden Hall Inn, Historic Charlottetown Waterfront, Charlottetown | The Loyalist Country Inn & Conference Centre, Summerside | Delta Hotels by Marriott Prince Edward, Historic Charlottetown Waterfront, Charlottetown |
| The Hotel on Pownal, Historic Charlottetown Waterfront, Charlottetown | Charlottetown Inn & Conference Centre | Inn on the Harbour, Historic Charlottetown Waterfront, Charlottetown |
| Sydney Boutique Inn & Suites, Historic Charlottetown Waterfront, Charlottetown | Rollo Bay Inn, Souris | The Holman Grand Hotel, Historic Charlottetown Waterfront, Charlottetown |
Pictures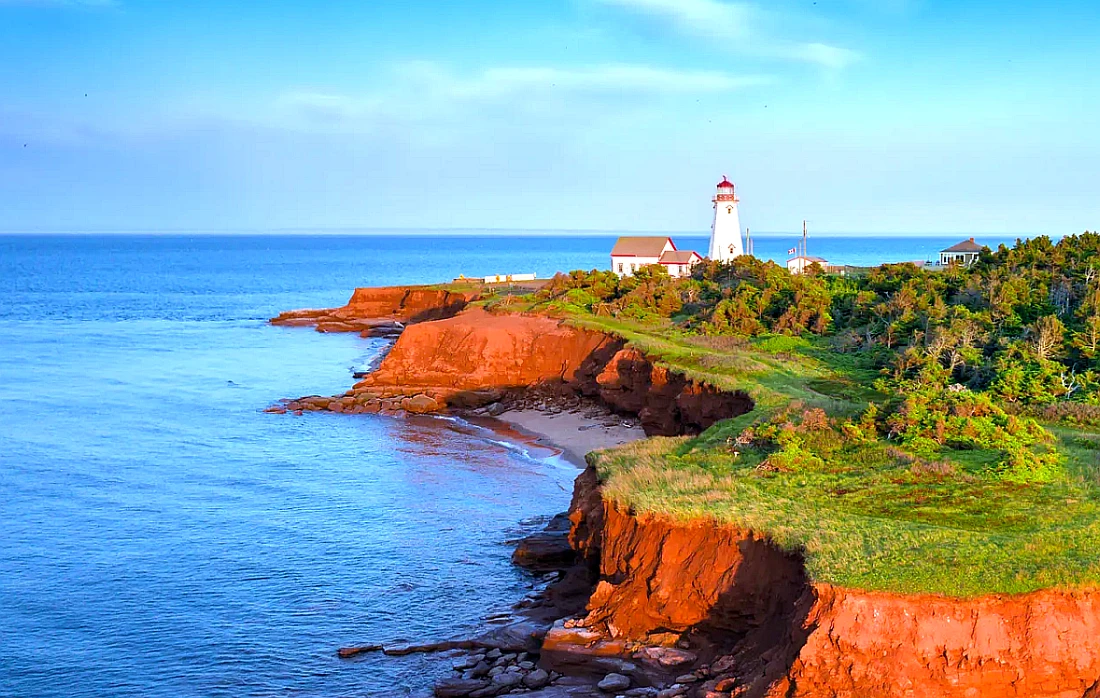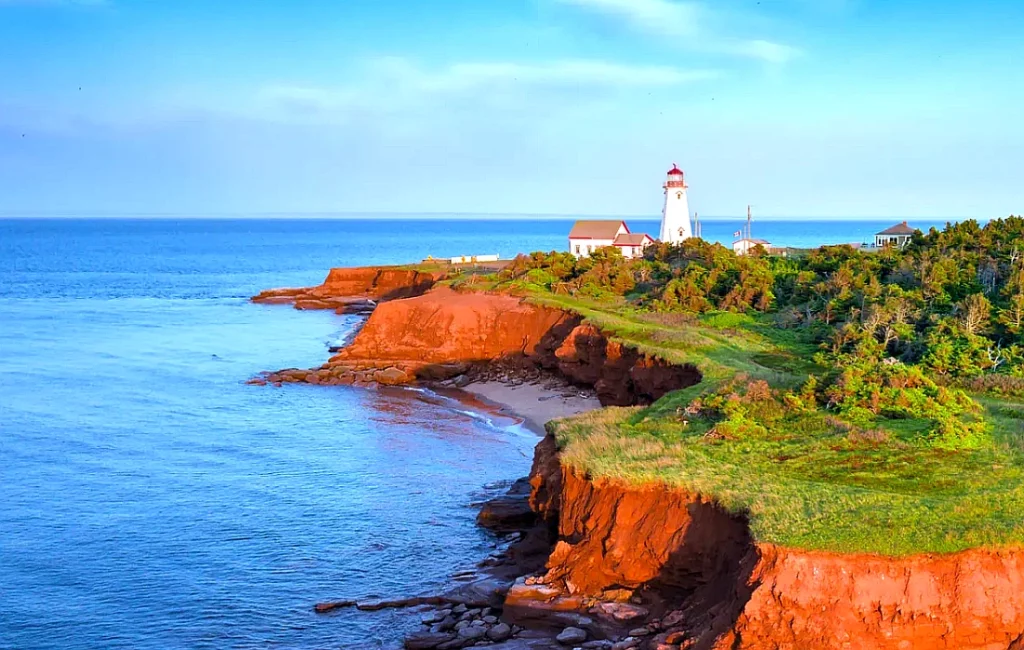 Useful information
Nestled in the Atlantic Ocean, Prince Edward Island is a gorgeous Canadian island. Every summer, thousands of tourists descend on this beautiful place to visit its beaches and seaside villages within a national park. Known for its shellfish, lobster, and oysters, the island offers farm-to-table dining from the country's best chefs. It's also known for modern Canadian cuisine, reflecting the island's rich history.
Prince Edward Island's peak tourism season is brief, running 6 or 7 weeks from early July through late August. Many attractions don't fully open until July, with a few close-up shops before August.
By car: If you're going to Prince Edward Island by car, you'll drive onto the island via the long Confederation Bridge (tel. 888/437-6565 or 902/437-7300), which was opened in 1997 or find a ferry and make your way to it. On the bridge, you'll also sometimes hear this referred to as the "fixed link," a reference to Canada's promise back in 1873 of guaranteeing a permanent link between the mainland and an island called Chignecto. Whatever you call it, though, the dramatic 13km / 8-mile bridge is open 24/7 and takes 10 to 12 minutes to cross. However, unless you're high up in a van, a truck, or an RV, your views are mostly obstructed by the concrete barriers forming the guardrails along both sides.
The Confederation Bridge tolls are tax-exempt. As of January 2022, the toll rates are $50.25 for a two-axle automobile and $8.50 for each additional axle. Motorcycles are charged $20.00. While pedestrians and cyclists are not permitted to cross the bridge, a shuttle service is available.
Cyclists and backpackers can cross the Confederation Bridge, but not on the road (charged).
By Ferry: Bay Ferries Limited and Northumberland Ferries Limited provide seasonal service between Caribou, Nova Scotia (just north of Pictou), and Woods Island, Prince Edward Island. Ferries travel from both ports approximately every 90 minutes throughout the day from May to mid-December. The crossing usually takes about 75 minutes. Note that this round-trip fare is only collected going off Prince Edward Island. If you take the ferry onto the island and drive off, you pay the cheaper bridge toll only; drive on and take the ferry off and pay the higher ferry toll only.
By plane: The main airport in Charlottetown Island (YYG) is, and it's located a few miles north of the city. Getting to Prince Edward Island by plane from either Canada or U.S. airports has never been easier!
You may also be interested in
Did you like this Nova Scotia map and information page? Please don't forget to share or bookmark this content on Canada Maps.com!