Ferries are vessels that carry both passengers and vehicles across a body of water. They're essential because they enable transportation between places that are otherwise unnavigable or difficult to travel. The modern car ferry uses the roll-on, roll-off (RO-RO) method of loading and unloading cars through the bow and stern doors while carrying passengers who choose to go across in their vehicle.
Canada is home to over 180 ferry routes, including passenger, freight, and mixed-use routes. The country also boasts many private and publicly operated options, with a ferry operation in each province and the majority of the territories.
Ferrying to and from Canada is not an efficient way to travel. However, it can be a convenient way to get close to specific areas of the country that might be difficult or costly to reach otherwise. In Newfoundland, you can find popular ferry towns like Victoria, British Columbia, and St. John's. Toronto has also added ferries connecting the city throughout the islands. You can check their schedules and times online so you don't miss out on the breathtaking sunset views that come with each visit.
Many people even use ferry rides as a replacement for a vacation in Canada. Walk-ons and cyclists should be able to get aboard at any time, but please follow these directions for reservations or boarding when you need to. During the summer peak and holidays, it's crucial to call ahead for reservations or rest your vehicle on board.
By ferry in Canada
You might make the most use of Canadian ferries in British Columbia, traveling between Vancouver, Vancouver Island, the Gulf Islands, and north up the Inside Passage to Prince Rupert. British Columbia Ferries (250 386 3431) runs these services, and your fare is reasonable. To go from Vancouver to Victoria will cost you $16.90 per person plus an additional $55.40 with a car ($2 for bikes).
When traveling to the East Coast, you'll have several options. One option is to ferry from Caribou, Nova Scotia, to Prince Edward Island. The trip costs $18 and an additional $70 with your car with Bay Ferries Limited (1 877 762 7245). Another option would be to travel from Sydney, Nova Scotia, to Channel-Port aux Basques in Newfoundland with Marine Atlantic (1 800 341 7981). This trip would cost $42.43 and another $110.40 with a car only.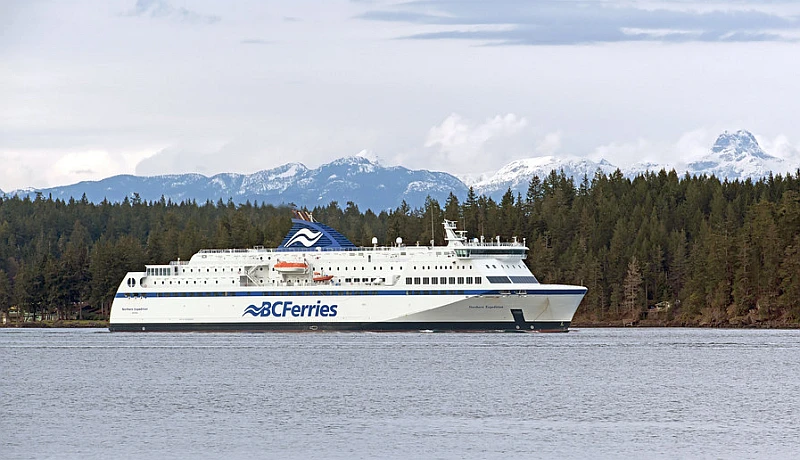 The most popular ferry trips in Canada
There are many popular ferry trips in Canada, as the country has an extensive coastline and many islands. Some of the most popular ferry trips in Canada include:
BC Ferries: This company operates several popular ferry routes in British Columbia, including trips from the mainland to Vancouver Island, the Gulf Islands, and the Sunshine Coast.
Marine Atlantic: This company operates ferry services between Newfoundland, Labrador, and Nova Scotia.
Québec-Lévis ferry: This ferry operates between the cities of Québec and Lévis across the St. Lawrence River.
Îles de la Madeleine ferry: This ferry operates between the Magdalen Islands in Quebec and Souris, Prince Edward Island.
Fjord du Saguenay ferry: This ferry operates between Tadoussac and Baie-Sainte-Catherine, crossing the Fjord du Saguenay in Quebec.
Toronto Island ferries: These ferries operate between the mainland and the Toronto Islands, a popular destination for recreational activities and events in Toronto.
Prince Edward Island ferry: This ferry operates between Wood Islands, Prince Edward Island, and Caribou, Nova Scotia.
Manitoulin Island ferry: This ferry operates between Tobermory, Ontario, and South Baymouth, Manitoulin Island.
These are just a few examples of Canada's many popular ferry trips. Each of these ferry routes offers beautiful views and a unique travel experience.
The number of ferry routes in 2022 Canada mapped
The ferry sector continues to play an integral role in Canada's economic and social development. People's love of efficiency has fueled the vessel arrival and departure process, evidenced by the increasing number of boats.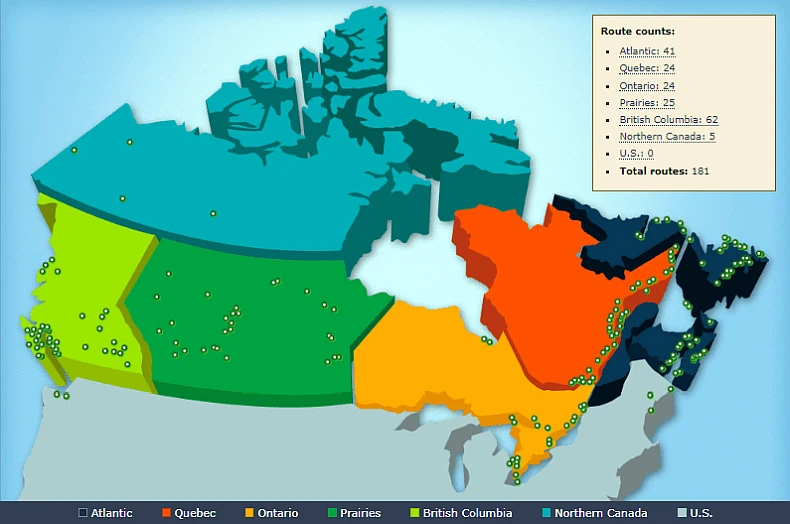 Did you know?
The distinction between ferries and other vessels has become less apparent in the past ten years. Since ferries are being built to longer routes, staterooms are now available, and various passenger amenities are found on cruise ships and other liners.
In addition to the car, truck, and train ferries, passenger-only ferries generally operate over short distances, such as across harbors (e.g., Vancouver and Halifax).
The tremendous increase in the size of modern ferries has led to some safety concerns. The operational efficiency of ferries is primarily the result of the vast, easily accessible car decks, but their very nature makes these car decks a potential danger. Should the deck become only slightly flooded, the vessel could become unstable quickly owing to its tremendous water weight and propensity to shift quickly on the wide-open deck.
Some unusual and rare events have occurred in recent years that have resulted in ferry disasters, causing rapid capsizings. One of the most notable events was the Herald of Free Enterprise, which capsized in just 2 minutes after taking on water on its car deck. The loss of 188 lives prompted regulatory authorities worldwide to re-evaluate safety measures for ferries.
The largest ferries carry 2,000 passengers or 700 vehicles on 3 decks. Ferries with ramps enable cars to be loaded and unloaded in 1 deck simultaneously.
One of the busiest terminals in the world is run by BC Ferry Corporation. It has four double-ended ferries that carry 1500 passengers and 360 cars on three deck levels and travel up to 22 knots.
Canada has many smaller ferries across its rivers and lakes, like the service from Toronto's harbor to Centre Island of the Toronto Islands or the trip between Tobermory and Manitoulin Island.
Over the past 20 or 30 years, many of these small ferries have been replaced by bridges.
You may also be interested in getting around Canada by bike, bus, car, ferry, plane, or train.