Nova Scotia facts
Capital: Halifax
Population: 969,383 (2021)
Date of Admission: 1867
Provincial Motto: Munit haec et altera vincit (One defends and the other conquers)
Provincial flower: mayflower
Time Zone: Atlantic (AST) – (GMT − 4 hours)
Total Area (Sq Km): 55,284
Total Area (Sq Mi): 21,345
Quick links: About, Major places, History, Geography, Climate, Google Maps, Facts, What to do, Accommodation, Pictures, Useful information, Further readings.
---
Nova Scotia is a coastal province located on Canada's east coast. To the south and east, there are rugged cliffs with crashing waves; to the northwest, mud flats can be found; and to the north, there's a deep narrow zone between Nova Scotia and Prince Edward Island where water levels rise by more than 50 feet.
About Nova Scotia, Canada
Nova Scotia is a Canadian province located on North America's eastern seaboard. The province comprises the peninsula of Nova Scotia, Cape Breton Island, and some small islands. At 580 km / 360 miles long but never more than 130 km / 80 miles wide at any point, the province stretches from the Strait of Canso to Cape Breton Island.
The Chignecto Isthmus, a thin strip of land that seems to push the Peninsular into the Atlantic Ocean, runs along Nova Scotia's only land boundary, with New Brunswick on the western side. The Northumberland and Cabot Straits divide Nova Scotia, respectively, from Prince Edward Island and Newfoundland, an island northeast of Nova Scotia. The Atlantic Ocean and the Bay of Fundy are to the east and south. Halifax is the capital city.
Nova Scotia is home to many exciting opportunities. It was the site of the first permanent European settlement in North America. With no Florida due to its location, it became a hub for fishing, shipbuilding, and transatlantic shipping. The name Acadia (French: Acadie) came from the Mi'kmaq word meaning "land of." The province, called Nova Scotia by Scotsmen in 1620, took its name from what means "New Scotland" in Latin. The region spans 55,284 square km / 21,345 square miles.
Principal cities and towns
The capital city of Halifax is the biggest in Nova Scotia, with a population of 490,980 (2021). The second-largest city is Cape Breton, with a population of 93,898 (2021). Other notable cities in Nova Scotia include Truro 13,193 (2021), Amherst 9,733 (2021), New Glasgow 9,531 (2021), Bridgewater 9,042 (2021), Yarmouth 6,866 (2021), and Kentville 6,703 (2021).
History
Throughout thousands of years, the North Coast has been inhabited by aboriginal peoples. It wasn't until about 1000 AD-1000 that Europeans encountered it during their exploration. During the 1500s, Europeans established trading posts in the region, leading to European interest. In 1606, a group of French merchants led by Pierre Du Gua, Sieur de Monts, and assisted by the explorer Samuel De Champlain established a settlement at Port Royal near present-day Annapolis Royal. Sir William Alexander was a crucial Scottish nobleman in 1621 when he received a grant with the hopes of creating a large settlement. This lasted for about 3 years.
From the early 1600s until the late 1700s, this territory was a focal point for French-English rivalry for control of North America. This struggle for control delayed European settlement and significantly altered the lives of French settlers, who became known as Acadians. The region passed back and forth between France and England until 1713, when a treaty at Utrecht gave mainland Nova Scotia to England for the last time, although conflict continued for another 50 years. The French managed to keep Cape Breton Island, on which they built the powerful fortress of Louisbourg. Meanwhile, the English founded Halifax in 1749 as their colonies' new administrative and military center. In the 1750s, they forced the Acadians out of the region—an event romanticized by Henry Wadsworth Longfellow's famous narrative poem, Evangeline.
Geography
Nova Scotia's upland regions reach heights of more than 520 meters / 1,700 feet above sea level in the Cape Breton Highlands. The most critical lowlands lie along the Bay of Fundy and the Minas Basin in the southwest and along the Northumberland Strait. Many of the tens of thousands of acres of marshland created by tremendously high tides – among the highest in the world – at Nova Scotia's Bay of Fundy have been turned to agricultural use by dikes. These were begun in 1638 by French settlers, Acadian refugees from colonial France, who had transported themselves to Nova Scotia after expulsion from Acadia when that colony was lost to Britain during late 17th-century wars.
More than 3,000 lakes have been impounded by or have cut through this region's unusual terrain. The most famous of the lakes, Bras d'Or on Cape Breton Island, is a saltwater lake connected to the Atlantic Ocean through three canals. Many intruding promontories make the lake's 1,098 square km / 424 square miles a geographic paradox.
Climate
A modified continental climate influences Nova Scotia. When you get near the sea, you'll experience warm winter temperatures and cool summer temperatures. At Halifax, on the central part of the Atlantic coast, the average day's temperature in January is about –4.5 °C / 24 °F, and in July, it's almost 19 °C / 66 °F. The coldest temperatures usually happen inland, and summers are slightly warmer near the coast. There's a lot of variability in yearly precipitation depending on the section of the province. Every part of Nova Scotia has different levels, ranging from less than 1,250 mm / 49 inches of rain and snow along the Northumberland Strait to more than 1,600 mm / 63 inches at Cape Breton Highlands.
Google Maps Nova Scotia
Google Street View is a feature of Google Maps that provides 360-degree panoramic images of many locations worldwide, including the province of Nova Scotia. Here are a few exciting objects and locations that Google Street View has captured in Nova Scotia:
The Halifax Citadel: Google Street View has captured images of the Halifax Citadel, a historic fort located in the city of Halifax, a popular tourist destination.
The Peggy's Cove Lighthouse: Google Street View has captured images of the Peggy's Cove Lighthouse, an iconic lighthouse located in the town of Peggy's Cove, a popular tourist destination.
The Alexander Graham Bell National Historic Site: Google Street View has captured images of the Alexander Graham Bell National Historic Site, a museum located in the town of Baddeck dedicated to the life and work of Alexander Graham Bell, the inventor of the telephone.
The Lunenburg Fisheries Museum: Google Street View has captured images of the Lunenburg Fisheries Museum, a museum located in the town of Lunenburg that is dedicated to the history of the fishing industry in Nova Scotia.
The Halifax Waterfront: Google Street View has captured images of the Halifax Waterfront, a popular area along the harbor in the city of Halifax that is home to various shops, restaurants, and other attractions.
The Fortress of Louisbourg National Historic Site: Google Street View has captured images of the Fortress of Louisbourg National Historic Site, a historic fort located in Louisbourg, a popular tourist destination.
The Cape Breton Highlands National Park: Google Street View has captured images of the Cape Breton Highlands National Park, a protected area on Cape Breton Island that is home to various plant and animal species and is known for its stunning views of the surrounding landscape.
Did you know?
In the late 1500s, Europeans started traveling to Canada and exploring. The Mi'kmaq people lived in Canada for centuries and had been there long before the Europeans arrived.
Out of Nova Scotia's total population, one-eighth is descended from Acadian French who were exiled after 1763.
Most people in Nova Scotia are descendants of both the settlers from the British Isles and those from the American colonies. Settlers loyal to Great Britain during the American Revolution (known as United Empire Loyalists) settled much of western and northern Nova Scotia, with scattered settlements elsewhere.
Nova Scotians are primarily rural, but urbanization was still a trend from the 20th century.
Settlement in the early European period typically took place near the coastline because it was easier to get around by boat. Early economies relied on fishing, fur trading, and farming.
The decline in shipping and shipbuilding during the late 19th century led to many workers moving away from small towns such as Yarmouth, Windsor, Truro, and Amherst. Coal, steel, and textiles became more popular industries in Sydney and Halifax.
What to do in Nova Scotia
Nova Scotia is a province full of excitement and adventure. From the Bay of Fundy to the Cabot Trail, there are plenty of ways to explore the great outdoors. And for those who prefer to stay indoors, Nova Scotia has no shortage of delicious food and drink options.
One of the best ways to experience Nova Scotia is to feel the power of the Bay of Fundy. This massive body of water is home to some of the highest tides in the world. Visitors can participate in several activities, including hiking, biking, and kayaking.
Lighthouse spotting is another popular activity in Nova Scotia. Over 150 lighthouses dot the coast, each with its unique history. Many of these lighthouses are open to the public and offer stunning views of the Atlantic Ocean.
For a truly unique experience, glamping under the stars is a must-do while in Nova Scotia. Several companies offer this service, including setting up a luxury campsite complete with all the amenities you need for a comfortable stay.
Cruising along the Cabot Trail is one of the best ways to see all that Nova Scotia offers. This scenic route takes you through some of the most beautiful landscapes in Canada, including Cape Breton Island. Along the way, you'll have ample opportunity to spot wildlife, including moose, bald eagles, and whales.
Because Nova Scotia is on the Atlantic coast, it is home to some of Canada's best coastal views. It's great for fishing, hiking, biking, and watching sea breezes roll through. Pack your sense of adventure and light layers if you travel here and try some of the 10 best things to do in Nova Scotia; Feel the power of the Bay of Fundy, Go lighthouse spotting, Glamp under the stars, Cruise the Cabot Trail, Take a helicopter to an island picnic, Sip wine through the Annapolis Valley, Chow down on seafood, Dive into a whale-watching expedition, Go stargazing, Head off in search of the best brews.
Accommodation in Nova Scotia
Explore Nova Scotia's vast landscape and return to one of the many charming accommodations. Relax on the deck of a coastal cottage after a long day, enjoy a fresh lobster dinner at a luxury hotel, or pamper yourself with fantastic accommodation options like B&Bs. No matter where you stay, you'll be able to enjoy nature and kick back from your adventures. Nova Scotia offers a wide range of accommodations to suit any taste. Choose from top-quality resorts, hotels, and bed-and-breakfasts, to quaint and hospitable campgrounds and RV parks.
You have many options for places to stay when you're in Nova Scotia. There are luxury resorts, charming bed and breakfasts, ocean-side cottages, and backcountry and serviced camping sites – the list goes on!
Reserve a room
Our tip for accommodation in Nova Scotia would be to consider staying in a traditional "fishing village" or "lighthouse" accommodation. Nova Scotia is home to many picturesque fishing villages, like Peggy's Cove, Lunenburg, and Mahone Bay, that offer unique and authentic experiences. These villages often have B&Bs or cottages that are nestled among the colorful houses and offer a cozy and comfortable stay. Staying in a lighthouse accommodation, such as Peggy's Point Lighthouse, can provide a unique opportunity to experience the region's natural beauty and learn about the province's rich maritime history. Another option is to consider a traditional Inn or a Boutique Hotel in the main cities like Halifax and Sydney. These options offer the convenience of being close to downtown and amenities while also providing great service and comfortable stays.
Pictures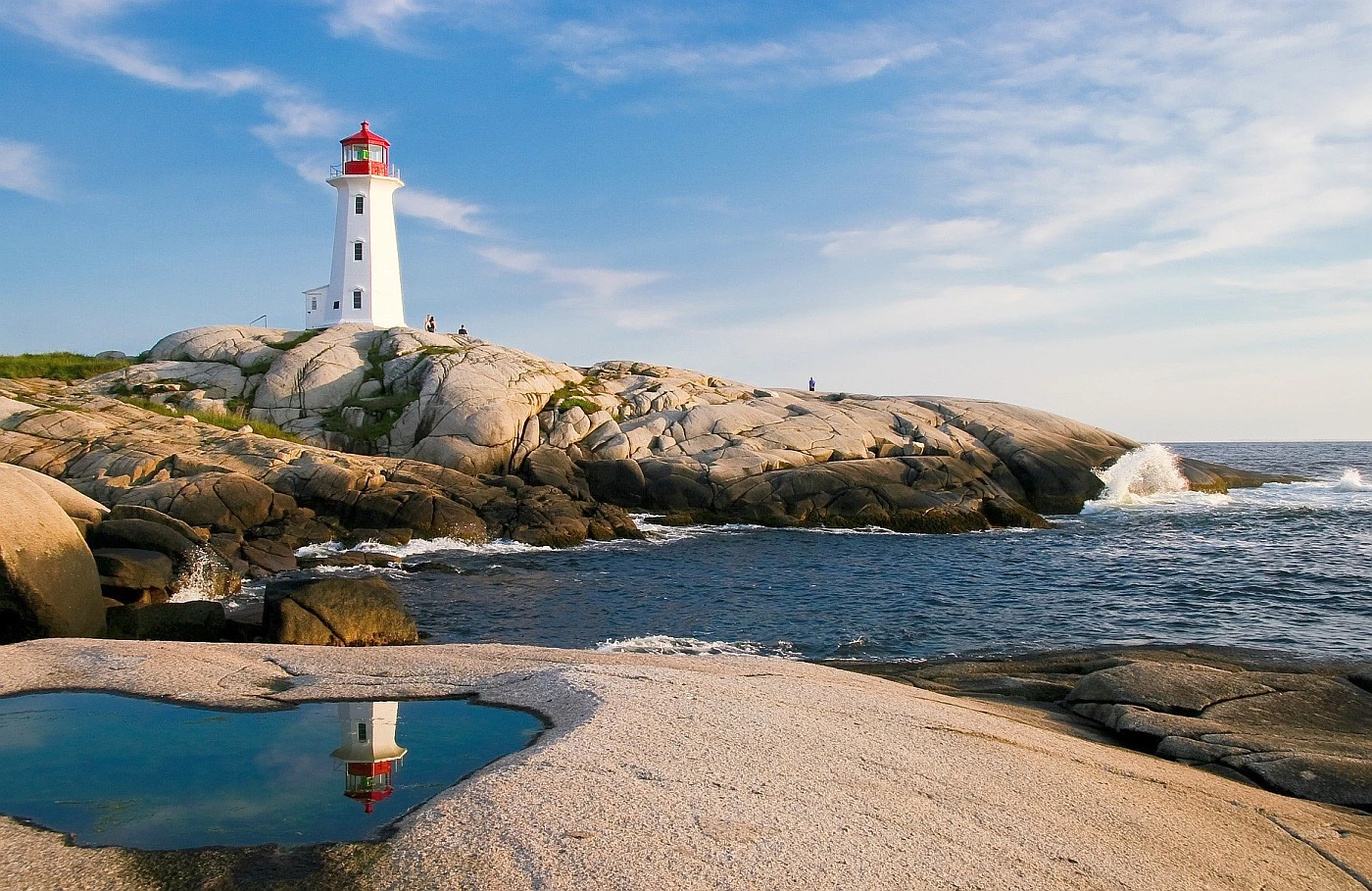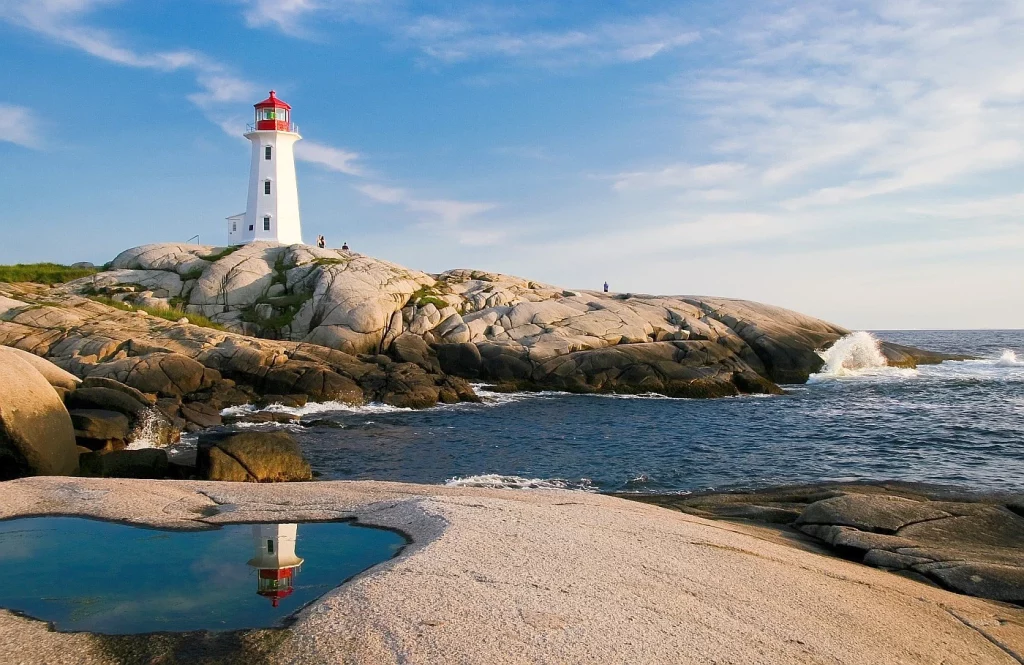 Useful information
Nova Scotia is one of Canada's three Maritime Provinces, and it's accessible by your own set of wheels. There are also many ways to travel, including scenic ferry rides or helicopter charters. You can also explore some incredible bicycle routes that rank among the world's best.
Car: In Nova Scotia, cars and motorcycles are the most convenient way of getting around. An extensive highway system links virtually every town and city in the province, making them the only plausible option for any road trip. Nova Scotia has a variety of highways, with the "highways" (101, 103, etc.) circumnavigating and intersecting the province. But when you're out sightseeing in Nova Scotia, you might prefer to take the old road (for example, Highway 1 or 3).
You may also be interested in
Did you like this Nova Scotia map and information page? Please don't forget to share or bookmark this content on Canada Maps.com!