Welcome to the Google Maps page for Canada Maps.com! You can use Google Maps to plan and navigate your trips in Canada easily. You can use the map to search for points of interest, such as restaurants, gas stations, or attractions, along your route. Visit this page for GPS coordinates shown on Google Maps. Thank you for using Canada Maps.com and Google Maps to plan your travels!
Google Maps Canada
Google Maps offers high-quality, beautifully rendered maps and plenty of features to help you find your way. It offers satellite imagery, aerial photography, street maps, 360˚ interactive panoramic views of streets (Street View), real-time traffic information, and many other navigation and mapping tools. As of 2020, over 1 billion people are using Google Maps monthly, and nearly five million live websites use Google Maps all around the world.
Google Maps satellite view is a "top-down" or bird's-eye view – which means it looks like you're viewing the world from high up in the sky. Their satellite imagery is aerial, primarily photography taken from aircraft flying at 240 to 460 meters / 800 to 1,500 feet above the earth's surface, while another imagery comes from satellites. Google Maps typically updates this imagery once a year, with an accuracy radius of 5 kilometers / 3 miles. One downside of the map is that it depicts what's there and misses details related to human perception. For example, sea ice appears white on their map, never blue. But even with this shortcoming, most people prefer Google Maps over other, more traditional cartographic maps because their images have a higher resolution and are easier to update. In August 2018, Google Maps added 3D globe rendering as well – if you're not into looking at the birds-eye view. You can still switch back to the 2D map in settings.
Canada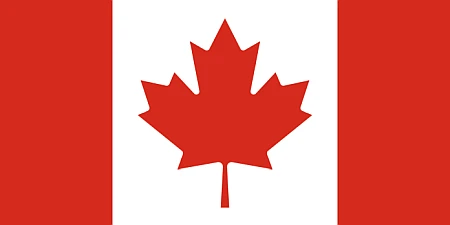 Canada is located in the northern part of North America, with an area of 9,984,670 square km / 3,855,102.64 square mi. It is the world's second-largest country by total area and has plenty of space. It spans six time zones and stretches from the Atlantic Ocean in the east to the Pacific Ocean in the west.
Canada's capital is Ottawa, and its largest city is Toronto. Canada counts English and French as its official languages, and its currency is the Canadian Dollar ($). Canada borders only one land country: the United States. It's sparsely populated with immigrants from many countries, making it one of the world's most multicultural and ethnically diverse nations.
Canada is home to a variety of landforms, including mountains, forests, lakes, rivers, and coastlines. The Rocky Mountains run through western Canada, and the Appalachian Mountains run through eastern Canada. The country is also home to the Great Lakes, which form the largest group of freshwater lakes in the world, and the Saint Lawrence River, which flows into the Atlantic Ocean.
Canada has a wide range of climates, from the subarctic in the north to the temperate in the south. The country experiences cold winters and mild summers in most regions.
Canada is rich in natural resources, including timber, minerals, oil, and natural gas. It is also home to many rivers and lakes, which provide hydroelectric power.
Canada has a population of over 38,25 million people (2022) and is home to a diverse range of cultural, linguistic, and ethnic groups. The majority of the population is concentrated in the southern part of the country, particularly in the cities of Toronto, Montreal, and Vancouver.
Did you know about Canada?
Here are some interesting facts about the second-largest country in the world:
Canada is a word that comes from the Huron-Iroquois language. It meant village and was mentioned by Huron-Iroquois youth to the explorer Jacques Cartier in 1535. Cartier later uses the word Canada when describing general information about a large land controlled by its chief named Dannacoa.
The first explorer to reach Canada was John Cabot in 1497. Born in Italy, he traveled to England and secured ships, hoping to find a shorter route to Asia. He landed on the coast of Newfoundland.
The Vikings have visited Canada. They arrived in 1021, several hundred years ahead of Christopher Columbus. They settled in what is known as L'Anse aux Meadows, just past Greenland.
Ottawa is Canada's capital and is home to 1,18 million people (2022). It can be found at the southeastern border with Quebec and is the fourth-largest city in the country. Ottawa shares French and English as its official languages, making it s bilingual capital.
Quick links: Google Maps Canada, driving directions.
What are the top searched locations in Canada using Google Maps?
The most searched locations on Google Maps are likely to vary depending on various factors, such as the user's location, the time of year, and current events. Some of the most popular locations in Canada that may be frequently searched on Google Maps could include major cities, tourist attractions, and natural landmarks. Some examples of popular locations in Canada that might be frequently searched on Google Maps could include:
Toronto: Toronto is the largest city in Canada and a popular tourist destination, with many cultural attractions, such as the CN Tower, the Royal Ontario Museum, and the Art Gallery of Ontario.
Montreal: Montreal is the second largest city in Canada and a central cultural and economic hub. It is known for its vibrant arts scene, historic architecture, and famous festivals like the Montreal International Jazz Festival.
Banff National Park: Banff National Park is a popular tourist destination located in the Rocky Mountains of Alberta. It is known for its stunning natural beauty, with mountains, lakes, and forests.
Niagara Falls: Niagara Falls is a famous natural attraction located on the border between Ontario and New York. It is known for its stunning waterfall, one of the world's largest.
Vancouver: Vancouver is a major city on the west coast of Canada and a popular tourist destination. It is known for its beautiful natural setting, mountains and ocean, and diverse cultural scene.
Whistler: Whistler is a famous ski resort town located in the Coastal Mountains of British Columbia. It is known for its world-class ski and snowboard facilities and year-round outdoor recreation opportunities.
These are just a few examples of popular locations in Canada that might be frequently searched on Google Maps. Many other destinations in the country could also be popular searches, depending on the interests and needs of the users.
Canada's 15 most striking finds on Google Street View
Here are 15 exciting and striking locations that can be seen on Google Street View in Canada:
Provinces and territories: Alberta, British Columbia, Manitoba, New Brunswick, Newfoundland and Labrador, Northwest Territories, Nova Scotia, Nunavut, Ontario, Prince Edward Island, Quebec, Saskatchewan, and Yukon.