Quebec facts
Capital: Quebec
Population: 8,164,361 (2016)
Date of Admission: 1867
Provincial Motto: Je me souviens (I remember)
Provincial flower: blue flag
Time Zone: Eastern (EST) – (GMT − 5 hours)
Total Area (Sq Km): 1,542,056
Total Area (Sq Mi): 595,391
Quick links: About, Major places, History, Geography, Climate, Google Maps, Facts, What to do, Accommodation, Pictures, Useful Information, Further readings.
---
Québec is probably what North America would have been like if the French had won the Seven Years' War. This embattled Eastern province knows how to party: it celebrates one of the world's fiercest winters with a carnival full of parade grannies and boats that race across frigid water. Throughout Québec, the rest of the year is packed with festivals celebrating jazz, international folklore, film, classical music, fireworks, beer, and hot air balloons. Its open-minded approach to language sets Québec apart from other provinces in Canada. The French in the province has more than one language – French can mean many things to Québécois. It's not just a language that represents romantic love – the French spoken there is also a language of law, business, politics, and culture, and 80% of the people speak French as their first tongue.
About Quebec, Canada
Quebec, French Québec, is an eastern province of Canada. It covers nearly one-sixth of Canada's total land area; Quebec is the largest of Canada's 10 provinces in area and is second only to Ontario in population. Quebec City, its capital, is the oldest city in Canada. Its name comes from the Algonquian, meaning "where the river narrows," which beckons visitors with scenic views of the majestic St. Lawrence River and the pastoral Orleans Island. The province's major metropolis, Montreal (Montréal), encompassing Montreal Island, Jesus Island to the north, and several communities on the south shore of the St. Lawrence River, is the second largest city in Canada. Quebec is bordered to the north and east by Hudson Strait, Ungava Bay, and Newfoundland; to the southeast by the Gulf of St. Lawrence, James Bay, and New Brunswick; to the south by New Hampshire, Vermont, and New York; to the west by Ontario, and the northwest by Hudson Bay.
The boundaries of Quebec have been altered many times throughout its existence. Following the establishment of New France in the early 17th century, when the French colonial empire in North America spread to the Gulf of Mexico and west of the Mississippi River, James Bay, Hudson Bay, and Ungava belonged to the British Hudson's Bay Company. Quebec's eastern border extended to Labrador and the Eastmain River in 1898. The district of Ungava was included less than two decades later, in 1924. Quebec's present-day borders were drawn in 1927 when the British Privy Council granted Labrador to Newfoundland. Today the province of Quebec's French-speaking leaders continue to dispute this decision, but they recognize the 1927 border between Quebec and Newfoundland.
Principal cities and towns
The largest 10 cities in Quebec by their population (2016) and area:
Montreal 1,704,694, 365.65 sq km / 141 sq mi
Québec Capitale-Nationale 531,902, 453.38 sq km, / 175 sq mi
Laval Laval 422,993, 247.23 sq km, / 95 sq mi
Gatineau 276,245, 342.80 sq km, / 132 sq mi
Longueuil 239,700, 115.75 sq km, / 44 sq mi
Sherbrooke 161,323, 353.76 sq km, / 136 sq mi
Saguenay 145,949, 1,128.56 sq km, / 435,52 sq mi
Lévis 143,414, 449.05 sq km, / 173,37 sq mi
Trois-Rivières 134,413, 289.32 sq km, / 111,7 sq mi
Terrebonne 111,575, 154.12 sq km, / 59,5 sq mi
History (in brief)
Although it has a rich history and a wide variety of indigenous people, the history of Québec begins in 1535 with Jacques Cartier's voyage up St Lawrence. He sailed up Stadacona and Hochelaga – present-day Québec City and Montréal, respectively. The colony's early days were focused on the fur trade and an attempt to convert Indigenous peoples to Christianity. Still, these tasks were made more difficult because France had allied with the Huron, Algonquin, and Iroquois Nations to access their trading networks (Hurons, Algonquins, Iroquois). While those groups' traditional enemies – The Five Nations of Canada – had made alliances with Britain. Louis XIV made New France a royal province in 1663. Since then, soldiers and available Frenchwomen have been sent there. The hostilities between the French and British have been inconsistent, and they've stunted the settlement's growth. In 1701, twelve hundred colonists met with an even more significant number of Aboriginal peoples from around North America to sign La Grande Paix, the Great Peace Treaty of 1701.
The Seven Years' War was a conflict that ravaged Europe and the Americas from 1756 to 1763. It saw a conflict between France and Britain in one country, most of their European colonies, and America's involvement. The turning point came in 1759 with the Battle of the Plains of Abraham. British forces used the 1774 Québec Act, a move that helped resist American attempts to take over Canada. They also fled across the Canadian border after American independence, settling primarily in Eastern Townships and present-day Ontario. The creation of Lower and Upper Canada in 1791 pushed the Anglophones to a higher level than the Francophones. This created a false hierarchy that later led to rebellion amongst the Francophones. Lord Durham claimed the causes when he said, "The English and French relations were akin to two nations warring within the bosom of a single state". He proposed to immerse Francophone citizens into an English-speaking culture, which led to the 1840 Act of Union joining Lower and Upper Canada.
Geography
Quebec comprises three physiographic regions: the St. Lawrence Lowlands, the Appalachian Uplands, and the Canadian Shield. Each region offers a unique mix of nature, humanity, and history, making them attractive to different groups over time.
The St. Lawrence Lowlands is the most fertile and densely populated region of the province of Quebec, extending from Quebec City along both sides of the St. Lawrence River. The lowland plains were initially home to different aboriginal communities, but once Europeans began to settle there fast, their population grew significantly. Today it is home to a tremendous agricultural sector and a more vibrant urban community with shifting economic opportunities.
From the Gaspé Peninsula to the U.S.-Canada border, Quebec's Appalachian Uplands region covers nearly one-fourth of the province. It is a mixture of different types of terrain, including forested hills, arable plateaus, and high plains that undulate around higher mountains in North America. This region also includes Anticosti Island, situated in the Gulf of Saint Lawrence northwest of the Gaspé Peninsula.
The Canadian Shield covers more than four-fifths of Quebec, making it the resource-rich hinterland of the province. Mount d'Iberville, situated in the northeastern Torngat Mountains, reaches 5,420 feet (1,652 meters) and is the province's highest peak. Beginning in the foothills of the Laurentians (Les Laurentides), a range that's over 4 billion years old, it runs northward to the nation of Canada's largest island. Canada's largest body of land features many distinct, changing regions. The Canadian Shield is made up of three main parts: the Laurentians, which are covered in a thick forest of trees; the taiga, which is characterized by stunted hardwood trees and summers cool only by the reindeer moss and birches that grow there; lastly, the tundra, where permafrost allows for no life to exist during summer months.
Climate
Quebec is often characterized by hot summers and freezing winters. It also experiences cold fronts crossing the region, which can bring a lot of snow. Continental air masses come in from the northwest and interact with the Gulf of Mexico's humid summer air, creating hot weather in the summer months with lots of snowfall in winter.
Kuujjuaq, located on Ungava Bay, experiences an average temperature of -24 degrees Celsius / -11 degrees Fahrenheit in January and 11 degrees Celsius / 52 degrees Fahrenheit in July. In the south, the average temperature in Sherbrooke ranges from -10 degrees Celsius / 14 degrees Fahrenheit to 20 degrees Celsius / 68 degrees Fahrenheit, with a change of as much as 17 degrees Celsius / 30 degrees Fahrenheit in less than 24 hours. Snow remains on the ground for an average of 12 to 13 weeks at Montreal and up to 23 weeks north of the St. Lawrence River.
A similar variation exists regarding days without frost in Montreal: The averages are 140 frost-free days annually, while the far north averages fewer than 80 days without frost. In the Montreal region, the climate is less severe and less extreme. Sunshine and precipitation are abundant, contributing to the region's lush green vegetation.
Google Maps Quebec
Google Street View is a feature of Google Maps that provides 360-degree panoramic images of many locations around the world, including the province of Quebec. Here are a few exciting objects and locations that Google Street View in Quebec has captured:
The Château Frontenac: Google Street View has captured images of the Château Frontenac, a historic hotel located in the city of Quebec that is a popular tourist destination.
The Notre Dame Basilica: Google Street View has captured images of the Notre Dame Basilica, a historic church in Montreal, a popular tourist destination.
The Montmorency Falls: Google Street View has captured images of the Montmorency Falls, a waterfall located near the city of Quebec, one of the highest in the province.
The Old Port of Montreal: Google Street View has captured images of the Old Port of Montreal, a historic area located in the city of Montreal that is home to various shops, restaurants, and other attractions.
The Parc Jean-Drapeau: Google Street View has captured images of the Parc Jean-Drapeau, a public park located on an island in the St. Lawrence River in the city of Montreal.
The Basilique-cathédrale Notre-Dame-de-Québec: Google Street View has captured images of the Basilique-cathédrale Notre-Dame-de-Québec, a historic church located in the city of Quebec, which is a popular tourist destination.
The Mont-Tremblant Ski Resort: Google Street View has captured images of the Mont-Tremblant Ski Resort, a popular ski destination located in the Laurentian Mountains in the province of Quebec.
Did you know?
Quebec is one of the Canadian provinces located in the Eastern portion of Canada. It's well-known for its historical sites, such as Old Quebec. This province also has a famous city named Montreal, with many attractions, like world-class skiing and whale watching.
Out of the 10 provinces in Canada, Quebec is the largest by area, followed by Ontario.
Quebec is one of the oldest European settlements in North America.
Samuel de Champlain initially set the dates for Quebec City in 1608. This is one of the oldest continuously inhabited sites in Canada.
Quebec is the second-most populous province in Canada. Ontario is first.
The term "Kebec" refers to the narrows of the St. Lawrence River, where it meets Quebec City.
Many archeologists believe that the indigenous tribes migrated from here to East Asia between 12,000 and 23,000 years ago using a land bridge known as the Bering Plain.
Today, Quebec, Canada, has approximately 2% of its population comprised of Indigenous people, who make up one in 10 Indigenous Canadians.
Quebec is the only province in Canada with French as its official language. Quebec is also a bilingual city where English is widely spoken besides French.
After the Seven Years' War, Canada became a British colony. It was known as the Province of Quebec from 1763 to 1791 and Lower Canada from 1791 to 1841. It later became Canada East from 1841 to 1867.
What to do in Québec
If you're looking for a unique and exciting travel destination, look no further than Quebec Province! From world-renowned attractions like the Fortress of Louisbourg and Jacques Cartier National Historical Park to charming small towns like Sillery and Salaberry-de-Valleyfield, Quebec has something for everyone. Here are some of the best things to do in Quebec:
Québec City: From the top of Cap Diamant, you can observe the movement on the St. Lawrence River and cruise ships dancing across the Quebec coastline in the summertime. With a city surrounded by water, Québec City is quintessentially French Canadian in every way!
Montreal: With its mix of European and North American culture, the delicious food scene, events that would be a blast in any season, and hockey, no wonder Montreal is one of the best travel destinations. There's plenty on offer for every type of traveler.
After Quebec City and Montreal, here are the most popular regions to visit: Abitibi-Témiscamingue, Bas-Saint-Laurent, Centre-du-Québec, Charlevoix, Chaudière-Appalaches, Côte-Nord, Eastern Townships, Eeyou Istchee Baie-James, Gaspésie, Lanaudière, Laurentians, Laval, Magdalen Islands, Mauricie, Montérégie, Nunavik, Outaouais, Saguenay-Lac-Saint-Jean.
Generally, the top 12 things to do in Quebec, Canada, are Going back in time, Relaxing in a park, Visiting the parliament, Exploring one of North America's oldest communities, Snapping photos of a waterfall, Walking around a castle, Looking at the marine life, Enjoying a festival, Gazing at art, Walking along a famous street, Riding a ferry, and Enjoying the views.
Accommodation in Québec
Many options are available if you're looking for somewhere to stay in Quebec. You can find hotels and inns all over the province, from small towns to major metropolitan areas. Our extensive online selection of Quebec hotels will help you find the perfect place to stay while visiting this beautiful province. From luxurious resorts to charming B&Bs, we have everything you need to find the perfect lodging choice for your vacation needs. And if you need assistance making a reservation, our team of experts is always happy to help. So what are you waiting for?
Reserve a room
Our tip for accommodation in Quebec would be to consider staying in a traditional "Old Quebec City" or in a "rural village". Old Quebec City is a UNESCO World Heritage Site and is known for its charming cobblestone streets, historic architecture, and European-inspired atmosphere. The city is home to many charming hotels and bed and breakfasts located in restored heritage buildings that offer a unique and authentic experience.
Another tip would be to consider staying in a rural village, such as those located in the Eastern Townships or the Charlevoix region. These villages often have various accommodation options, such as cottages, inns, and B&Bs, that are nestled among the area's natural beauty and offer comfortable and cozy stays. Many of these rural villages are surrounded by nature, offering great opportunities for activities such as hiking, skiing, and ice-fishing in winter, swimming, kayaking, and fishing in summer.
You can also consider staying in a major city like Montreal or Quebec City, where you will have access to a wide range of accommodation options, from budget-friendly hostels and hotels to luxury resorts and a variety of cultural and entertainment opportunities.
Pictures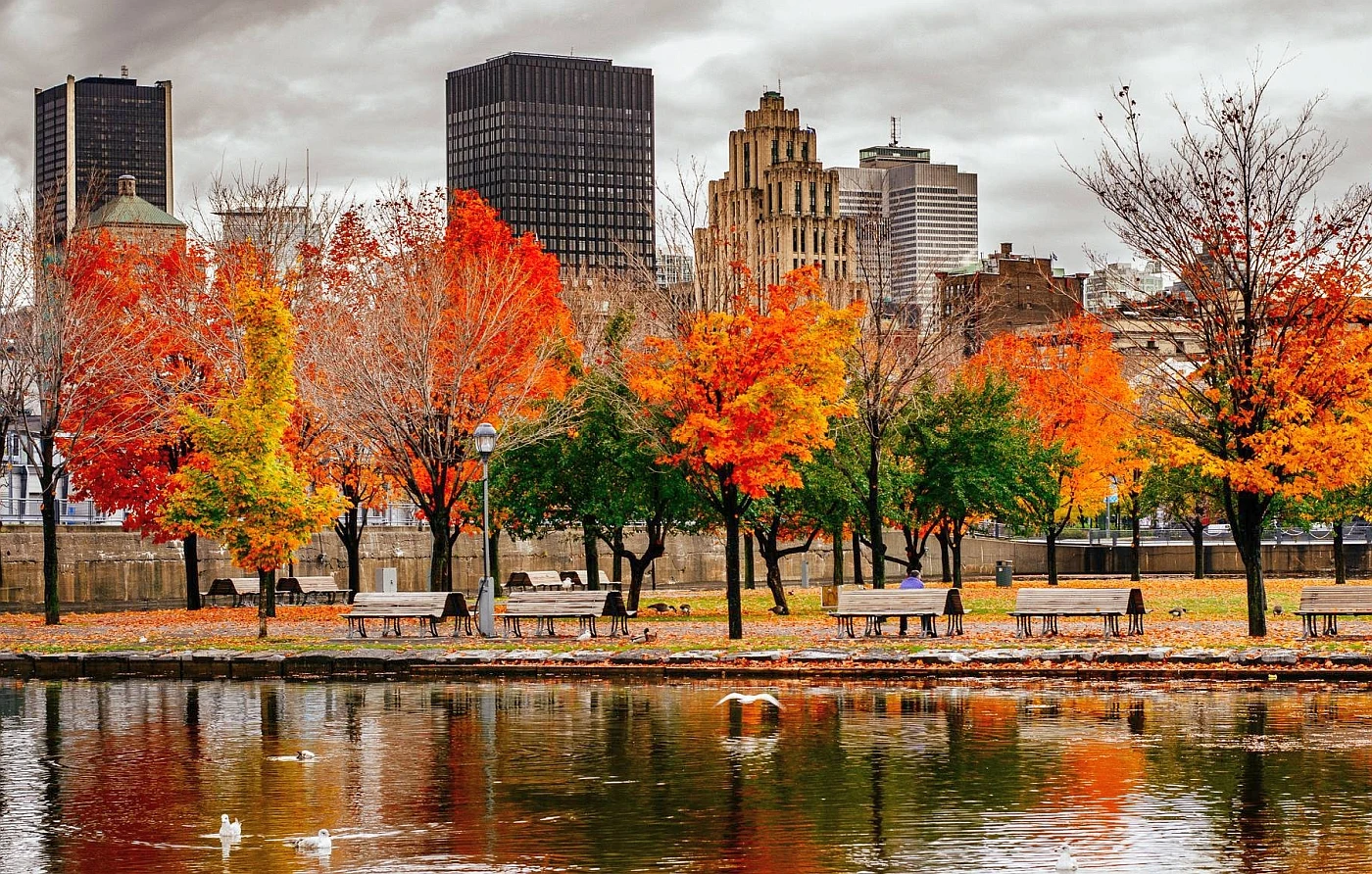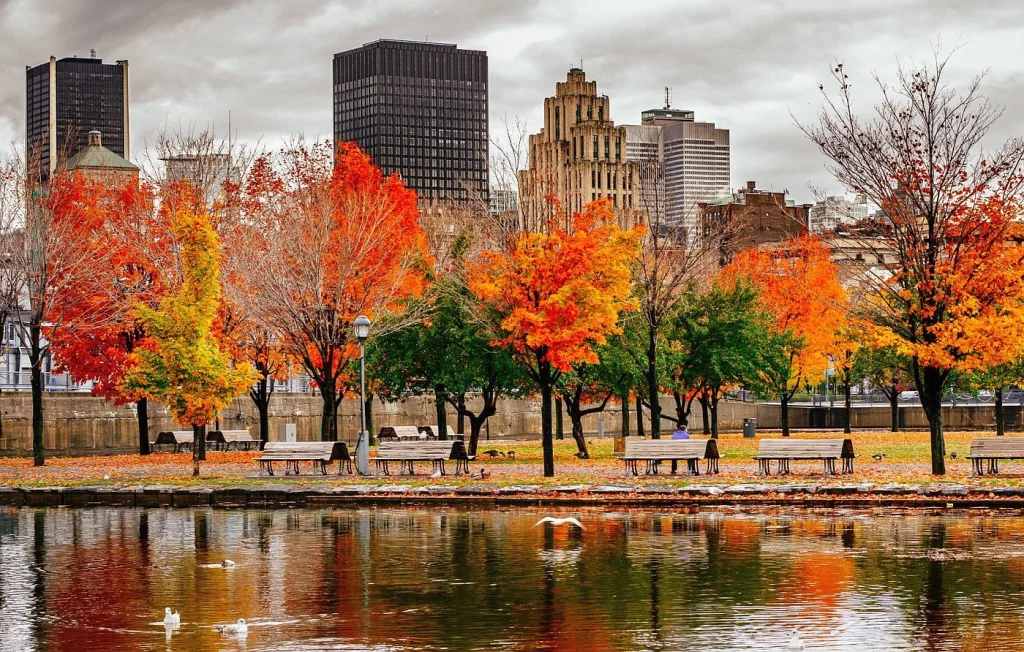 Useful Information
Québec is a vast territory of over 1,500,000 square km / 579152 square mi. Its size is 3 times France, 6.3 times the United Kingdom, 17 times that of Maine, and 51 times that of Belgium. Traveling over Québec's roads can sometimes take time, so it's best to plan carefully.
Québec is such a unique place. It feels like a different country with a unique identity within the larger Canadian one. Of course, this is Canada, with its vast wilderness and cosmopolitanism, but Québec embraces terroir and its language, culture, passion for winter snow and wines, gastronomy, and so much more. The Québécois are distinctly North American and European in their approach to it all, and it's just amazing!
By car: Québec's leading road network stretches for 325,000 kilometers. Yes, there are a ton of roads to choose from! Québec's 250 national, regional, secondary, and local roads allow great freedom when traveling around the province.
When you must legally drive in Quebec, it is important to identify yourself with an ID card as one from a French-speaking or English-speaking country. If your ID card doesn't state this information, you'll need to obtain an international driving permit and exchange it at the border control.
All roads in Quebec are toll-free, except for certain sections of Highway 25, between Montréal and Laval, and of Highway 30, between Les Cèdres and Salaberry-de-Valleyfield.
For up-to-the-minute information on road conditions, use the Québec 511 service provided by the Ministère des Transports du Québec: Tel.: 511 or 1-888-355-0511 (outside Québec).
By motorcycle: Motorcycling can be an enjoyable activity, but it's not so easy when you live in Québec! During winter, motorcyclists aren't allowed between December 15th and March 15th. A mandatory helmet is also required for drivers during this time of year.
By bus: Several options are available when traveling to and around Québec from other cities and towns in Canada. A few companies typically offer bus routes:
By plane: Air travel is a fast, practical way to get around Québec. You can reach remote regions like Nunavik and cover long distances in minutes. Plus, airports are easily accessible from any other part of the province as well.
It's essential to consider the following factors: Flight connections are infrequent, and prices are relatively high in Québec, given its vast distances and low density of 5.6 inhabitants/km2. It can be easier to take one trip and explore multiple destinations in Québec than to see it all at once.
Public transportation in the cities
You can find public transit services easily in Québec's major cities. Montreal is served by a subway system (the "metro"), buses, and commuter trains. And we can't talk about the metro without mentioning Montreal's underground city, comprised of over 30 kilometers of corridors between 10 metro stations that give access to thousands of businesses and public buildings.
The best way to get information on bus and train routes and fares in Québec's major cities is to visit their corresponding website.
You may also be interested in
Did you like this Québec map and information page? Please don't forget to share or bookmark this content on Canada Maps.com!