Uncover the Hidden Gem of Canada – Saskatchewan
Embark on an unforgettable journey to Saskatchewan, Canada's best-kept secret. Situated in the western part of the nation, this province is a treasure trove of natural wonders, rich cultural heritage, and endless opportunities for adventure. Whether you're an avid traveler or looking for a new place to call home, Saskatchewan offers a unique blend of experiences that will leave a lasting impression.
Where is Saskatchewan located?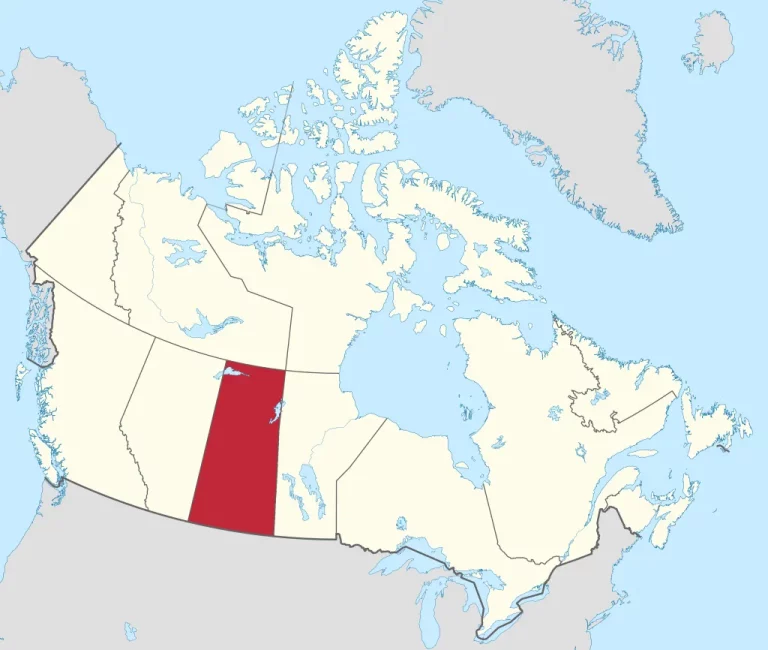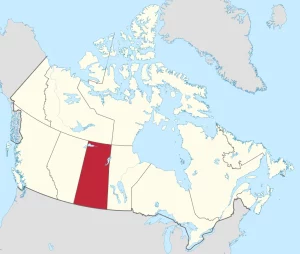 Saskatchewan is a province in Western Canada, uniquely distinguished by its geographic coordinates rather than natural borders. It is situated at approximately 54°00′00″N latitude and 106°00′02″W longitude. Alberta borders the province to the west, the Northwest Territories to the north, Manitoba to the east, Nunavut to the northeast, and the United States (Montana and North Dakota) to the south. It is one of only two landlocked provinces in Canada, the other being Alberta. Saskatchewan's total area spans 651,900 square kilometers, of which nearly 10% is freshwater, comprising rivers, reservoirs, and lakes. The province is divided into two major natural regions: the north boreal forest and the south prairies. The southern border lies on the 49th parallel, while the northern border is on the 60th parallel. The province's highest point is in the Cypress Hills at 1,392 meters, and its lowest point is the shore of Lake Athabasca at 213 meters.
The Diverse Landscapes of Saskatchewan
From the sprawling prairies to the rugged terrains of the Cypress Hills, Saskatchewan is a paradise for nature enthusiasts. The province is dotted with over 100,000 lakes and rivers, making it a haven for water sports and fishing. Whether you're into kayaking, paddleboarding, or simply enjoying a peaceful day by the water, Saskatchewan has got you covered.
Weather in Saskatchewan
Discover the Four Seasons: A Comprehensive Guide to Saskatchewan's Weather
Saskatchewan is a land of diverse weather patterns and four distinct seasons. From the warm, dry summers to the cold winters, each season offers its own set of experiences. Here's a detailed look at what you can expect from Saskatchewan's weather throughout the year.
Seasonal Facts/Trends in Saskatchewan
| Season | General Weather Description | Temperature Range (°C) | Temperature Range (°F) |
| --- | --- | --- | --- |
| Summer | Warm and dry | 15°C to mid-30s°C | 60°F to 90-95°F |
| Winter | Cold | Below freezing | Below 32°F |
| Spring | Mild | Begins by April | Begins by April |
Summer: The Sunniest Season
Saskatchewan summers are usually warm and dry, with high temperatures ranging from 15°C (60°F) in May to the mid-30s°C (90-95°F) in July and August. The province boasts the most sunshine of any Canadian territory, making it the perfect destination for outdoor activities. However, nights can be cool, so it's advisable to pack some warm clothing as well.
Winter: A Season of Frost and Snow
Winter in Saskatchewan is characterized by cold temperatures that generally remain below the freezing point. The season usually begins in November, offering a range of winter activities like skiing and snowboarding. Despite the cold, the winter season has its own unique charm and is a great time for those who love the snow.
Spring: A Time for Renewal
Spring in Saskatchewan is mild and usually begins by April. This is the season when the landscape starts to thaw and come alive again. It's an excellent time for late-season skiing and enjoying the natural beauty as flora and fauna begin to awaken.
Sun Safety in Saskatchewan
Given that Saskatchewan averages the most sunshine of any Canadian province, it's crucial to take sun safety seriously. The Canadian Cancer Society recommends taking precautions between 11 a.m. and 4 p.m., wearing tightly woven, lightweight clothing, and applying broad-spectrum sunscreen with a sun protection factor (SPF) of 15 or higher.
A Journey Through Time: The Rich History and Culture
Step back in time and explore Saskatchewan's rich history that spans thousands of years. The province is a living museum with ancient petroglyphs, indigenous artifacts, and historical sites that tell the story of its First Nations people and European settlers. Experience the melting pot of cultures through vibrant festivals like Folkfest and Mosaic, and discover how the province's diverse heritage continues to shape its modern identity.
Must-Visit Cities and Attractions
From the artsy vibes of Saskatoon to the historical landmarks in Regina, Saskatchewan offers a range of urban experiences. Don't miss out on the natural beauty of Prince Albert National Park and the panoramic views from Cypress Hills Interprovincial Park. For a taste of the Old West, head to Moose Jaw and explore its underground tunnels and Western Development Museum.
Thriving Economy: More Than Just Wheat Fields
While agriculture remains a cornerstone, Saskatchewan's economy is far from one-dimensional. The province is a hub for mining, oil and gas production, and manufacturing, offering many job opportunities and contributing significantly to Canada's prosperity.
"Did You Know?" Facts
Saskatchewan has the highest number of roads per capita in Canada.
The province is home to the world's richest deposits of potash and uranium.
Saskatchewan was the first province in Canada to adopt an official flag in 1969.
The Grasslands National Park in Saskatchewan is one of North America's last remaining natural grasslands.
Google Maps Saskatchewan
Saskatchewan Cities
Embark on a journey through Saskatchewan, a province known for its vibrant cities, rich cultural heritage, and diverse landscapes. From the bustling urban centers of Regina and Saskatoon to the charming small towns like Assiniboia and Claydon, Saskatchewan offers a wide range of experiences for every traveler. Below is a list of cities in Saskatchewan, organized by their size:
Regina, Saskatoon, Prince Albert, Moose Jaw, Yorkton, Swift Current, North Battleford, Estevan, Weyburn, Melfort, Humboldt, Melville, Meadow Lake, Kindersley, La Ronge, Nipawin, Esterhazy, Langham, Rosetown, Tisdale, Leader, Assiniboia, Raymore, Prelate, Climax, Dafoe, Bertwell, Claydon, Semans, Vidora, Robsart, Weekes.
Saskatchewan Lakes, Rivers and Locations: 
Discover the natural splendors of Saskatchewan, a province that boasts an array of stunning lakes, rivers, and other geographical landmarks. Whether you're an angler looking for the perfect fishing spot or an adventurer seeking the tranquility of untouched wilderness, Saskatchewan has something for everyone. Below is a list of notable lakes, rivers, and locations in Saskatchewan:
Amisk Lake, Black Birch Lake, Black Lake, Burnett Lake, Candle Lake, Canoe Lake, Clearwater River, Cree Lake, Delaronde Lake, Dore Lake, Engemann Lake, Fond Du Lac, Franklin Lake, Frenchman River, Geikie River, Keeley Lake, Lac La Plonge, Lake Athabasca, Lake Diefenbaker, Last Mountain Lake, Lloyd Lake, Manitou Lake, Mayson Lake, Montreal Lake, Old Wives Lake, Oliver Lake, Oman Lake, Pasfield Lake, Peter Pond Lake, Qu 'Appelle River, Quill Lakes, Reindeer Lake, Riou Lake, Saskatchewan River, Selwyn Lake, Sisipuk Lake, Sled Lake, Tazin Lake, Tobin Lake, Turnor Lake, Waterhen River, Wathaman River.
Conclusion
Saskatchewan, nestled in the heart of Canada, is truly a hidden gem waiting to be discovered. With its breathtaking landscapes, rich history and culture, vibrant cities, thriving economy, and friendly people, there are countless reasons why you should visit or even consider making Saskatchewan your home.

Saskatchewan's main draws are its stunning geography and diverse climate. This province has everything from vast prairies to rolling hills, pristine lakes, and dense forests. Whether you enjoy hiking through untouched wilderness, fishing in crystal-clear waters, or simply immersing yourself in nature's beauty, Saskatchewan offers endless opportunities for outdoor adventures.

In addition to its natural wonders, Saskatchewan also boasts a fascinating history and vibrant cultural heritage. Learn about the indigenous peoples who have called this land home for thousands of years at places like Wanuskewin Heritage Park or explore the rich fur trade era at Fort Battleford National Historic Site. Immerse yourself in art galleries showcasing local talent or attend one of the many festivals celebrating music, dance, and food worldwide.

Saskatchewan is also home to several major cities offering modern amenities and small-town charm. Saskatoon impresses with its picturesque riverfront setting, while Regina showcases impressive architecture, such as the iconic Legislative Building. Both cities boast a lively arts scene with theaters, museums, and galleries that cater to all tastes.

When it comes to economic opportunities, Saskatchewan shines bright as well. Known as Canada's breadbasket due to its fertile soil and agricultural industry dominance; however, some other key sectors include mining, oil, gas, and renewable energy.

Saskatchewan provides various employment prospects across different industries.

The province also offers affordable living, making it an attractive choice for those looking for career growth without compromising their quality of life.