Traveling by car is the best way to see Canada. Unlike other countries in North America, Canada is primarily a drive-to-the-wilderness country, made up of vast, open expanses with few villages or urban centers. Consequently, traveling by car is your best bet to see the country at its most stunning – and avoid crowded tourist destinations.
When you visit certain provinces, a car is easier and more convenient for exploring the different places and terrain around them. If you don't have a car, it's still possible to travel by train or bus. Nowadays, using Google Maps is more than just easy to plan any route around Canada.
Even major cities like Toronto and Montreal were built to navigate by car, although they now have great public transportation (and horrible traffic).
If you want to spend most of your time exploring Canada, renting a car and flying across provinces would probably be the best option. There are long stretches of driving that are just plain land on a map, and 12 hours worth could feel like a wasted day when you're only for a few weeks in Canada.
Any US, UK, Australian, or New Zealand national over 21 with a full driving license can drive in Canada. However, rental companies may refuse to rent to a driver who has held a full license for less than one year, and under-25s almost invariably get lumbered with a higher insurance premium. Car-rental companies will expect you to have a credit card; if you don't, they may refuse to rent.
You'll also want to ensure that your vehicle is roadworthy and fully licensed for Canadian road conditions. Most roads in Canada are in good condition. Still, some areas can be rough – often featuring steep hills and fast corners – so it's always advisable to take preventative measures such as having your vehicle serviced regularly and checking tire pressure before setting out.
Petrol (gas)
Canadian gasoline is sold per liter and a variety of other containers. Prices vary widely depending on the region, so you should be sure to fill up at gas stations whenever possible. In Canada, petrol is heavily taxed while being approximately 20% more expensive than in the United States. Prices vary significantly throughout the country: Ontario's might be only 20-30 cents a liter cheaper. In Newfoundland, the prices could be significantly higher due to Newfoundland having its own set of taxes and excise duties.
Roads and hazards
In Canada, there is a terrific network of highways. Although they come in multi-lane form, they're kept lightly utilized and are mainly composed of two-lane highways. Signs on these roads are numbered by the distance to the beginning of the road — so exit 45 is 10km further than exit 55. In the north, areas with more uneven terrain may have gravel or dirt roads that are especially treacherous to travel on. When traveling on dirt roads, it's always best to ensure your car has four-wheel drive capability.
Rural road hazards: When driving in rural areas, watch for large animals, especially moose and enormous deer. These creatures often emerge from the woods onto the highway due to flies or reflective traffic lights. Keep your headlights on high beams when driving in this type of area. If you cannot stop, pull as far off the road as they are and wait until they pass.
Parking
It's tough when the parking meters in your city are expensive (charging 25¢–$1.50 or more per hour)! It can cost up to $30 a day to park your car, and you might be towed for going too close to fire hydrants (charge you upwards of $350). Make sure you're not parking too close, or you'll have an even worse time. When it comes time for parking in cities, ensure you're parked in the same direction as traffic.
Rules of the road
In most urban areas, traffic drives on the right-hand side of the road. At intersections without traffic lights, there will be either yellow triangular "Yield" signs or red octagonal "Stop" signs at all four corners. In the latter case, priority is given to the car that arrived first and the car on the right if there are two or more cars in front of them. When traveling in Québec, you can turn right on a red light even if traffic is approaching from the left. Drivers in both directions must stop when a school bus is stationary with flashing lights on as children get on or off.
While driving in Canada, you'll need to be careful and aware of the local laws surrounding speed limits. This is because speed limits are set at the provincial level, with the maximum speed limit usually being 100–110kmph on major highways, 80kmph on rural highways, and 50kmph or less in built-up areas. On-the-spot fines are standard for speeding violations, failing to carry your driver's license with you, or passengers not wearing seat belts.
All Canadian provinces have laws that require that alcoholic beverages be carried unopened in the boot of a vehicle. However, there is no regulation against this in most jurisdictions, so highway police check vehicles without warning, and you must open your boot.
Renting a car or RV
In most provinces, visitors can legally drive for up to three months with their home driver's license. However, in British Columbia, it lasts six months. If you are in Canada long-term, obtaining an International Driving Permit (IDP) is a good idea. This is valid for one year from the date of issue and comes at a small price. Carry your home license and IDP together when traveling around Canada, as this will make for faster and easier border control.
The most feasible solution for renters in Canada is either to book a fly-drive package or to rent with a major rental company. Fly-drive packages are typically cheaper during the shoulder and low seasons because there's much more competition for attention.
Renting an economy saloon in Canada costs around $300 a week during low season and can go up to $450 in high season. The rates depend on the company, but promotions are offered annually, which can get them down to as low as $200 per week. Provincial taxes and GST or HST are not included in the rates. The highest hidden cost is often the drop-off charge, which you pay when leaving your car somewhere else rather than where you picked it up. We highly recommend checking the company's website to see if there is an unlimited mileage option. If not, it can make your trip far less fun since you're limited to how much you can drive each day for free. After which, a fee of about 13-20 cents per mile will be charged aside from any other fees on the company website. Ensure the insurance policy provides adequate levels of coverage, and consider purchasing a Loss Damage Waiver to protect you from paying for damage that isn't your fault. The Loss Damage Waiver is around $25 per day, which can significantly impact the overall cost of renting the vehicle, but it can be worth it to avoid having to pay for damages that weren't your fault.
An RV is a great way to use that spare penthouse suite or any unused space in your house. Thankfully, there are a lot of travel agents, who specialize in Canadian holidays, that can help you rent one in Canada. It's best to arrange a rental before coming to Canada, as rental outlets aren't too common. You can rent various RV types to a mobile home with two bedrooms and fully-furnished kitchens. The cost of hiring a van for a week doesn't vary too much depending on the destination. The costs can be as low as $1300 in late February and up to $2200 in July during the high season. If you don't add in the other fees related to renting an RV, it should come to around $2550 per week, including fuel and drop-off surcharges. Cross-border travel can be difficult, but Canada does have strict regulations about what size vehicle is allowed. In British Columbia, the maximum length for trailers is 12.5 meters / 41 feet, while Ontario restricts trips by RV's with cars to 23 meters / 75 feet. But just 20 meters and 65.6 feet are allowed in BC. This can be hard to determine with US models of motorhomes, so make sure your model is under the limit before booking a trip if coming from out of the country!
Driveaways
Like renting a car, you'll deliver a vehicle for the owner. This is done through a driveaway company, similar to an airport rental. You may be charged for any repairs and have a large fuel bill if it's a gas guzzler. Most people will need their Canadian or US driving license and personal reference at the pick-up time, as well as paying a deposit of up to $500 when signing up with the company. In fall and winter, the most common routes are Toronto to Vancouver or Florida and Arizona/New Mexico. Not much leeway is given – eight days is allowed for driving from Toronto to Vancouver.
Canada road trips
Canada offers a spectacular combination of breathtaking scenery with fantastic wildlife and eclectic cities. Hike through the wilderness, marvel at mirrored lakes in the Rocky Mountains, or explore the untouched coastlines of Nova Scotia. With endless choices for car hires, you'll top off your trip with unbeatable natural beauty and return to reality feeling energized and refreshed.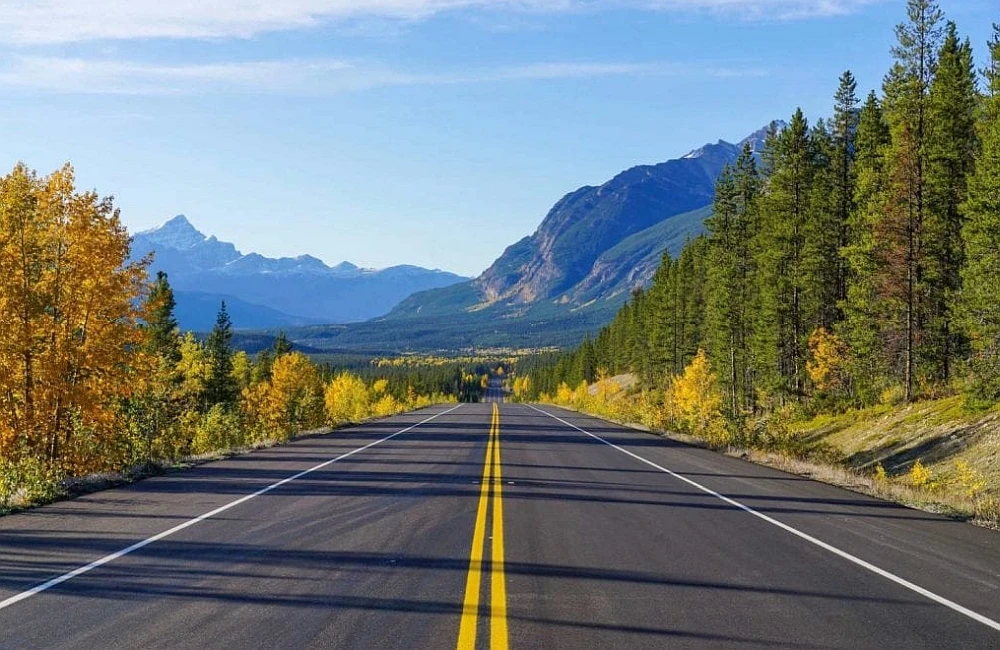 You will love Canada road trips! Here are our tips:
Explore mountains, lakes, glaciers, waterfalls, and wild beaches
Spot grizzly bears, moose, elk, whales, and puffins
Hike, kayak, cycle, and sail through the wilderness
Mix a road trip with the Rocky Mountaineer for the ultimate trip
Kickstart each day with Canadian pancakes and maple syrup
The most popular road trips by car in Canada
Canada is a vast and diverse country with many beautiful and scenic road trips that can be taken by car. Some of the most famous road trips in Canada include:
The Trans-Canada Highway: This is the longest national highway in the world, stretching over 4,800 miles from Victoria, British Columbia, to St. John's, Newfoundland and Labrador. The highway passes through some of Canada's most beautiful and iconic landscapes, including the Rocky Mountains, the Great Lakes, and the Atlantic provinces.
The Sea-to-Sky Highway: This scenic highway runs from Vancouver to Whistler, British Columbia, passing through the Coast Mountains and offering breathtaking views of the Pacific Ocean.
The Icefields Parkway: This scenic road winds through the heart of the Rocky Mountains, connecting Banff National Park and Jasper National Park in Alberta. The drive is filled with stunning mountain vistas and opportunities to see wildlife.
The Cabot Trail: This scenic drive takes you through the beautiful Cape Breton Island in Nova Scotia, offering breathtaking views of the Atlantic Ocean and the chance to see whales and other marine life.
The Dempster Highway: This remote and rugged road runs through the heart of the Yukon Territory, passing through the stunning Arctic tundra landscape.
These are just a few examples of the many road trips that can be taken in Canada. To plan your road trip, you can use a transportation planning tool such as Google Maps or a travel website to find the best route and attractions along the way.
Road map of Canada
If you're looking for a map to help you figure out how to get around in Canada, look no further than this driving map. This printable driving map features provinces, territories, provincial and territorial capitals, cities, towns, highways, roads, trans-Canada highways, railways, and rivers.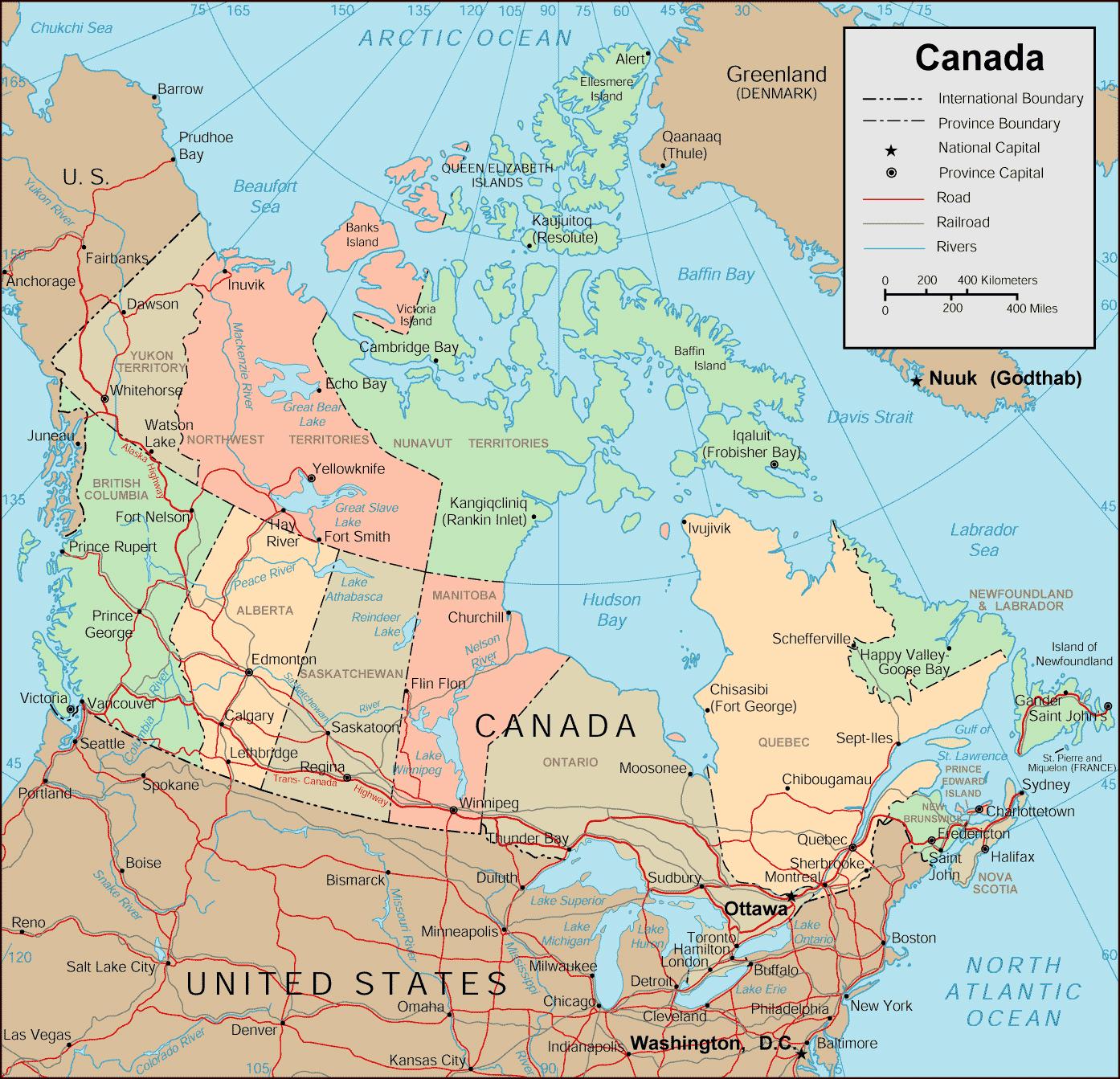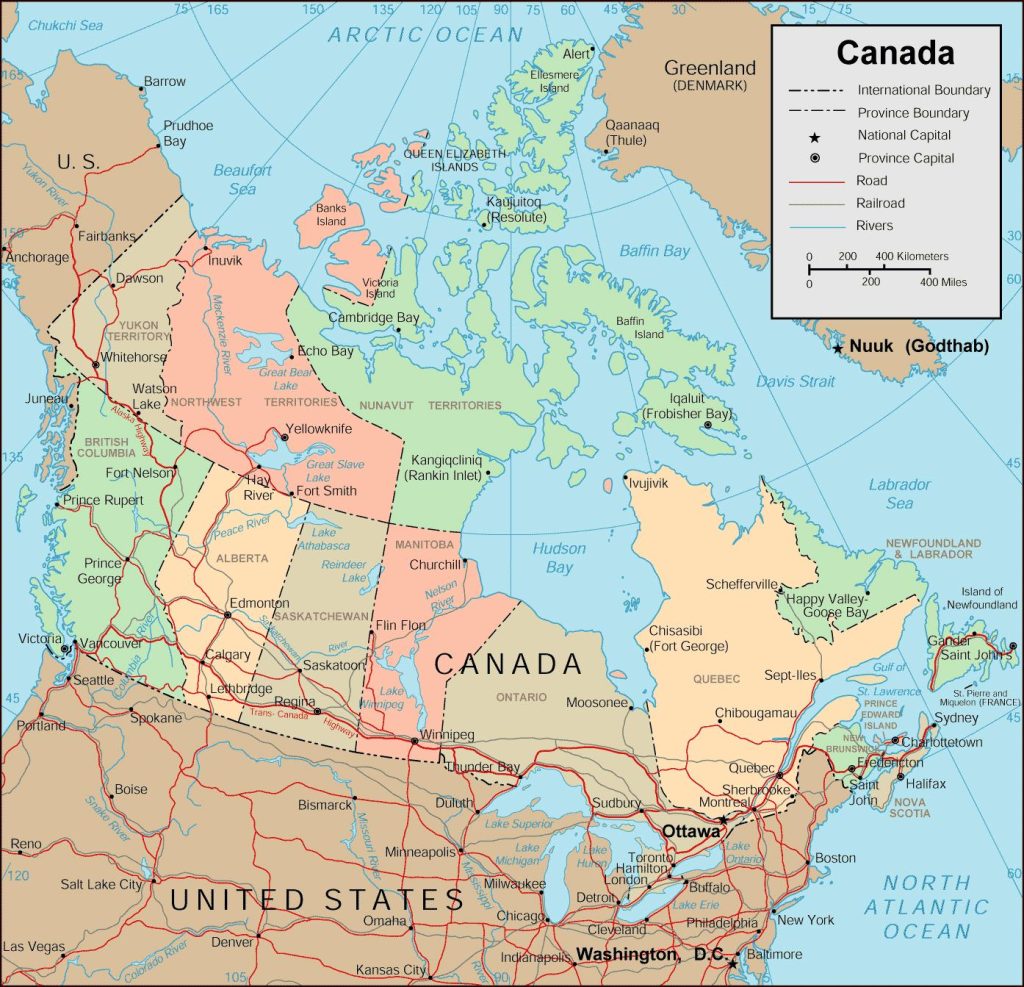 You can find this Canada road map to print and save in PDF by clicking on the image.
You may also be interested in getting around Canada by bike, bus, car, ferry, plane, or train.