Alberta facts
Capital: Edmonton
Population: 4,262,635 (2021)
Date of Admission: 1905
Provincial Motto: Fortis et liber (Strong and free)
Provincial flower: Wild rose
Time Zone: Mountain (MST) – (GMT − 7 hours)
Total Area (Sq Km): 661,848
Total Area (Sq Mi): 255,541
Quick links: About, Major places, History, Geography, Climate, Google Maps, Facts, What to do, Accommodation, Pictures, Useful information, Further readings.
---
Whether you are looking for an adrenaline-pumping adventure or a leisurely vacation enjoying the great outdoors, Alberta is the perfect place. In the winter, hit the slopes at one of Alberta's world-class ski resorts or go for a snowshoe hike through a pristine forest. Spring and summer offer endless hiking, mountain biking, golfing, and fishing opportunities. Calgary is also home to numerous festivals and events throughout the year, including the Calgary Stampede, Folk Fest, and Sled Island. Whatever time of year you visit, Alberta always has something to see and do. So come and explore all that this great province has to offer!
About Alberta, Canada
Alberta is a prairie province in the west of Canada that stretches across the continental interior of Western Canada. To the north, the 60th parallel forms its boundary with the Northwest Territories, and to the east, the 110th meridian forms a boundary with Saskatchewan. The 49th parallel forms its boundary with Montana in America to its south and west, and the 120th meridian and the Rocky Mountains form the boundary to British Columbia.
Alberta is the fourth-largest province in Canada and is bordered by: British Columbia to the west, Saskatchewan to the east, Northwest Territories to the north, and Montana on three of its four southern borders. Along with administering Alberta's day-to-day needs and implementing legislation, the provincial government has shaped Alberta's cultural identity. The provincial capital is Edmonton, which overlaps prairie and boreal forest on this extensive southward projection of the Canadian Shield.
Alberta's prairie and parkland zones have had a history of development due to the early explorations by traders. The birth of agriculture led to population growth, which sparked urbanization and industrialization when explorers came across oil and gas, coal, and timber. Although sparsely populated, the province lacks industries requiring mass markets. Alberta is a jumping-off point for the development of Canada's North, with its natural routes to the north. The scenery of the mountain parks in the west is internationally renowned. The area is 255,541 square miles (661,848 square km).
Principal cities and towns
The Canadian province of Alberta contains 18 "cities". The five most significant cities are Calgary, Edmonton, Red Deer, Lethbridge, and St. Albert.
History
Alberta has been home to First Nations groups for over 10,000 years. European explorers first arrived at the area in the late 18th century, as the fur trade expanded across North America. Hudson's Bay Company, competing with North West Company (NWC), built trading posts at important sites by major Canadian rivers from 1821 when both rivals merged into one company. This region was transferred to the Dominion of Canada in 1870 but was populated by First Nations and Métis.
Southern Alberta was first settled in 1870 after the arrival of cattle ranchers. The First Nations people were decimated by European diseases and the disappearance of the buffalo (the native population's primary food source), so they were forced to sign treaties that resulted in them being relocated to reserves. However, not before unscrupulous traders took advantage of them, leading to the creation of one of Canada's most famous police forces: The Royal Canadian Mounted Police. It was established in 1874 when it established its first outposts in Fort Macleod.
Geography
The highest point in Alberta is Mount Columbia, which reaches 12,294 feet (3,747 meters). Numerous other peaks also surpass 11,000 feet (3,350 meters) in height. A narrow foothill zone lines the mountains to the east. Beyond that, the plains of Alberta drop from over 3,000 feet (900 meters) in the southwest to less than 1,000 feet (300 meters) in the northeast. The Canadian Shield and Precambrian rocks are found here. Notable exceptions include Ipsress Hill and Swan Hill, and Caribou Mountain.
Mountains to see: Mount Columbia, The Canadian Rockies, Mount Alberta, Mount Temple, Mount Yamnuska, and Mount Edith Cavell.
The Columbia Icefield, also known as "Icefields Parkway," are two of Alberta's major rivers. The Athabasca flows NE to Lake Athabasca and becomes the Slave River, a tributary of the Mackenzie River. It is joined by the Peace River and flows north to the Arctic Ocean. Alberta's lowest point (570 feet [174 meters]) occurs in the valley beneath Mount Allan near Athabasca Falls. The North Saskatchewan flows east from Prince Albert National Park with its many waterfalls to Hudson Bay, where it is met by the Churchill River flowing west from Manitoba, which adds considerable volume for most of its journey.
Climate
The climate in Alberta is dry, sunny, and cold- perfect for people who love the outdoors. Winters are mild, but down south, it gets significantly warmer when warm Pacific air (called Chinook winds) hits Alberta's eastern slopes. Summers are wet and hotter, with the occasional destructive hailstorm or tornado. Edmonton's temperatures are below average, but when the summer arrives, Edmonton's climate is nice and hot. An annual average of 18 inches (460 mm) of precipitation falls in Edmonton, while it rains 12 inches (300 mm) in dry regions, and more than 50 inches (1,270 mm) of precipitation falls in mountainous areas. About half the rainfall occurs from June to August.
Google Maps Alberta
Google Street View is a technology featured in Google Maps and Google Earth that provides panoramic views from various positions along many streets in the world. It allows users to view and navigate through worldwide horizontal and vertical panoramic images of streets. Some interesting places to check out in Alberta on Google Street View might include Banff National Park, Jasper National Park, the Royal Tyrrell Museum of Palaeontology, and the Calgary Stampede. You may also find interesting views of the cities of Edmonton and Calgary, which are the two largest cities in Alberta.
Did you know?
The highest point in Alberta, Mount Columbia, is 12,294 feet (3,748 meters) above sea level. Many other peaks exceed 11,000 feet (3,350 meters).
The Columbia Icefield is the source of two major rivers in Alberta, the Athabasca and the North Saskatchewan.
Alberta has about 6,500 square miles (16,800 square km) of fresh water.
Alberta has many lakes and rivers, but because of the ecological damage caused by these projects has brought about a lot of controversies.
Those who live in the Alberta province know that the landscape is often rocky and dry. The deeply-incised valleys and barren landscapes are known as badlands.
Winters are cold, sunny, and dry. In the south, however, the Chinook winds can raise temperatures quite quickly by 40 degrees Fahrenheit or 22 degrees Celsius.
Many mountain roads close during the winter because of heavy snowfall. Major passes, however, are maintained and usually stay open.
The dry, infertile, gray-dotted soils known as luvisols can be found in the vast forests of the Rocky Mountains.
Alberta is one of the most diverse provinces in Canada. It has a rich history and has been home to many nationalities, cultures, and religions.
What to do in Alberta
Alberta has an incredible amount of outdoor recreation and breathtaking scenery. During the summer months, June through August, it's very popular. People flock to Banff since it's known as Canada's single most popular destination for foreigners. However, no matter when you visit, it's necessary if you plan on traveling and have specific destinations in mind or lodging plans.
Banff and Jasper national parks have long been Alberta's mountain recreation centers. You can easily make it easier to have a good time outdoors by staying in a hotel. Most concierge services can help arrange activities; many don't require you to register very far in advance. Shuttle buses are also usually available, which helps if you need to travel to more distant points of interest.
Consider renting a horse when you want to experience Jasper, Banff, and Lake Louise in all their glory from the perfect vantage point. You could ride to a mountain top or take an afternoon trail around the valley. If you're not up for a white water adventure, scenic cruises on Lake Minnewanka and Maligne Lake will offer a more relaxing way to travel.
Accommodation in Alberta
Regarding accommodations, Banff and Jasper's availability is very tight in the summer months. The Rockies are also booked solid for the Stampede. If you're having trouble finding a place to stay, try our booking engine below, which offers an online reservation service for lots of B&Bs.
A bed and breakfast is perfect if you're looking for an affordable alternative to a hotel. A great resource is the Alberta Bed and Breakfast Association (https://www.bbcanada.com), which provides listings of member-inspected B&Bs available throughout Alberta.
Tips for accommodations:
| | | |
| --- | --- | --- |
| Budget-Friendly | Mid Range | High End |
| Banff Rocky Mountain Resort | Buffalo Mountain Lodge | Royal Canadian Lodge |
| The Rundlestone Lodge | Fox Hotel and Suites | Peaks Hotel and Suites |
| Irwin's Mountain Inn | The Hidden Ridge Resort | Rimrock Resort Hotel |
If you're looking for a great place to stay in Alberta, Canada, there are plenty of great hotels to choose from, so you're sure to find one that suits your needs and budget.
Reserve a room
Alberta has excellent hostels, especially in the Rocky Mountain national parks. They're often the only affordable lodging option, too. If you're looking for a hostel, make sure to stop by one that's run by Hostelling International Canada (www.hihostels.ca) in Alberta – they welcome guests of all ages!
Pictures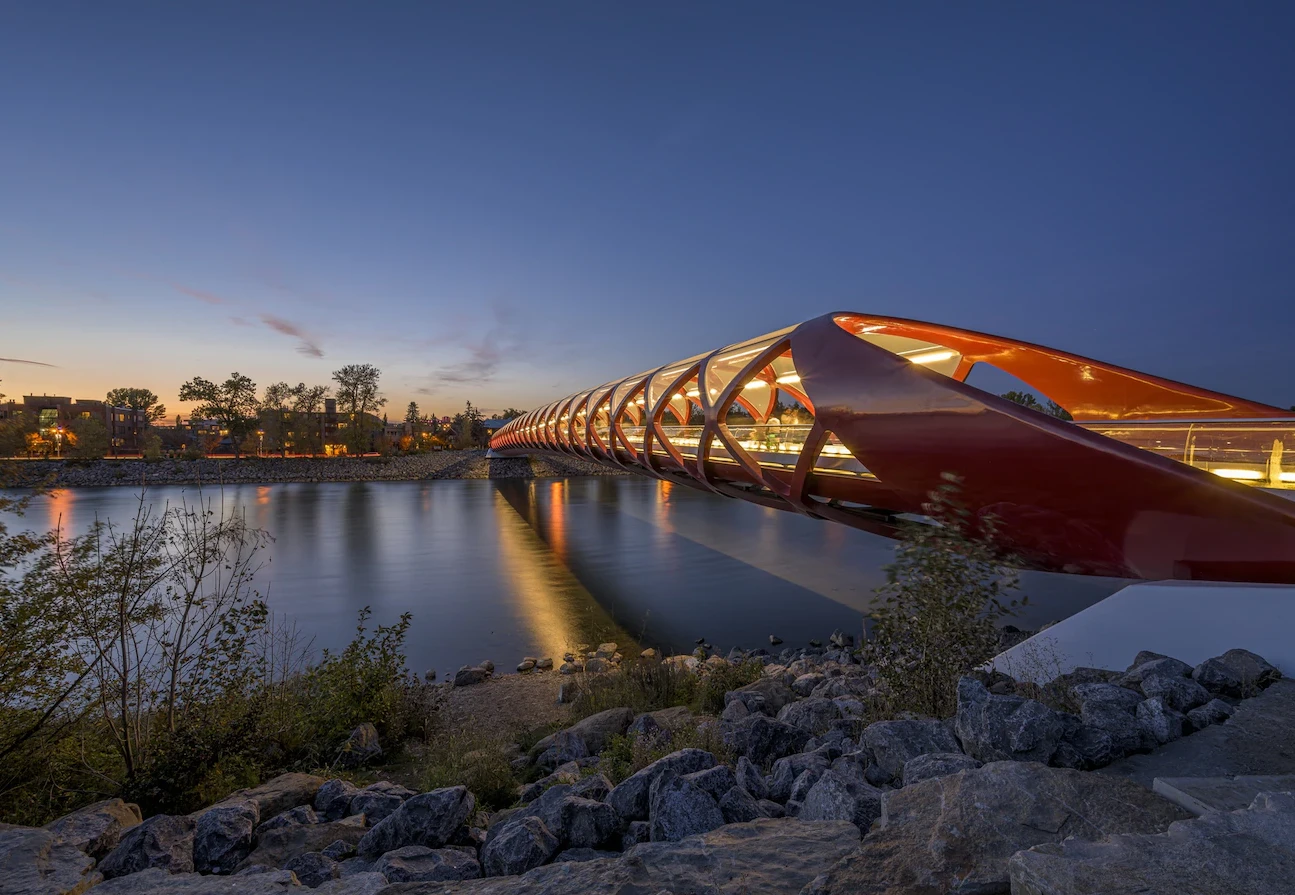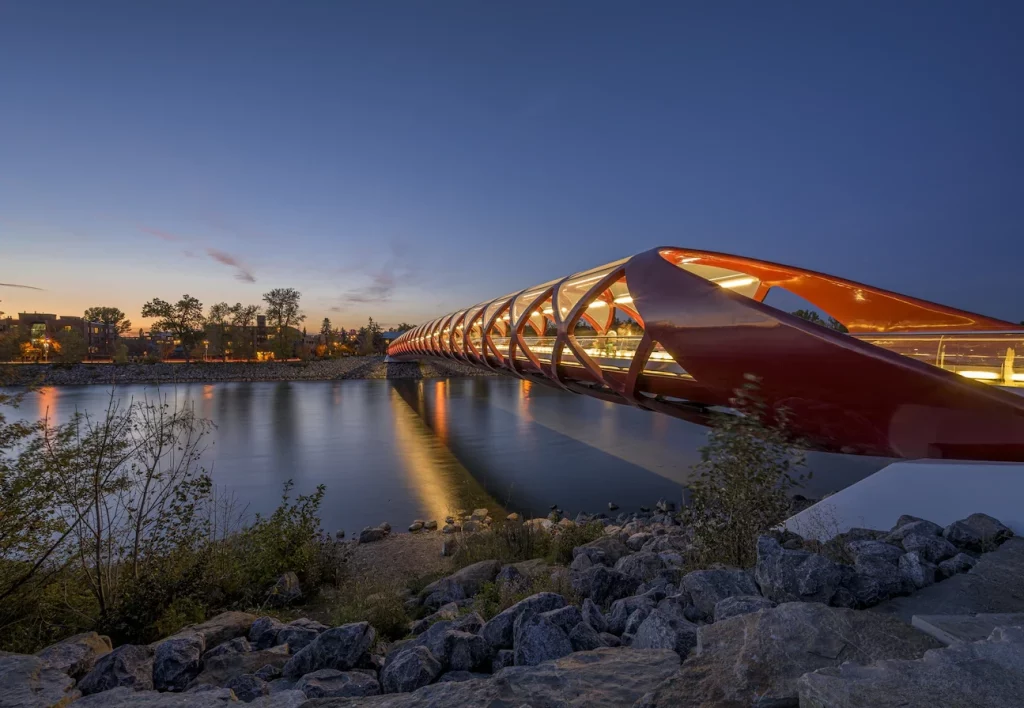 Useful information
Wide, 4-lane highways allow easy travel between major areas of the country. Cycling on roads is safe and comfortable because there are broad shoulders to accommodate cyclists. You can also find high-quality secondary highways for local trips and rural routes for exploring the outdoors.
Given the unpredictable nature of weather and construction activities, Alberta's highways can be in different conditions. It's essential to stay informed. For conditions, dial 511.
Travel Alberta (800/661-8888; www.travelalberta.com)
Alberta Motor Association (403/474-8601; https.ama.ab.ca)
Rail: VIA Rail Canada (888 842 7245, www.viarail.ca)
Bus: Red Arrow (800 232 1958, www.redarrow.ca).
You may also be interested in
Did you like this Alberta map and information page? Please don't forget to share or bookmark this content on Canada Maps.com!