Newfoundland and Labrador facts
Capital: St. John's
Population: 510,550 (2021)
Date of Admission: 1949
Provincial Motto: Quaerite prime Regnum Dei (Seek ye first the Kingdom of God)
Provincial flower: pitcher plant
Time Zones: Atlantic (AST) – (GMT − 4 hours) | Newfoundland (NST) – (GMT − 3.5 hours)
Total Area (Sq Km): 405,212
Total Area (Sq Mi): 156,453
Quick links: About, Major places, History, Geography, Climate, Google Maps, Facts, What to do, Accommodation, Pictures, Useful information, Further readings.
---
Through dramatic landscapes, incredible hiking and outdoor experiences, and a history of welcoming strangers, Newfoundland is the perfect place to call home. From the east, on the island of Newfoundland in the North Atlantic, to Labrador, which borders Québécois territory by way of a 17678 km (11000 miles) coastline littered with whales just offshore and icebergs grounded on fishing villages that have been here for 10 000 years, we think Canada starts right here.
Newfoundland and Labrador is a contradiction off the east coast of Canada because it's the youngest province, but its timeline stretches back to AD 1000. The Vikings made their first landfall on the Great Northern Peninsula, establishing a small village called L'Anse aux Meadows. The village was abandoned just 10 years later and has been lost to history. The Maritime Archaic people lived in the region as long ago as 6,000 years. L'Anse Amour is an ancient cemetery that dates to 7500 BC – making it the oldest-known cemetery in North America.
About Newfoundland and Labrador, Canada
Newfoundland and Labrador is a Canadian province composed of the island of Newfoundland and the more significant mainland sector, Labrador. Newfoundland joined Canada's confederation in 1949; its name officially changed to Newfoundland and Labrador in 2001. The original island, also called New Found Land – or the Newfoundland – by late 15th-century explorers, lies across the Gulf of St. Lawrence. Newfoundland is sandwiched between the narrow Strait of Belle Isle and the Cabot Strait, with Quebec on its southwestern border. To the North and east lie the Labrador Sea (a northwestern arm of the Pacific Ocean), and to the south and west lie Saint-Pierre and Miquelon in North America.
Newfoundland and Labrador is the most easterly region of North America, a position on the Atlantic that has given it great strategic importance. For example, the capital city of St. John's is closer to the coast of Ireland than Winnipeg, Manitoba. Great fishing stocks on the Grand Banks and other fishing zones have helped spur the development of many communities along Newfoundland's deeply indented seacoast, stretching some 23,200 km / 14,400 miles from port to port. These fisheries have been the most critical factor in shaping the history and character of the land and its people.
Principal cities and towns
Major Cities That Makeup Newfoundland And Labrador are St. John's, Labrador City, Corner Brook, Mount Pearl, Gander, and Torbay. In contrast, the most populated cities are St. John's, Conception Bay South, Mount Pearl, and Paradise.
History
In about 1,000 CE, Norse explorers from Greenland reached Newfoundland and explored Labrador. They didn't stay because they met resistance from the native people. Europeans possibly knew about the island and its resources before Giovanni Cabot. Still, once he reported it to the English government, it became a way for European countries like France, the Basque, Portugal, and England to start fishing off Newfoundland's coast. By the 4th century CE, Basque whalers began mining in southern Labrador. By the 16th century CE, France and England were exploring Newfoundland heavily and the waters around it. Along with this discovery came England's territory known as the "English Shore," which ran from Bonavista Bay to Trepassey Bay at the southeastern tip of the Avalon Peninsula which left France with everything else on that coastline spanning from southern Labrador up to northern Labrador where they focused their efforts on.
Geography
When you break the province down into its two main components -Newfoundland Island and Labrador, you can see that their physical characteristics are quite different. Newfoundland Island, roughly triangular with an area of 108,860 square km / 42,031 square miles, is part of the Appalachian geologic province of North America. These forces have produced a highly complex geologic structure, with ancient rocks of Europe and Africa on the east and newer Appalachian rocks on the west. Quarrying has altered much of the landscape. The Appalachian Plateau is situated between these two geological provinces and slopes gently to the northeast coast, which supports an archipelago and is home to numerous inlets. This region is dotted with thousands of lakes, ponds, streams, and rivers, including the Exploits, Gander, and Humber. The coastal terrain is hilly and rugged; the coast is marked by countless bays and fjords, while many offshore islands exist.
Climate
Newfoundland and Labrador generally have cold but not severe winters and warm to cool summers. The mean July temperature in the province ranges from 5 to 10 °C / 40 to 50 °F in northern Labrador to 15 °C / 59 °F on the island's south coast. In the southern interior, the July mean is just above 16 °C / 60 °F. January mean temperatures are above −7 °C / 20 °F in the southern portion of the island, on the coast of Labrador, approximately −12 °C / 10 °F and −18 °C / 0 °F in the south and north, respectively, and about −26 °C / −15 °F in interior western Labrador.
Extreme low temperatures in southern Newfoundland rarely reach 0 °F, but in western Labrador, readings below −40 °C / −40 °F are not uncommon. The annual precipitation varies from 1,400 mm / 55 inches in the southern parts of the island to about 430 mm / 17 inches at Cape Chidley on the northern tip of the Labrador Peninsula. In the northern regions, as much as half of the annual precipitation occurs as snow. In the south, the snowfall usually accounts for only about one-fifth of the total precipitation.
Google Maps Newfoundland and Labrador
Google Street View is a feature of Google Maps that allows users to view and navigate through panoramic images of streets in various locations worldwide. It can be a fun and exciting way to explore and discover new places, including Newfoundland and Labrador. Here are a few interesting objects that you might come across while using Google Street View in Newfoundland and Labrador:
Signal Hill National Historic Site: This iconic site in St. John's offers stunning views of the city and the surrounding area. The hill was a strategic lookout and signal station for many years and is now a popular tourist destination.
L'Anse aux Meadows National Historic Site: This is the only authenticated Norse village in North America and is a UNESCO World Heritage Site. It is located on the northern coast of Newfoundland and is thought to have been settled by Vikings around 1000 AD.
Quidi Vidi Village: This charming fishing village is located just outside St. John's and is home to several small artisan studios and shops. It is a popular tourist spot to explore and take in the local culture.
Cape Spear National Historic Site: This is the easternmost point in Canada and is home to a historic lighthouse in operation since 1836. The site offers beautiful views of the Atlantic Ocean and is a great place to watch for whales, seabirds, and other marine life.
Gros Morne National Park: This stunning national park is located on the west coast of Newfoundland and is home to various landscapes, including fjords, cliffs, waterfalls, and forests. It is a popular spot for hiking, camping, and other outdoor activities.
These are just a few of the many interesting objects and places you can discover using Google Street View in Newfoundland and Labrador. We are sure you'll find many more as you explore this beautiful part of the world!
Did you know?
The people of Newfoundland are primarily of European descent, with a minority group of Innu and Inuit. The Innu tribe inhabits settlements in northern Labrador, retaining their original language and some aspects of their culture.
One of the most notable groups in central and southern Labrador is the Labrador Métis, a population from intermarriage between white Inuit and other population groups.
Newfoundland and Labrador are split into nine regions, with seven on the island of Newfoundland and two in Labrador. Each region has a distinct landscape and culture.
The Avalon Peninsula, located on the southeastern coast of Newfoundland, is home to St. John's, Mount Pearl, and a number of smaller towns such as Conception Bay South, Harbour Grace, Carbonear, Trepassey, and Placentia. Plus, it has a host of small villages typically located at the sea's edge.
The landscape is gentler north of Avalon, along the coast rimming Trinity Bay, Bonavista Bay, and Notre Dame Bay.
The Northern Peninsula stretches northward into Labrador, with the two major headlands being Bonne Bay on the west and White Bay on the east. On the eastern slope of the mountains are stands of commercial forest.
The west coast region of Newfoundland and Labrador stretches southward from Bonne Bay at the base of the Northern Peninsula to Cape Ray on Cabot Strait.
What to do in Newfoundland and Labrador
One of the great things about St. John's is its natural beauty and historical sites to explore. People can visit Signal Hill National Historic Site, Cape Spear, The Rooms- an incredible museum featuring the province's history – or the iconic Cabot Tower.
Quidi Vidi, Harbor and Water Sheet, Johnson GEO Center, and the Basilica of St. John The Baptist are just some sights to see in St. John's. People enjoy going on vacation there. They also do several other activities while they're there.
Newfoundland has over 300 hiking and walking trails. The best ones are the Terra Nova National Park, Gros Morne National Park, and the East Coast Trail.
Newfoundland and Labrador are the home to beautiful things to see. You can visit the picturesque Terra Nova National Park, the amazing Torngat Mountains National Park, Western Brook Pond, Marble Mountain Resort, Skerwink Trail, and countless other attractions.
Newfoundlanders and Labradorians have a variety of things to do, such as puffin and whale watching in Witless Bay, visiting Cape St. Mary's Ecological Reserve, hitting Twillingate, Fogo Island, the Red Bay National Historic Site, and much more.
Accommodation in Newfoundland and Labrador
When looking for a budget-friendly hotel in St John's, it's important to find one that offers amenities at the right price. Basic amenities and clean rooms are essential factors when booking accommodations. Mid-range accommodation is available in St John's at inexpensive rates. This provides the perfect combination of value for money and comfort; plus, rooms are bigger than their budget counterpart. When you want the best, you should stay at one of the top hotels in St John's. These accommodations include large rooms with luxuries like pools, saunas, and Jacuzzis.
Tips for accommodations:
| | | |
| --- | --- | --- |
| Budget-Friendly | Mid Range | High End |
| The Duckworth Inn | Blue on Water | Monastery Spa & Suites |
| Abba Inn Guest House | Murray Premises Hotel | Sheraton Hotel Newfoundland |
| Gower Guest House | Delta Hotels by Marriott St. John's Conference Centre | JAG Boutique Hotel |
Reserve a room
Our tip for accommodation in Newfoundland and Labrador would be to consider staying in a traditional "outport" community. These small fishing villages, scattered along the coast, offer unique and authentic experiences and a chance to learn about the province's rich culture and history. Many outports have guesthouses or bed and breakfasts that offer comfortable and affordable accommodation. Additionally, many outport communities are not easily accessible by road, so visitors may need to take a ferry or water taxi to reach them.
Pictures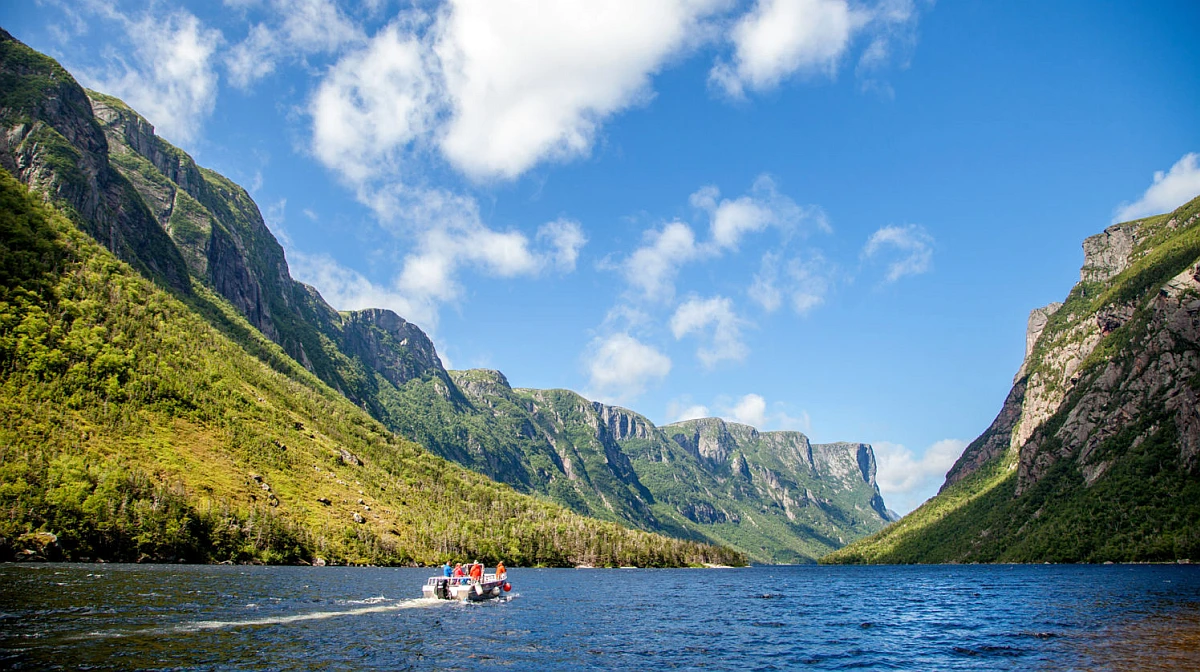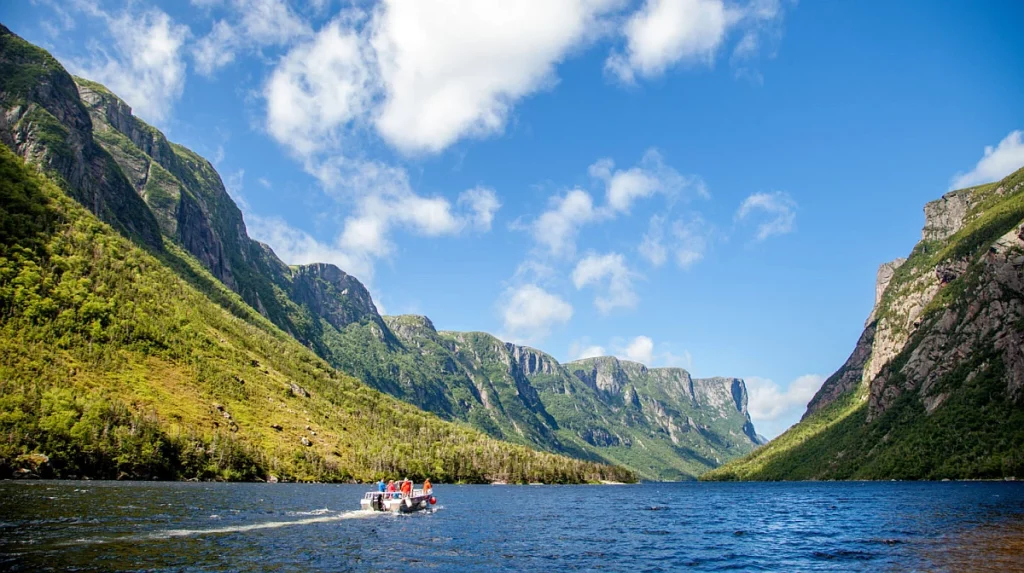 Useful information
On the map: While trying to map the Atlantic provinces, Newfoundland is often published as an inset map next to Nova Scotia, Prince Edward Island, and New Brunswick, making it appear much smaller than those other provinces. This couldn't be more inaccurate. The truth is that this place is enormous – so huge that there's a significant time difference between anywhere on the island and anywhere else. Add to this equation that distances get exponentially longer when traveling through Newfoundland's landscape, which is twisted up like taffy for miles. Trying to navigate around Newfoundland can feel much bigger, higher, and longer than when you're just looking at maps of it.
Newfoundland has some incredible things to do year-round. That said, one of the most popular times to visit is during the summer months, from early July through mid-August. It's still a bit cool outside, and people are more active this time of year. The temperatures finally heat up past the freezing point, and we all come out from our summer homes to enjoy life!
On newfoundlandlabrador.com or destinationcanada.com, you can explore different travel itineraries, find top destinations, and get exclusive travel offers. You can also read articles with tips on how to make the most of your trip.
511 Traveller Information System: NL 511 is your source of up-to-date information on winter driving and construction. Travelers can access the website, use the free smartphone app, or dial 511 over the phone to get key information on road conditions, traffic incidents, and more.
By Car & Ferry: To reach Newfoundland and Labrador, travelers take the ferry from Nova Scotia to one of two ports: Port aux Basques or Argentia. Ferries also run between Newfoundland and Labrador and other parts of eastern Canada, including Québec. You can also drive to Labrador from mainland Canada via Québec.
Further websites:
There are plenty of ways to learn more about Newfoundland and Labrador and to get involved in its rich culture. There are many programs and trips available for both locals and tourists alike. Outdoor activities are a great way to explore the province, and there are many different options to choose from. Whatever your interests, you're sure to find something that piques your curiosity in Newfoundland and Labrador by visiting some of these province-related websites: nationalgeographic.com, frommers.com, tripadvisor.com, newfoundlandlabrador.com, destinationcanada.com.
You may also be interested in
Did you like this Newfoundland and Labrador map and information page? Please don't forget to share or bookmark this content on Canada Maps.com!