There aren't as many passenger trains traveling through Canada these days as there used to be in recent decades. However, you can still take fast and efficient services from VIA Rail (1 888 842 7245) between Montreal and Toronto. They also run several routes throughout Canada with incredible scenery, such as their weekly three-time trip between Toronto and Vancouver. They make round trips to the Gaspé Peninsula in one day!
VIA Rail Canada is one of the best trains you can take across Canada, and they have a variety of stations in eight provinces so that you can go anywhere. Plus, they're focused on quality hospitality, with features such as Wi-Fi and PTV seating.
VIA Rail Canada route map
Traveling by train in Canada will become a bucket-list luxury activity if your pockets are deep enough. The rails run through some of the most beautiful landscapes in the world, passing through mountain valleys and along rivers.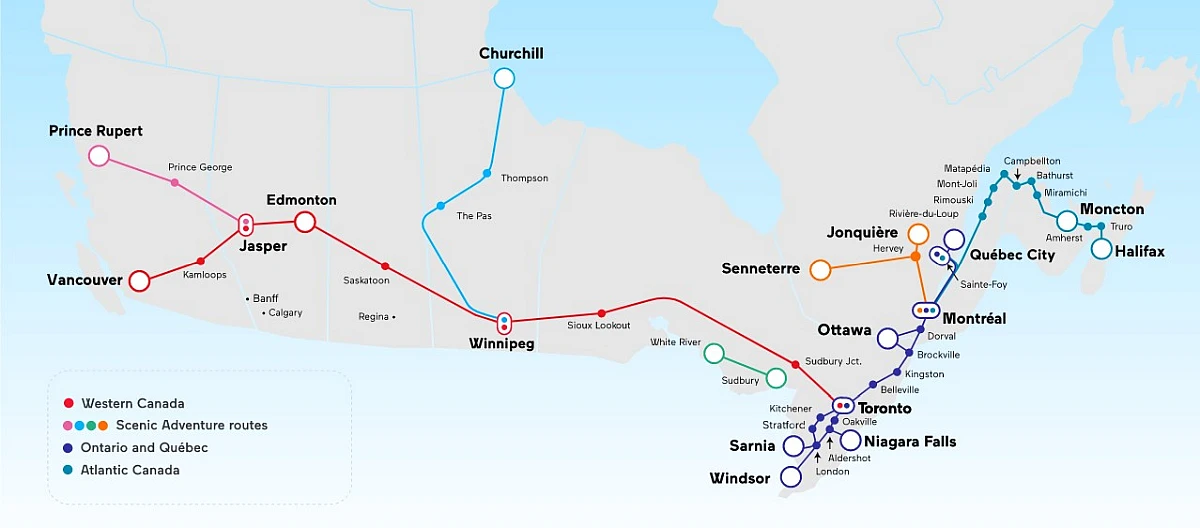 There are various tickets to choose from, but the most basic gets passengers a reclining seat and access to the public lounge. For those looking for something a little more luxurious, there are seats in the restaurant car with a meal included, comfortable lounges, hot showers, and even accommodations in bunk beds or roomettes if you're traveling alone. For more information, check with VIA or consult seat61.com.
Peak-season fares to the west coast from Toronto are $475 for economy class, $1750 for an upper berth, or $2640 for a single cabin; travel during off-peak months typically costs about 25 percent less.
VIA sells several rail passes that can reduce costs by considerable amounts. For example, the Canrailpass allows users to take seven ($699), ten ($899), or unlimited trips ($1299) between Québec and Ontario for 21 consecutive days or across Canada for up to 60 consecutive days for a relatively low cost.
Other options for short adventures that cover more ground than just a city or two include Rocky Mountaineer Encore trains (604-606-7245, 1 877 460 3200) that travel from Vancouver to several western destinations such as Jasper and Kamloops or Banff and Calgary. Ontario Northland's Polar Bear Express (1 800 461 8558) goes from Cochrane to Moosonee. Algoma Central Railway (1 800 242 9287) with occasional excursions through the Agawa Canyon. The White Pass and Yukon Railroad (1 800 343 7373) with trains traveling from Fraser to Skagway. Tshiuetin Rail runs between Sept-Îles in Québec and Emeril Junction in Labrador.
Passenger railways in Canada
VIA Rail is the only major train operator in Canada and provides transits across the nation from its Halifax, Nova Scotia terminal to Vancouver, British Columbia. It travels through southern Canada, where the population is denser, but also ventures north. Canada's busiest route is between Quebec City and Windsor, Ontario.
| | | | | |
| --- | --- | --- | --- | --- |
| Name of the company | Marks | Locale | Ownership | Notes |
| Capital Railway | CR | Ottawa | City of Ottawa | The Trillium Line is a federally regulated rail line operated under the name "Capital Railway" |
| Trains de banlieue EXO | EXO | Greater Montreal | Exo, a provincial entity | 3 commuter routes with trackage rights over CP lines, 2 commuter routes with trackage rights over CN lines, 1 owned |
| GO Transit | GOT | Greater Toronto and Hamilton Area | Metrolinx, a provincial entity | 3 commuter routes with trackage rights over CN lines, 1 commuter route with trackage rights over CP lines, 2 owned and operated commuter lines |
| Ontario Northland Railway | ONT | Cochrane ON to Moosonee ON | Ontario Northland Transportation Commission, a provincial crown agency | 1 active route on owned tracks |
| Rocky Mountaineer | RMRX | Vancouver or Calgary to Banff, Jasper, and Whistler | Armstrong Group | 3 tour routes operate over CN tracks, and 1 tour route operates over CP tracks |
| Via Rail | VIA | British Columbia, Alberta, Saskatchewan, Manitoba, Ontario, Quebec, New Brunswick, Nova Scotia | Federally owned | Operates 9 routes (the most major of which has 7 variations), mainly along CP and CN tracks |
| West Coast Express | BCVX | Mission to Vancouver | TransLink, a provincial entity | 1 commuter route with trackage rights over the CP line |
Urban rail transit in Canada
Most metropolitan areas in Canada, like Vancouver, Toronto, and Montreal, have commuter train networks taking passengers from major cities to smaller ones up to two hours away.
| | | | |
| --- | --- | --- | --- |
| Name | Locale | Ownership | Notes |
| CTrain | Calgary | Calgary Transit | 2 light rail lines |
| Edmonton LRT | Edmonton | Edmonton Transit Service | 2 light rail lines |
| Ion | Waterloo Region | Grand River Transit | 1 light rail line |
| Montreal Metro | Montreal, Laval, and Longueuil | Societé de Transport de Montréal | 4 heavy rail metro lines (running on tires) |
| O-Train | Ottawa | OC Transpo | 2 light rail lines |
| Toronto Subway | Toronto and Vaughan | Toronto Transit Commission | 3 heavy rail metro lines and 1 light metro line |
| Toronto Streetcar System | Toronto | Toronto Transit Commission | 11 streetcar lines |
| Vancouver SkyTrain | Vancouver, Burnaby, New Westminster, Surrey, Richmond | TransLink | 3 light metro lines |
In addition to VIA Rail and local commuter trains, train operators in Canada include of historic rail cars, novelty trains, and special scenic trains, such as the Rocky Mountaineer on the West Coast.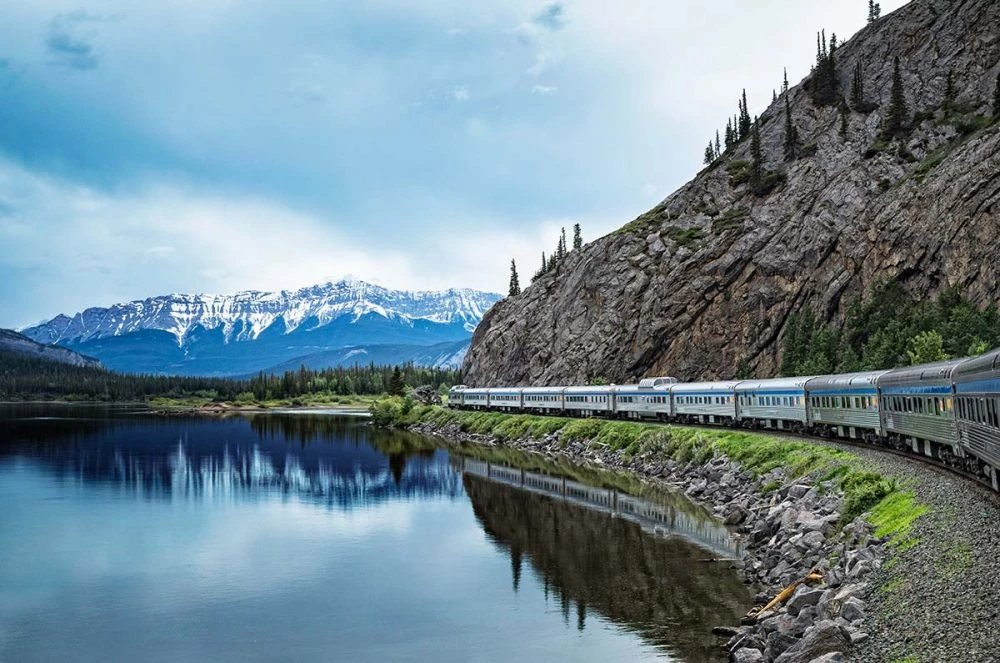 The most popular train trips in Canada
There are several popular train trips in Canada for tourists and locals. Some of the most popular train trips in Canada include:
The Rocky Mountaineer: This luxury train journey takes passengers through the breathtaking Rocky Mountains, with stops in cities such as Banff, Lake Louise, and Jasper.
The Canadian: This cross-country train journey operated by Via Rail travels from Toronto to Vancouver, with stops in cities such as Winnipeg, Saskatoon, and Edmonton along the way.
The Ocean: This train, operated by Via Rail, travels along the east coast of Canada, from Montreal to Halifax, with stops in cities such as Quebec City, Moncton, and Fredericton.
The Gaspé Peninsula and the Charlevoix: This train journey operated by Via Rail takes passengers through the beautiful Gaspé Peninsula and Charlevoix region of Quebec, with stops in cities such as Quebec City and Saguenay.
The Skeena: This train journey operated by Via Rail takes passengers through the stunning landscapes of British Columbia, from Prince Rupert to Jasper, with stops in cities such as Smithers and Prince George along the way.
Frequently Asked Questions About Canadian Trains
Are trains in Canada air-conditioned?
Is there WiFi onboard VIA trains?
Is traveling in Canada by train expensive?
How far in advance should I book Canada train tickets?
Did you know?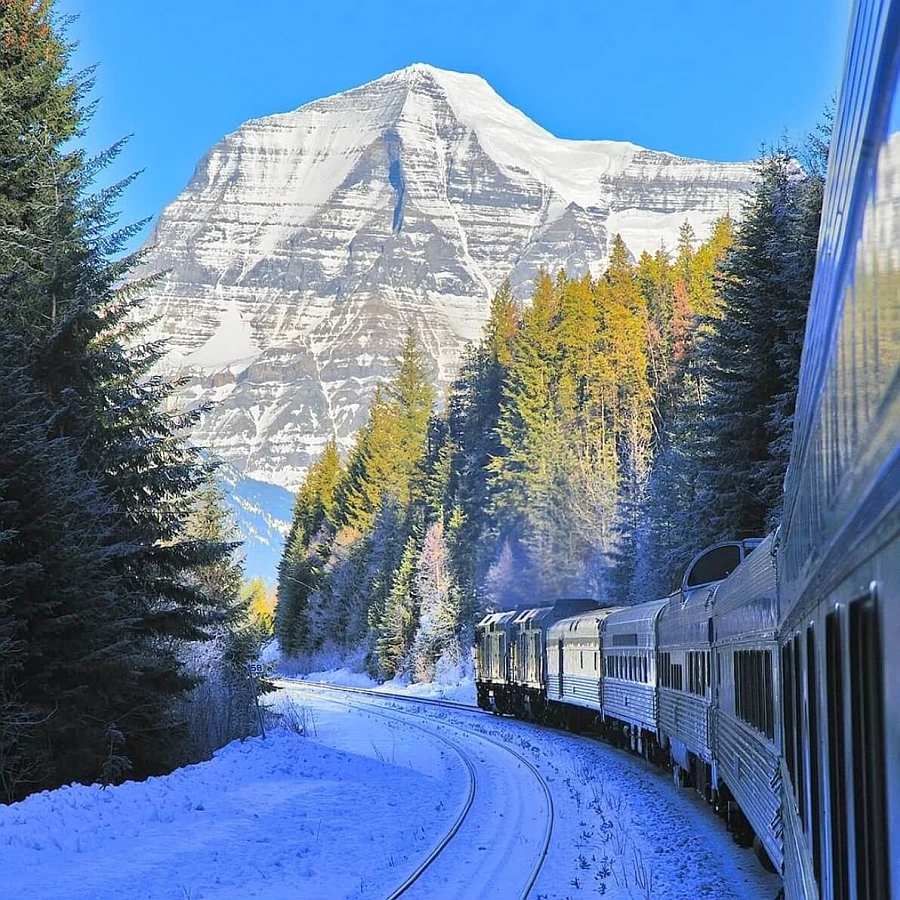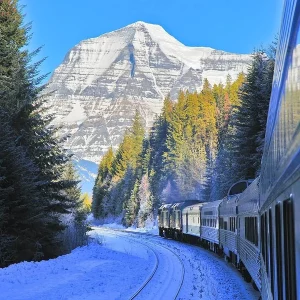 In 1836, Canada's first railway was opened in Montreal, followed by another at Stellarton in Nova Scotia a year later. This is the stage of early success for Canada's system.
In 1978, the Canadian government-mandated Via Rail took over all the national passenger rail services throughout the country.
Canada's railway sector is very sustainable and competitive, with safety being the most crucial. The railway transport over one million people and almost 70% of the goods transported in the country annually, reducing congestion on roads and harmful emissions.
Canada's railway network is 49,422 kilometers / 30,709 mi long and is covered by 3,900 bridges.
The railway system of Canada is the fifth largest in the world.
The railway system of Canada handles the fourth most significant amount of goods worldwide.
Roughly half of Canada's total exports are delivered by rail transport.
Canadian rail systems use two main types of trains; regular (or intercity) trains and cargo (or freight) trains.
Canada's fastest train can travel 160 kilometers / 99,41 miles per hour.
More than 10 thousand individuals, including railway workers and Canadians of all walks of life, have shared indirect ownership in the Canadian National Railway Company through pension and savings plans.
Canada's railways stimulate the conservation of resources, limit emissions, and relieve congestion on highways. They now transport over one ton of freight for 3 cents per 1 kilometer / 0,62 miles, which is less than one-fifth of the $0.07/km rate in the United States.
The safest way to transport goods or people in Canada is by rail.
While massive amounts of goods and people are covered in GHG emissions, only about 4 percent of these emissions are produced by rail transport.
Not every day, you hear of the railroad industry in Canada making a streak of safe transportation and use. You'll be surprised to hear that more than 99% of dangerous goods have been transported there, not to mention a remarkable safety record on Passenger railroads.
Railway crossing tips
Railway crossings are dangerous, so you should never cross them if you don't have to. Even if you're waiting for green or red lights, stopping just before the gates open is worth stopping. Here are some facts & tips about safely crossing the Canadian railway.
About 14,000 public and 9,000 private grade crossings across 49,000+ kilometers / 30,400+ miles of federally regulated railway tracks in Canada.
If you're traveling by car, watch for the crossbuck symbol that indicates a roadway-railroad crossing. Some crossings may have lights, bells, and/or gates, depending on where you are.
When crossing, listen for warning bells and whistles. Turn off distracting fans, heaters, radios, and music until you can cross safely. Opening your window helps you hear better near the street at night.
Don't ever drive around lowered gates — it's illegal and dangerous. If you suspect a signal malfunctioning, don't hesitate to call the 1-800 number posted on or near the crossing signal or your local law enforcement agency.
Do not ever race a train to the crossing because you'll lose even if it's tied.
Train tracks are not your friends—they can trap you in a precarious situation. Proceed through the roadway-railway crossing only if you have thoroughly cleared the area and are sure that no train or other traffic is coming or going. And remember: The train is three feet wider than the tracks on both sides.
If your vehicle stalls on the tracks at a crossing, get everyone out immediately and move away from the tracks. Move in the direction the train is approaching to avoid being hit by debris.
If you're crossing a one-track railroad waiting for the passing train to clear, keep your eyes on the direction of travel. Make sure there is no second train coming at you from either direction. If there is, make sure to move away quickly to avoid getting hit.
Railroad tracks, trestles, yards, and equipment that belong to trains must be treated with care. Crossing or approaching them at a dangerous speed is illegal, which incurs arrest and massive fines. Too often, the penalty is death.
Don't walk, run, cycle, or operate ATVs on railway tracks, running rights of way, or through tunnels.
Cross tracks at designated pedestrian or railway crossings. Obey the instructions and warnings from the markers posted around the crossing.
Do not attempt to board any railway equipment at any time. The train can be quite rough, and it's easy for a slip of the foot to cost you a limb or your life.
You may also be interested in getting around Canada by bike, bus, car, ferry, plane, or train.