Your Comprehensive Guide to Prince Edward Island: Canada's Coastal Paradise
Welcome to Prince Edward Island, a coastal sanctuary that promises an unforgettable journey through Canada's eastern maritime charm. With its rich tapestry of history, culture, and natural beauty, this island beckons travelers to explore its many wonders. Prince Edward Island is a destination that captivates the heart and soul, from its world-famous seafood to its iconic red sandstone cliffs.
Where is Prince Edward Island located?
Located in eastern Canada, Prince Edward Island is a maritime jewel surrounded by the Northumberland Strait and the Gulf of St. Lawrence. Known for its red-sand beaches and Anne of Green Gables, it's a province that captures the imagination.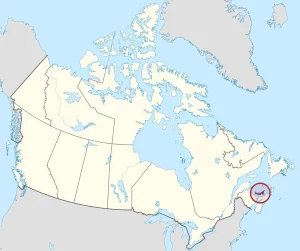 Prince Edward Island (PEI) is situated in the Gulf of St. Lawrence, approximately 200 kilometers north of Halifax and 600 kilometers east of Quebec City. The island's coordinates are 46°30′N 63°00′W. It is part of Canada and is one of the three Maritime provinces, along with New Brunswick and Nova Scotia. The island has a land area of 5,686.03 km² and is the only Canadian province consisting solely of an island. The Northumberland Strait bounds its southern shore. The island has two main urban areas: Charlottetown Harbour on the southern shore and Summerside Harbor on the southern shore, 40 km west of Charlottetown. The island's landscape is characterized by pastoral settings, wooded areas, and rolling hills, with a coastline featuring long beaches, dunes, and red sandstone cliffs.
A Natural Wonderland: Geography and Climate
The island's geography is a visual feast featuring red sandstone cliffs, lush farmlands, and diverse ecosystems. Despite its compact size, Prince Edward Island offers a variety of landscapes that are a haven for nature enthusiasts. The climate is temperate maritime, making it an ideal destination for outdoor activities throughout the year, from beach outings in the summer to snowshoeing adventures in the winter.
Seasonal Facts/Trends in Prince Edward Island
| Season | General Weather Description | Temperature Range (°C) | Temperature Range (°F) |
| --- | --- | --- | --- |
| Summer | Warm and sunny | 17°C to 27°C | 63°F to 81°F |
| Winter | Cold and snowy | -15°C to 0°C | 5°F to 32°F |
| Spring | Mild and breezy | 5°C to 15°C | 41°F to 59°F |
| Autumn | Cool and colorful | 8°C to 18°C | 46°F to 64°F |
Discover the Seasons: A Complete Guide to Prince Edward Island's Weather
Prince Edward Island, Canada's smallest province, offers a charming blend of weather conditions, each with its own set of unique activities and experiences. From the warm summers to the snowy winters, here's what you can expect from the weather on the Island throughout the year.
Summer: A Season of Beaches and Seafood
Summer in Prince Edward Island is generally warm and sunny, with temperatures ranging from 17°C (63°F) to 27°C (81°F). This is the perfect season for beachgoers and seafood lovers. The Island's numerous beaches offer a variety of water activities, and the local seafood, especially the lobsters and mussels, is a must-try.
Winter: A Snowy Escape
Winter in Prince Edward Island is a season characterized by cold and snowy conditions, with temperatures ranging from -15°C (5°F) to 0°C (32°F). While the Island may not be a skiing destination, it offers a unique winter experience with activities like snowshoeing, ice fishing, and winter festivals.
Spring: A Time of Rebirth and Renewal
Spring in Prince Edward Island is a mild and breezy season, with temperatures ranging from 5°C (41°F) to 15°C (59°F). This is the time when the Island's landscape starts to come alive, with blooming flowers and the return of migratory birds. It's an excellent season for enjoying the outdoors and participating in the Island's spring festivals.
Autumn: A Season of Harvest and Scenic Beauty
Autumn in Prince Edward Island is a season of cool temperatures and vibrant colors, ranging from 8°C (46°F) to 18°C (64°F). The changing foliage provides a picturesque backdrop for outdoor activities like hiking and cycling. It's also a great time to enjoy the Island's harvest festivals and explore its scenic drives.
The Island's Rich Tapestry: History and Culture
Prince Edward Island is a melting pot of cultural influences, tracing its roots back to the indigenous Mi'kmaq people and later European settlers. The island gained historical prominence as the host of the Charlottetown Conference in 1864, a pivotal event that laid the groundwork for the Canadian Confederation. It's also the birthplace of Lucy Maud Montgomery, the author of the timeless classic, "Anne of Green Gables." Today, the island celebrates its diverse heritage through various cultural festivals and historical sites, making it a living museum of Canadian history.
Must-See Attractions: The Island's Best
Cavendish Beach: A pristine paradise for beachgoers.
Green Gables Heritage Place: Step into the world of Anne Shirley.
Victoria-by-the-Sea: A cultural hub with artisan shops and seafood delights.
Prince Edward Island National Park: A natural sanctuary featuring coastal landscapes.
Charlottetown: The city where Canada was born, rich in historical landmarks.
Notable Islanders: The Pride of PEI
Prince Edward Island has been home to remarkable individuals who have left an indelible mark on Canadian culture and beyond. From Lucy Maud Montgomery's literary contributions to Stompin' Tom Connors' musical legacy and Heather Moyse's athletic achievements, the island has been a cradle of talent and innovation.
Your Journey Awaits: How to Get to Prince Edward Island
Getting to Prince Edward Island is part of the adventure. Whether you fly into Charlottetown Airport, take a scenic ferry ride from Nova Scotia, or drive across the Confederation Bridge, each mode of transport offers its unique experience. Once you arrive, the island's beauty and charm are yours to explore.
Did You Know? – Prince Edward Island
Smallest Province: Prince Edward Island is Canada's smallest land area and population province.
Birthplace of Confederation: The Charlottetown Conference of 1864, the first meeting leading to the Articles of Confederation and the creation of the Dominion of Canada, took place in Prince Edward Island.
Red Soil: The island is famous for its red soil, which gets its color from a high iron oxide content.
Anne's Land: The island is often called "Anne's Land" due to the popularity of Lucy Maud Montgomery's novel "Anne of Green Gables," inspired by the island.
Mussel Industry: Prince Edward Island is the leading mussel producer in North America.
No Billboards: The island has a law that prohibits the erection of billboards along its roadways.
Fixed Link: The Confederation Bridge, which links Prince Edward Island with mainland Canada, is the world's longest bridge over ice-covered waters.
Golf Haven: The island is often considered Canada's top destination, with more than 25 courses.
Potato Production: Prince Edward Island is one of the largest potato-producing regions in Canada.
Island Hymn: The island has its own provincial anthem, "The Island Hymn," with lyrics written by Lucy Maud Montgomery.
Google Maps Prince Edward Island
Prince Edward Island Cities
Embark on a journey through Prince Edward Island, a province celebrated for its lush landscapes, charming small towns, and maritime culture. From the bustling city of Summerside to quaint communities like North Rustico and Cardigan, Prince Edward Island offers a unique blend of natural beauty and local charm. Below is a list of cities and towns in Prince Edward Island, organized by their size:
Summerside, Charlottetown, Montague, Kensington, Souris, Alberton, Georgetown, Tignish, O'Leary, North Rustico, Morell, Hunter River, Crapaud, Cardigan, Borden-Carleton, Tyne Valley, Vernon River, Eldon, Annandale, Inverness, Mount Stewart, Murray Harbour, Piusville, Stanhope by the Sea, Wilmot, Miscouche, Sherwood, Nail Pond.
Prince Edward Island Lakes, Rivers, and Locations
Discover the maritime allure of Prince Edward Island, a province known for its scenic bays, coastal waters, and proximity to the Gulf of St. Lawrence. Whether sailing in Malpeque Bay or exploring the tranquil waters of Tracadie Bay, Prince Edward Island offers a variety of natural attractions for water enthusiasts. Below is a list of notable lakes, rivers, and locations in Prince Edward Island:
Cascumpec Bay, Egmont Bay, Gulf of St. Lawrence, Hillsborough Bay, Malpeque Bay, New London Bay, Northumberland Strait, Rollo Bay, Tracadie Bay.
Conclusion
Prince Edward Island's rich history, vibrant culture, stunning geography, and welcoming locals is a hidden gem worth exploring. From the picturesque landscapes to the charming coastal villages, there are countless reasons why you should add this island province to your travel bucket list.
One of the main draws of Prince Edward Island is its natural beauty. The island boasts breathtaking beaches with red sand shores and crystal-clear waters that stretch as far as the eye can see. PEI offers something for everyone, whether you want to relax by the water's edge or engage in various water sports like kayaking or paddleboarding.

Aside from its spectacular coastline, Prince Edward Island also offers a range of outdoor activities for nature enthusiasts. Explore the lush greenery of PEI National Park through hiking trails that wind their way through forests and dunes. You might even catch a glimpse of some unique wildlife along the way!

Prince Edward Island has much to offer those interested in history and culture. Learn about its fascinating past at sites like Green Gables Heritage Place or visit historic lighthouses scattered across the island's coastline. Don't forget to immerse yourself in local traditions by attending one of PEI's lively festivals celebrating music, arts, and culinary delights.

Prince Edward Island is also renowned for being home to talented individuals who have left their mark on Canada's cultural landscape. From iconic author Lucy Maud Montgomery (who wrote "Anne of Green Gables") to award-winning musicians such as Stompin' Tom Connors and Lennie Gallant – this small island has produced an impressive array of creative minds.
Moreover, Prince Edward Island is famous for its delicious seafood, particularly its world-renowned lobster. Whether you're indulging in a freshly caught lobster dinner or trying other local specialties like oysters and mussels, the island's culinary scene is not to be missed.

Adding to the charm of Prince Edward Island are its friendly and welcoming locals. The island has a strong sense of community, and visitors often feel part of the family during their stay. With a warm and inviting atmosphere, it's easy to see why so many people return to PEI year after year.

In conclusion, Prince Edward Island has something for everyone – from nature lovers to history buffs to foodies. Its stunning landscapes, rich culture, and friendly locals make it a must-visit destination for anyone looking for a unique Canadian experience. So pack your bags and head to PEI – you won't regret it!