Nunavut facts
Capital: Iqaluit
Population: 36,858 (2021)
Date of Admission: 1999
Territorial motto: Nunavut saginivut (Nunavut, our strength)
Provincial flower: purple saxifrage
Time Zones: (EST) – (GMT – 5 hours), (CST) – (GMT – 6 hours), (MST) – (GMT – 7 hours)
Total Area (Sq Km): 2,093,190
Total Area (Sq Mi): 808,185
Time and date
Quick links: About, Major places, History, Geography, Climate, Google Maps, Facts, What to do, Accommodation, Pictures, Useful information, Further readings.
---
Nunavut covers more than 2 million km2 and has a population of almost 37,000 people. The northernmost territory in Canada, Nunavut, is home to around 85% of the local population, primarily Inuit. Covering roughly the part of the Canadian mainland and the Arctic Archipelago that lies to the north and northeast of the treeline, Nunavut is one of the 5 largest administrative divisions in the world. Twenty-five communities are spread across this vast territory, with its most significant population (7,740) residing in Iqaluit. The creation of Nunavut in 1999 represented one of the most significant changes to Canada's political map since Newfoundland became part of it in 1949. Formed in 1999, Nunavut represents a momentous event in the evolution of Canada and the history of Indigenous peoples. The creation of Nunavut helped to politically empower small Aboriginal groups, eventually leading to control over their territory, resources, and future.
About Nunavut, Canada
Nunavut is the vast and expansive territory of northwestern Canada that covers most of the Canadian Arctic. Created in 1999, when the eastern portion of the Northwest Territories was divided, Nunavut includes all of the traditional land used by the Inuit people. It is so named because "Nunavut" means "Our Land," which is fitting for a territory whose indigenous communities are known as Eskimo in other parts of Canada. The capital city is Iqaluit, situated at Frobisher Bay on southern Baffin Island.
Principal cities and towns
Nunavut is the least populous of Canada's three territories, with 36,858 residents as of 2021, but the largest territory in land area. This sparsely populated region is home to only 0.2% of the territory but contains 99.95% of its population.
Iqaluit is the largest municipality by population in Nunavut, with 7,429 residents, or 20.2% of the population of Nunavut. The smallest municipality is Grise Fiord, with only 144 residents occupying 2.3 square miles out of the entirety of Nunavut's 46,145 square miles.
The top 10 largest municipalities in Nunavut with their population in 2021 are Iqaluit (7,429), Rankin Inlet (2,975), Arviat (2,864), Baker Lake (2,061), Igloolik (2,049), Cambridge Bay (1,760), Pond Inlet (1,555), Pangnirtung (1,504), Kinngait (1,396), Kugluktuk (1,382).
History
The Northwest Territories are one of the most northern regions in North America. Before the mid-20th century, most Inuit resided in nomadic communities, where food and medical supplies were stretched as they routinely migrated to hunt, fish, and trap animals. In recent years, this has transformed into a sedentary lifestyle typical of small towns or villages. While modernization has taken some time to trickle down to this remote territory, Inuit populations have dramatically improved nutrition and healthcare. However, there remain longstanding social problems related to alcohol abuse and other substance abuse (especially given high poverty rates), unemployment rates disproportionately higher than the national average, and even crime incidents (mainly due mainly to alcohol dependency). To address these issues head-on without relying solely on government support programs, the Inuit population began pushing hard for greater autonomy.
In 1976, the Inuit began negotiating a claim to the land and proposed the creation of their territory. In 1992, a referendum in the Northwest Territories approved splitting the land into two territories, with an agreement from the Inuit and federal government representatives. The first act, the Nunavut Land Claims Agreement Act, settled all claims against Canada's government by giving the Inuit complete control over the territory and cash payments of 135,000 square miles (350,000 square kilometers). At the same time, the second established the territory of Nunavut out of part of the Northwest Territories. On April 1st, 1999, Nunavut was born after a transitional period.
Geography
Nunavut is a northern territory in Canada. It is divided into two physiographic regions: the Canadian Shield, which includes the mainland and the islands around Hudson Bay, and the Arctic Archipelago in the north. The flat and poorly drained lowlands of British Columbia are underlain with ancient rock more than 1 billion years old. Thousands of lakes dot its heavily glaciated surface. The Arctic region is made up of many different islands. The southern lowlands rise to the Innuitian Mountains in the north and along eastern Baffin Island. Barbeau Peak on northern Ellesmere Island is the territory's highest point, at an elevation of 2,616 m / 8,583 ft. The area is covered in permanent snow and ice, especially in the north and east.
Nunavut has three main geological regions: the Innuitian Orogen, the Canadian Shield, and the Interior Platform. The Innuitian Orogen is found in parts of the northern Arctic archipelago and features folded, gently dipping sedimentary rock. This area comprises the Franklin Basin and the Sverdrup Basin, which accumulated sedimentary deposits for over 500 million years. The Canadian Shield region contains some of Earth's oldest igneous, metamorphic, and sedimentary rocks. TEarthrocks are between one and four billion years old. Lastly, Nunavut's Interior Platform region encompasses most of the southern Arctic Archipelago. It contains rocks from up to five hundred and forty-two million years ago with an abundance of Cambrian to Cenozoic period rocks (the youngest starting at 542 million years ago).
Climate
The territory lies entirely within the Arctic climatic zone and has bitterly cold winters and cool to cold summers. In January, average daily temperatures are above −30 °C / −22 °F in only the coastal areas of the east, and in the north and northwest of Hudson Bay, they reach only −35 °C / −31 °F. Average July temperatures exceeding 50 °F (10 °C) are limited to an area west of Hudson Bay, while in the far north and along the northeastern coast of Baffin Island, they do not exceed 41 °F (5 °C). The territory of Nunavut is characterized by scarce precipitation, which falls almost entirely in the form of snow. Precipitation levels less than 200 mm / 8 inches gradually increase to the east, with areas like Baffin Island receiving more than 600 mm / 24 inches yearly. A thick layer of permafrost covers the whole territory.
The Arctic is warming much faster and more intensely than other parts of the world. Changes in Nunavut include higher temperatures, melting permafrost, less sea ice, thinning and retreating glaciers, etc. These changes threaten polar bears, seals, walruses, caribou, and many other species on which traditional Inuit harvesting practices depend. Melting permafrost has also hurt housing and infrastructure throughout Nunavut.
Google Maps Nunavut
Google Street View is a feature of Google Maps that provides 360-degree panoramic images of many locations worldwide, including the territory of Nunavut. Here are a few exciting objects and locations that Google Street View has captured in Nunavut:
The Iqaluit Airport: Google Street View has captured images of the Iqaluit Airport, the primary airport serving the capital city of Iqaluit.
The Nunavut Legislative Assembly: Google Street View has captured images of the Nunavut Legislative Assembly, a government building in Iqaluit that serves as the seat of the territorial government.
The Sylvia Grinnell Territorial Park: Google Street View has captured images of the Sylvia Grinnell Territorial Park, a protected area near Iqaluit home to various plant and animal species.
The Inuit Heritage Centre: Google Street View has captured images of the Inuit Heritage Centre, a museum in Iqaluit dedicated to preserving and promoting Inuit culture and history.
The Frobisher Bay: Google Street View has captured images of Frobisher Bay, a large bay near Iqaluit that is home to various marine life.
The Qaummaarviit Territorial Historical Park: Google Street View has captured images of the Qaummaarviit Historical Park, a protected area near Iqaluit that is home to a variety of plant and animal species and is known for its stunning views of the surrounding landscape.
The Auyuittuq National Park: Google Street View has captured images of the Auyuittuq National Park, a protected area on the eastern coast of Baffin Island that is home to various plant and animal species and is known for its rugged and scenic landscape.
Did you know?
Climatic conditions in Nunavut are primarily tundra, characterized by desolate and barren landscapes.
The climate varies across Nunavut's vast territory since it ranges from the coast of Hudson Bay to the large Arctic islands. However, the entire region experiences long winters and cool summers. Nunavut is the coldest and driest part of Canada.
A wide array of flora and fauna can be found across Nunavut. There are no trees in the territory.
In 2015 alone, 12% of the territory was protected (236,621 sq km / 91,359.88 sq mi).
The Arctic is warming faster than most other regions, with powerful effects. For example, the warmer climate means lichens are becoming the dominant plant species, and high-latitude birds arrive early in spring. It also means melting permafrost, reduced sea ice, thinning and retreating glaciers, and diminished ice shelves.
The soil of the tundra is frozen and permafrost.
You might think permafrost is only found on top of the earth, but in Nunavut, it extends from a few meters down to 1,500 meters deep.
Summer is often the time when a thin layer of the tundra thaws. This period changed the landscape completely. The ground becomes soggy, and a lot of water comes from lakes, marshes, bogs, and streams.
Nunavut has five national parks, covering 110,364 km2 / 42,611.78 sq mi. The five parks are Auyuittuq National Park, Quttinirpaaq National Park, Sirmilik National Park, Ukkusiksalik National Park, and Qausuittuq National Park.
The territory has many wonderful and varied sites, including national wildlife areas, territorial parks, conservation and historic sites, and wildlife sanctuaries. One proposed site is the Lancaster Sound National Marine Conservation Area.
What to do in Nunavut
"Nunavut" means "our land," and it's a place few people know about. It's not your typical tourist destination, but it'll give you an experience like no other. Experience Northern culture, breathtaking Arctic landscapes, and some of the best wildlife safaris in the world.
Cambridge Bay is home to fascinating Arctic Wildlife, like the Musk Ox. In the early summers, watch the steam rise from their backs as they migrate north toward newly thawed land to graze. Floating in the lakes and straits are elegant Tundra Swans enjoying the fleeting warmth after a long migration.
Floe Edge is layered by ice and sea, with polar bears, walruses, and whales coming close to shore yearly to feed on shrimp and fish. The area is especially lively in the springtime when animals and humans use the long daylight hours for hunting and eating enough to last them the entire year.
If you want to explore the north without touching the ground, booking a dog sledding tour is a great way to do it. Alternatively, Nunavut is great for snowmobiling. Head out on foot and experience how the Inuit have traveled for centuries.
According to Tripadvisor, the top 10 things to do in Nunavut are Baffin Island, Sylvia Grinnell Territorial Park, Unikkaarvik Visitor Centre, Apex Beach, Legislative Assembly of Nunavut, Auyuittuq National Park, Nunatta Sunakkutaangit Museum, Ellesmere Island, St. Jude's Cathedral, and The Matchbox Gallery.
Accommodation in Nunavut
Nunavut is a Canadian territory located in the northernmost part of the country. It is an exciting place to visit, with plenty of room to explore and discover. When it comes to accommodation, Nunavut has quite a few to offer. Hotels and other lodging options are available throughout the territory, so you can find the perfect place to stay no matter where you visit. If you're planning a trip to Nunavut, check out the accommodation options in advance so you can make your reservation early.
If you're planning a trip to Nunavut, check out the accommodation options in advance so you can make your reservation early.
Reserve a room
Our tip for accommodation in Nunavut would be to research and book well in advance. Nunavut is a remote and sparsely populated territory, so accommodation options are limited and often booked up quickly, especially during peak tourist season. Additionally, many communities in Nunavut are only accessible by plane, so visitors should plan accordingly. Another tip would be to consider staying in a traditional Inuit community, as this can provide a unique and authentic cultural experience. Many communities have guesthouses or bed and breakfasts that offer comfortable and affordable accommodation. Some also offer cultural activities such as dog sledding, igloo building, or traditional Inuit games and storytelling. Alternatively, you can also look into camping or booking a room in a wilderness lodge if you're interested in outdoor activities such as hiking, wildlife viewing, and fishing.
Pictures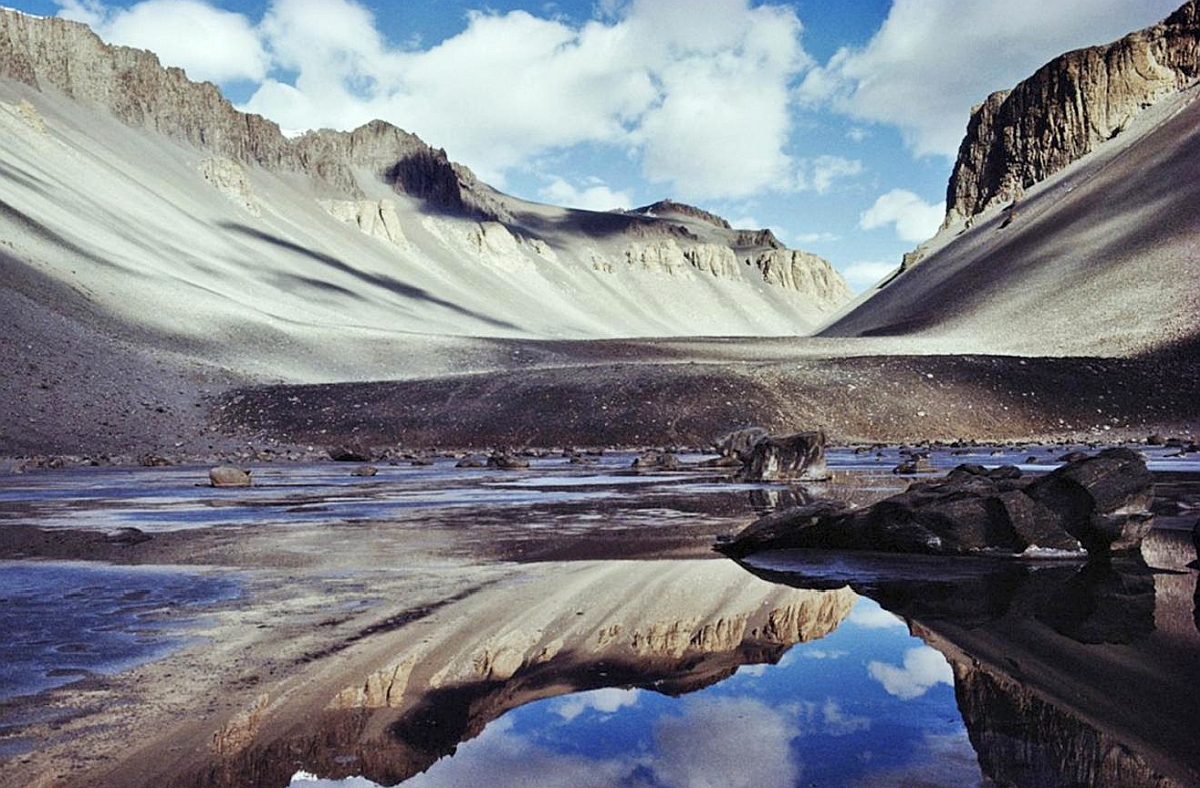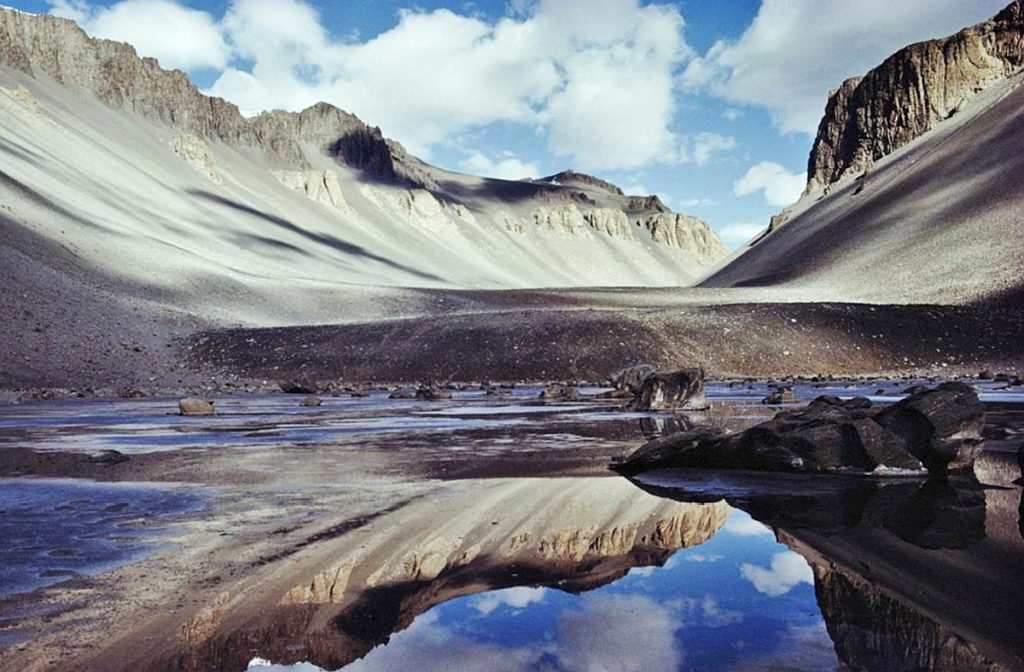 Useful information
Nunavut is best experienced in the summertime. The summers are relatively cool and short for an Arctic region, and it's cold enough to require winter wear during any time of year. Tourists are not recommended to visit during the winter due to the extremely low temperatures. Most of the usual winter-related activities cease as the locals hunker down and try to survive.
It's important to know what to expect when visiting the Northern Territory. During summer, many islands experience 24 hours of sunlight, while in winter, many of the same islands are plunged into perpetual darkness. Twilight reigns for a while in between, so be prepared for unusual circadian conditions.
Nunavut is the only northern territory in Canada that's not connected to the rest of the continent by land or highway. If you're going there, you'll have to get there by plane or boat. In this massive region, more extensive than Mexico, travel is mainly accomplished via dog sleds, boats, and chartered planes.
Most travelers land in the capital city, Iqaluit, before exploring Nunavut. Around 40 airports can be found here, so you'll have no problem choosing a departure point.
You may also be interested in
Did you like this Nunavut map and information page? Please don't forget to share or bookmark this content on Canada Maps.com!