A Journey Through Canada's Western Gem
Embark on an unforgettable odyssey through Alberta, Canada's western jewel. A land where the Rocky Mountains meet the prairies, vibrant cities pulse with energy, and history and modernity merge. Alberta is your playground whether you're an adrenaline junkie, a culture vulture, or a nature lover. Let's delve into the heart of this Canadian marvel.
Where is Alberta located?
Nestled in western Canada, Alberta is a land of natural beauty framed by the U.S. to the south and British Columbia to the west. The province stretches north to the Northwest Territories and east to Saskatchewan. Known for its rugged landscapes and outdoor adventures, it's a haven for nature enthusiasts.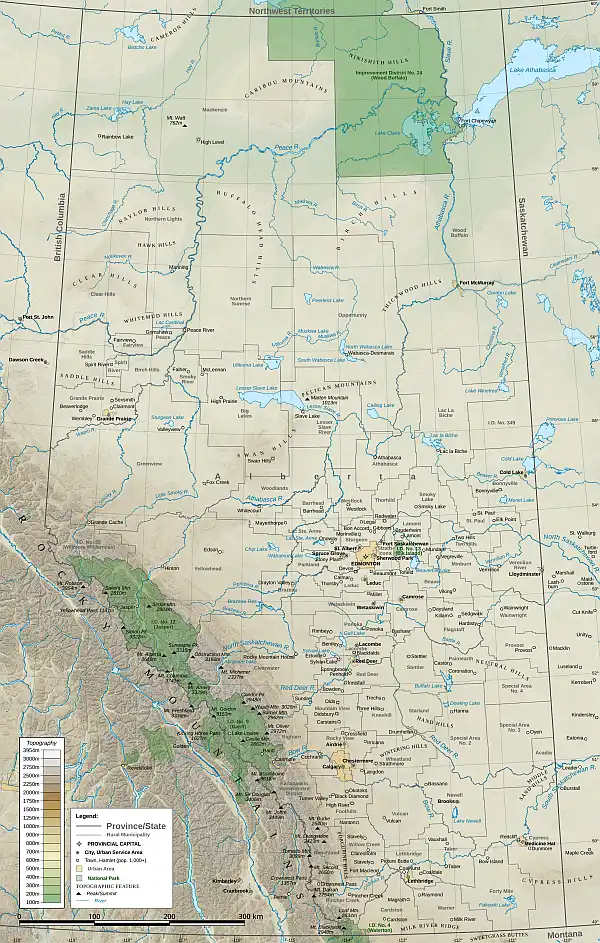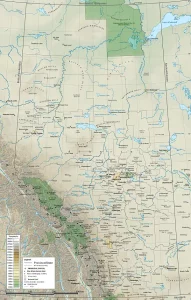 Alberta is situated in the western part of Canada and is one of the country's three prairie provinces. Geographically, it borders British Columbia to the west, Saskatchewan to the east, the Northwest Territories to the north, and the U.S. state of Montana to the south. The province's coordinates are approximately 55°59′30″N latitude and 114°22′36″W longitude. Alberta covers an area of 661,848 square kilometers (255,541 square miles), making it the fourth-largest province in Canada. Its southern border aligns with the 49th parallel north, separating it from Montana, while the 60th parallel north divides it from the Northwest Territories. The province's western boundary with British Columbia follows the 120th meridian west and the Continental Divide. Alberta's landscape is diverse, featuring the Great Plains in the east and the Rocky Mountains in the west. The province is also home to numerous rivers and lakes, including Lake Claire, Lesser Slave Lake, and Lake Athabasca. The Athabasca River is the longest river in the province, stretching 1,538 kilometers (956 miles) from the Columbia Icefield in the Rocky Mountains to Lake Athabasca.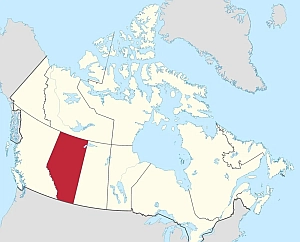 Alberta's Geographical Tapestry
Alberta is not just another province; it's a geographical masterpiece. Nestled between British Columbia and Saskatchewan, this western Canadian province sprawls over an impressive 661,848 square kilometers. Alberta is a topographical wonder, from the jagged peaks of the Canadian Rockies to the golden prairies and the labyrinth of rivers like the Athabasca and Bow. Its strategic location also opens doors to both Pacific and Atlantic trade routes, making it a linchpin in North America's economy.
Seasonal Facts/Trends in Alberta
| Season | General Weather Description | Temperature Range (°C) | Temperature Range (°F) |
| --- | --- | --- | --- |
| Summer | Warm and sunny | 15°C to 30°C | 59°F to 86°F |
| Winter | Cold and snowy | -25°C to -5°C | -13°F to 23°F |
| Spring | Mild and breezy | 5°C to 15°C | 41°F to 59°F |
| Autumn | Cool and colorful | 5°C to 20°C | 41°F to 68°F |
Experience the Seasons: A Complete Guide to Alberta's Weather
Alberta is a province known for its diverse landscapes and equally diverse weather. From the warm summers to the snowy winters, each season in Alberta offers unique experiences. Here's what you can expect from Alberta's weather throughout the year.
Summer: A Season of Sunshine and Adventure
Alberta's summers are generally warm and sunny, with temperatures ranging from 15°C (59°F) to 30°C (86°F). This is the perfect time for outdoor activities like hiking in the Rockies, kayaking on the lakes, or enjoying a picnic in one of the many beautiful parks. The province is also known for its clear skies, making it an excellent destination for stargazing.
Winter: The Wonderland of the North
Winter in Alberta is a season for snow enthusiasts. With temperatures ranging from -25°C (-13°F) to -5°C (23°F), it's the ideal time for winter sports like skiing, snowboarding, and ice skating. The province is home to some of Canada's best ski resorts, making it a winter paradise for those who love the cold and snow.
Spring: A Season of Rebirth
Spring in Alberta is a time of renewal. As the snow melts and temperatures rise to a more comfortable range of 5°C (41°F) to 15°C (59°F), the landscape comes alive with blooming flowers and chirping birds. This is an excellent time for bird-watching and enjoying the first hikes and bike rides of the year.
Autumn: A Tapestry of Colors
Autumn in Alberta is a season of vibrant colors and cooler temperatures. Ranging from 5°C (41°F) to 20°C (68°F), it's a great time to enjoy the changing foliage and partake in activities like apple picking and scenic drives. The crisp air and beautiful scenery make it a favorite season for many.
A Melting Pot of Cultures: Demographics of Alberta
Alberta is a cultural kaleidoscope. As of 2023, the province is home to over 4.5 million people, which continues to grow thanks to its welcoming atmosphere. While English remains the dominant language, the air is filled with various dialects, from Indigenous languages to Tagalog. Cities like Calgary and Edmonton are not just urban hubs but cultural melting pots, offering everything from global culinary delights to international music festivals.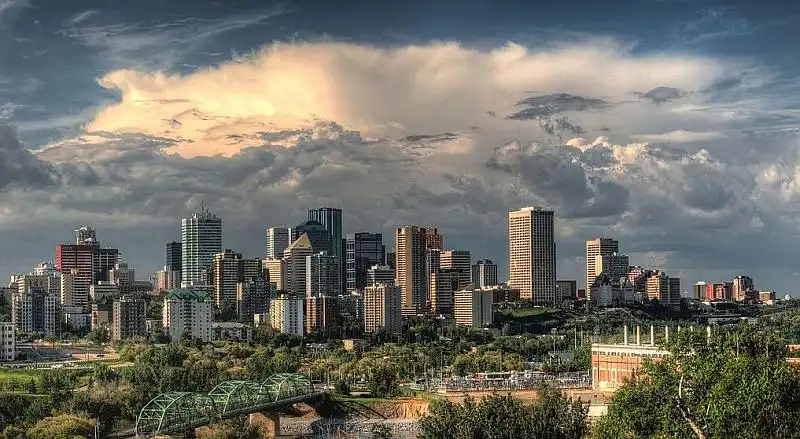 The Chronicles of Alberta: A Historical Journey
Alberta's history is a rich tapestry woven with Indigenous traditions, European exploration, and modern-day multiculturalism. The province's roots stretch back to the First Nations communities like the Blackfoot and Cree, who have lived here for millennia. The European settlers of the 18th century, lured by the fur trade, added new threads to this tapestry, and the discovery of oil in the 20th century brought a new wave of cultural and economic transformation. Today, Alberta is a historical goldmine, from the cowboy culture celebrated at the Calgary Stampede to the Indigenous art displayed at the Banff Centre for Arts & Creativity.
Seasons of Alberta: A Climate for Every Traveler
Alberta is a land of climatic contrasts. Summers are warm, perfect for hiking in Banff or swimming in Lake Louise. Autumn paints the province in brilliant shades of red and gold, while winter transforms it into a snowy paradise, ideal for skiing and snowboarding. Spring heralds the return of flora and fauna, making it a prime time for wildlife spotting. Each season offers its own set of adventures, ensuring that Alberta is a year-round destination.
Alberta's Bucket List: Must-Do Activities
Alberta is an adventurer's dream. Scale the Rockies, navigate the white waters of the Kananaskis River, or cycle through the scenic trails of Canmore. History buffs can step back in time at Calgary's Heritage Park or Edmonton's Fort Edmonton Park. For art lovers, Alberta's cities offer a rich tapestry of museums, galleries, and theaters. And let's not forget the foodies, who can savor everything from farm-fresh produce to international delicacies.
Did You Know?
Alberta is home to five UNESCO World Heritage Sites.
The province's official tree is the Lodgepole Pine.
Alberta has no provincial sales tax, making it unique among Canadian provinces.
The West Edmonton Mall was once the largest in the world.
The Calgary Stampede is one of the world's largest and richest rodeos.
Google Maps Alberta
Alberta Cities
Embark on exploring Alberta, a province celebrated for its dynamic cities, rich natural resources, and diverse cultural landscape. From the cosmopolitan hubs of Calgary and Edmonton to smaller, charming locales like Bawlf and Morrin, Alberta offers many experiences for residents and visitors alike. Here is a list of cities in Alberta, organized by their size:
Calgary, Edmonton, Red Deer, Lethbridge, Fort McMurray, Grande Prairie, Medicine Hat, Airdrie, St. Albert, Spruce Grove, Leduc, Cochrane, Lloydminster, Okotoks, Camrose, Brooks, Fort Saskatchewan, Wetaskiwin, Hanna, Bawlf, Mirror, Morrin.
Alberta Lakes, Rivers, and Locations
Uncover the natural beauty of Alberta, a province renowned for its stunning lakes, majestic mountains, and meandering rivers. Whether you're an outdoor enthusiast eager to explore the Rocky Mountains or someone looking to relax by the tranquil waters of Lesser Slave Lake, Alberta offers many natural attractions to suit every taste. Below is a list of notable lakes, rivers, and locations in Alberta:
Beaverhill Lake, Birch Mountains, Bison Lake, Bistcho Lake, Buffalo Head Hills, Buffalo Lake, Calling Lake, Cardinal Lake, Cold Lake, Frog Lake, Gardiner Lakes, Graham Lake, Lac la Biche, Lake Athabasca, Lake Clare, Lesser Slave Lake, Mamawi Lake, Margaret Lake, McGregor Lake, Muriel Lake, Namur Lake, Peace River, Peerless Lake, Pigeon Lake, Richardson Lake, Rocky Mountains, Sounding Lake, Sullivan Lake, Thickwood Hills, Wabiskaw Lake.
Conclusion
By now, you have gained a deeper understanding of Alberta and all it offers. This province is in Canada and boasts breathtaking landscapes, diverse wildlife, a rich history, and a vibrant culture. Whether you are an outdoor enthusiast seeking adventure or someone who appreciates art and heritage, Alberta has something for everyone.

With its vast mountain ranges, stunning national parks like Banff and Jasper, and numerous lakes and rivers, Alberta is a paradise for nature lovers. You can hike through picturesque trails, kayak on crystal-clear waters, or immerse yourself in the tranquility of these awe-inspiring surroundings.

Alberta's population comprises people from various backgrounds and cultures, creating a welcoming atmosphere where diversity thrives. The province takes pride in celebrating its indigenous heritage while also embracing multiculturalism.

The history of Alberta is rooted in the exploration of natural resources such as oil sands, which have played a significant role in shaping the region's economy and identity. This rich history can be explored through museums and historic sites throughout the province.

Regarding weather conditions in Alberta, be prepared for some extremes! From warm summers perfect for outdoor activities to cold winters ideal for skiing or snowboarding enthusiasts – there is never a shortage of things to do regardless of the season.

Speaking of things to do…

Alberta offers countless opportunities for adventure seekers! Whether you want to go hiking in the Canadian Rockies or witness mesmerizing Northern Lights dancing across the night sky – your bucket list will quickly fill up with amazing experiences waiting just around the corner!

In conclusion, visiting Alberta means immersing yourself in natural beauty while embracing cultural diversity. It's an opportunity to connect with nature at its finest while discovering captivating stories from times past. So pack your bags because this Canadian gem awaits your arrival!