Unveiling the Heart of Canada—Manitoba
Welcome to Manitoba, the geographical and cultural heart of Canada! This province is a treasure trove of natural wonders, vibrant cities, and rich history. Manitoba has something for everyone, whether you're an adventure junkie, a nature lover, or a history buff. So, grab your favorite Canadian snack and explore this fascinating province.
Where is Manitoba Located?
Situated in western Canada, Manitoba is a diverse province that touches the Hudson Bay to the north and the U.S. border to the south. Flanked by Saskatchewan to the west and Ontario to the east, it's a land of lakes, prairies, and northern adventures.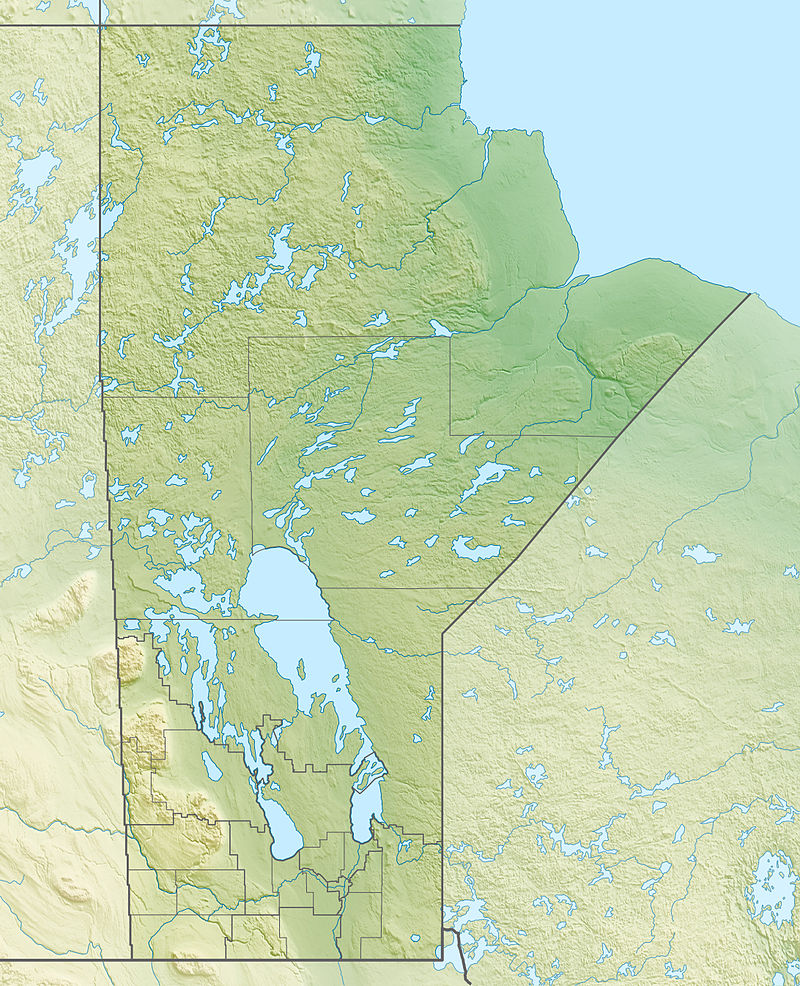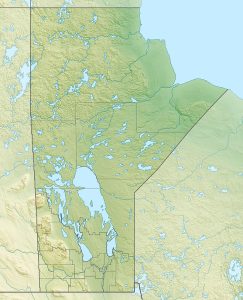 Manitoba is a province in Canada located at the coordinates 55°N 97°W. It is bordered by the provinces of Ontario to the east, Saskatchewan to the west, and the territory of Nunavut to the north. To the south, Manitoba shares international borders with the U.S. states of North Dakota and Minnesota. The province is situated at the center of the Hudson Bay drainage basin, with a high volume of water draining into Lake Winnipeg and then flowing north down the Nelson River into Hudson Bay. Manitoba's geography is characterized by more than 110,000 lakes, covering approximately 15.6 percent of its surface area. Major lakes include Lake Manitoba, Lake Winnipegosis, and Lake Winnipeg, the tenth-largest freshwater lake in the world. The province's highest point is Baldy Mountain, 832 meters (2,730 feet) above sea level.
A Journey Through Time: The Evolution of Manitoba's Boundaries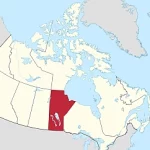 Manitoba's boundaries have evolved significantly since its inception in 1870. Initially a small province, it has expanded through land acquisitions and negotiations. The most significant change occurred in 1912, when Manitoba gained access to Hudson Bay, opening up new trade opportunities. The province also annexed parts of northern Ontario in the same year, adding valuable natural resources to its portfolio. These dynamic boundaries reflect Manitoba's adaptability and interconnectedness within Canada.
The Natural Canvas: Geographical Wonders of Manitoba
Manitoba is a geographically diverse province, boasting everything from expansive prairies to majestic mountains. The prairies are not just a sight to behold but also the backbone of the province's agriculture. Lake Winnipeg and Whiteshell Provincial Park are must-visit spots for water enthusiasts. For those who prefer rugged terrains, Duck Mountain and Riding Mountain National Park offer breathtaking views and hiking opportunities. Don't miss Oak Hammock Marsh, a sanctuary for rare birds and other wildlife.
Seasonal Facts/Trends in Manitoba
| Season | General Weather Description | Temperature Range (°C) | Temperature Range (°F) |
| --- | --- | --- | --- |
| Summer | Warm and sunny | 20°C to 30°C | 68°F to 86°F |
| Winter | Cold and snowy | -25°C to -10°C | -13°F to 14°F |
| Spring | Mild and wet | 5°C to 15°C | 41°F to 59°F |
| Autumn | Cool and crisp | 8°C to 18°C | 46°F to 64°F |
Unveil the Seasons: A Comprehensive Guide to Manitoba's Weather
Manitoba is a province that offers a variety of weather conditions, each with its own unique set of experiences and activities. From the warm summers to the icy winters, here's what you can expect from Manitoba's weather throughout the year.
Summer: A Season of Sunshine and Outdoor Fun
Summer in Manitoba is characterized by warm and sunny weather, with temperatures ranging from 20°C (68°F) to 30°C (86°F). This is the ideal season for outdoor activities like camping, fishing, and hiking. The province's numerous lakes and rivers provide excellent opportunities for water sports, making it a summer paradise for adventure seekers.
Winter: The Frosty Wonderland
Winter in Manitoba is a season for those who love the cold and snow. With temperatures ranging from -25°C (-13°F) to -10°C (14°F), it's a haven for winter sports enthusiasts. Activities like ice fishing, snowmobiling, and skiing are popular during this season, offering a range of experiences for those who don't mind braving the cold.
Spring: A Season of Renewal and Rebirth
Spring in Manitoba is a mild and wet season, with temperatures ranging from 5°C (41°F) to 15°C (59°F). This is the time when the landscape starts to come alive again, with blooming flowers and the return of migratory birds. It's an excellent season for bird-watching and enjoying the first outdoor activities of the year.
Autumn: A Season of Harvest and Beauty
Autumn in Manitoba is a season of cool temperatures and crisp air, ranging from 8°C (46°F) to 18°C (64°F). The changing foliage offers a beautiful backdrop for activities like hiking and apple picking. It's also a great time to enjoy the province's harvest festivals and explore its scenic landscapes.
Urban Hubs: Where City Meets Nature
Manitoba has several bustling cities and quaint towns, each offering a unique blend of natural beauty and urban amenities. Winnipeg, the "Gateway to the West," is a vibrant metropolis with a rich history. Thompson serves as an outdoor paradise, offering activities like fishing and hiking. For a taste of Franco-Manitoban culture, visit St-Pierre-Jolys. Brandon and Gimli are other notable mentions, known for their agricultural heritage and Icelandic culture.
What Sets Manitoba Apart?
Manitoba is unique for several reasons. It's the only province situated right at Canada's center, making it a cultural and geographical crossroads. The province is a biodiversity hotspot, home to over 200 species of birds and various mammals. One of the most awe-inspiring phenomena you can witness here is the Northern Lights, thanks to its location under the "auroral oval." Manitoba's rich Indigenous heritage and thriving arts scene add to its uniqueness.
Navigating the Heart of Canada: Travel Tips for Manitoba
Getting to Manitoba is a breeze, with Winnipeg's international airport serving as the main entry point. The province offers many outdoor adventures, from polar bear sightings in Churchill to canoeing in Whiteshell Provincial Park. Urban explorers will find Winnipeg's arts scene and historic sites like The Forks National Historic Site particularly engaging. Transportation within the province is convenient, with well-maintained highways and Greyhound bus services.
Did You Know?
Manitoba is home to the Narcisse Snake Dens, the largest concentration of snakes in the world.
The province has its own desert—The Spirit Sands Desert.
Manitoba was the first Canadian province to grant women the right to vote in 1916.
The Royal Canadian Mint in Winnipeg produces coins not just for Canada but for other countries as well.
Google Maps Manitoba
Manitoba Cities
Embark on a journey through Manitoba, a province celebrated for its rich history, diverse landscapes, and vibrant cities. From the bustling capital city of Winnipeg to smaller, picturesque towns like Arborg and Glenboro, Manitoba offers a unique blend of urban and rural experiences. Here is a list of cities in Manitoba, organized by their size:
Winnipeg, Brandon, Thompson, Portage la Prairie, Steinbach, Selkirk, Winkler, Morden, Dauphin, Flin Flon, The Pas, Carman, Neepawa, Minnedosa, Virden, Stonewall, Swan River, Carberry, Arborg, Rapid City, Grandview, Moosehorn, Easterville, Gypsumville, Hartney, Minitonas, Pilot Mound, Sifton, Steep Rock, Barrows, Bowsman, Glenboro, Wivenhoe.
Manitoba Lakes, Rivers, and Locations
Experience the natural allure of Manitoba, a province renowned for its abundant lakes, rivers, and unique geographical features. Whether you're an avid fisherman eager to cast a line in Lake Winnipeg or an adventurer looking to explore the remote corners of Hudson Bay, Manitoba offers a diverse range of natural attractions. Below is a list of notable lakes, rivers, and locations in Manitoba:
Baldock Lake, Barrington Lake, Big Sand Lake, Cedar Lake, Cross Lake, Dauphin Lake, Family Lake, Fishing Lake, Gauer Lake, Gods Lake, Goldsand Lake, Heindeer Lake, Hudson Bay, Island Lake, Lac Brochet, Lake Manitoba, Lake Winnipeg, Lake Winnipegosis, Misty Lake, Molson Lake, Nelson River, North Knife Lake, North Moose Lake, Nueltin Lake, Oxford Lake, Red Deer Lake, Reindeer Lake, Silsby Lake, South Moose Lake, Southern Indian Lake, Swan Lake, Tadoule Lake, Waskalowaka Lake, Whitemouth Lake, Wintering Lake.
Conclusion

Manitoba is a unique and diverse province that offers something for every type of traveler. With its stunning landscapes, rich Indigenous heritage, vibrant arts scene, and abundant wildlife, this central Canadian province has it all.

One of the main reasons Manitoba should be at the top of your travel list is its diverse geographical features. This province has everything from vast prairies to dense forests and rolling hills to serene lakes. Whether you enjoy hiking through nature reserves or relaxing by the water's edge, there is something for everyone here.

Manitoba is also home to several major cities and towns that are worth exploring. The capital city of Winnipeg offers a blend of cultural attractions such as art galleries, museums, and theaters, along with a thriving culinary scene. Other notable destinations include Churchill – known as the Polar Bear Capital of the World – where you can witness these magnificent creatures up close in their natural habitat.

What truly sets Manitoba apart from other destinations is its unparalleled wildlife encounters. Whether it's spotting beluga whales in Hudson Bay or observing bison roaming freely in Riding Mountain National Park, animal lovers will find themselves in awe at every turn. The opportunity to see polar bears during their annual migration is an experience like no other and one that shouldn't be missed.

Traveling to and within Manitoba is made easy with convenient transportation options available. Winnipeg James Armstrong Richardson International Airport connects the province with major Canadian cities as well as international destinations. Once inside Manitoba, road trips are highly recommended as they allow you to take in the scenic beauty at your own pace.

In conclusion, Manitoba offers a perfect mix of adventure and relaxation for travelers seeking something off the beaten path. Its picturesque landscapes provide endless opportunities for outdoor activities, while its urban centers offer culture-rich experiences. So why not make Manitoba your next travel destination?