Welcome to the download page of Canada Maps, where Nova Scotia Relief Map is free to download in printable JPG and PDF file formats. Whether you're planning a road trip, researching a project, or want to understand better the political or geographical Canada, our collection of maps has got you covered.
About the Nova Scotia Relief Map
Nova Scotia, a maritime province in eastern Canada, is home to a diverse landscape that includes forests, beaches, lakes, and a rugged coastline. This relief map of Nova Scotia provides a detailed visualization of the province's topography, including elevation data and major lakes.
The map uses hypsometric tints, which are gradations of different colors, to show elevation. The darkest colors represent the highest elevations, while the lightest colors represent the lowest. The map also includes spot elevations, which show the precise elevation of specific points on the map. Together, these features provide a comprehensive picture of the province's topography.
Nova Scotia's numerous lakes are also depicted on the map, providing valuable information for fishing, boating, and hiking activities. The largest lake in Nova Scotia, Bras d'Or Lake, is particularly prominent on the map. This large, inland saltwater lake is a popular spot for recreational activities and is known for its scenic beauty.
The map's elevation ranges, which are included in the legend, provide additional information about the province's topography. These ranges show the minimum and maximum elevations in different parts of the province, allowing users to gain a more detailed understanding of the landscape.
This relief map of Nova Scotia has several use cases, including natural resource management, scientific research, emergency management, education, and tourism. It can be used to plan and execute outdoor activities, study the province's geology and geography, and better understand the region's unique features.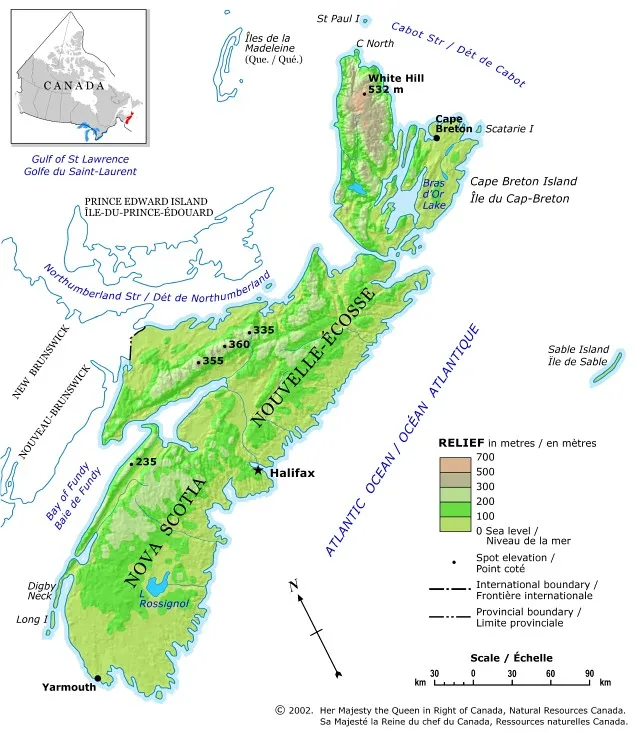 The relief map of Nova Scotia shows elevation by hypsometric tints (a gradation of different colors) and spot elevations. Significant lakes are also shown. Elevation ranges are included in the map legend. The elevation data were derived from the map Canada-Relief, Fifth Edition, National Atlas of Canada, published in 1986.
Download link for Relief map Nova Scotia – Bilingual printable JPG.
Download link for Relief map Nova Scotia – Bilingual printable PDF.
Looking for more similar maps to Nova Scotia Relief for printing? Check them out here.
Downloading these maps is easy and hassle-free. Select the map you want, choose the file format that works best for you, and hit the download button. These Canada-related maps are designed to be printer-friendly, so you can print them out at home or take them to a local print shop.
Use cases for the Nova Scotia Relief Map
The relief map of Nova Scotia has many use cases, including:
Natural resource management: The map can identify and manage natural resources such as forests, lakes, and other land features, which are critical to the province's economy.
Scientific research: The map can be used by researchers studying the province's geology, geography, and environmental patterns to better understand the region's unique features and monitor any changes over time.
Emergency management: Emergency responders can use the map to plan and execute search and rescue operations and coordinate emergency services during natural disasters such as floods, hurricanes, or forest fires.
Education: The map can be used in schools and universities to teach students about geography, geology, and other subjects.
Tourism: The map is an essential resource for tourists visiting the province, helping them to plan and execute outdoor activities, such as hiking, camping, and fishing, and providing valuable information about the region's scenic beauty and natural attractions.
Planning and development: The map can be used by urban planners and developers to identify suitable areas for development, infrastructure projects, and conservation efforts.
Overall, the relief map of Nova Scotia is an essential tool for anyone who needs to understand the region's geography, geology, and natural features. Its detailed depiction of elevation and significant lakes, combined with its use of hypsometric tints, make it a valuable resource for various applications.
We are committed to providing high-quality, informative maps accessible to everyone. These Canada maps are available for personal or educational purposes, and we encourage you to share them with your friends and colleagues.
Driving Directions, Google Maps, and more
To use these services, please visit the Driving Directions, Google Maps, or OpenStreetMap pages.
Provinces and territories
In case if you are looking for detailed information on the Canadian provinces and territories, consult the following pages: Alberta, British Columbia, Manitoba, New Brunswick, Newfoundland and Labrador, Northwest Territories, Nova Scotia, Nunavut, Ontario, Prince Edward Island, Quebec, Saskatchewan, and the Yukon.
The map of Nova Scotia Relief above contains information licensed under the Open Government Licence – Canada.
Thank you for visiting Canada Maps! We hope our maps will help you explore and discover the beauty of Canada.