Are you looking for an exciting adventure that takes you through some of the most breathtaking landscapes in Canada? Look no further than Western Newfoundland, a region with a stunning mix of rugged coastlines, towering mountains, and tranquil lakes. With a scenic driving routes map, you can explore this region at your own pace and explore the natural wonders that make Western Newfoundland unique.
Western Newfoundland Scenic Driving Routes Map
This map shows cities, towns, trails, Trans-Canada highways, secondary roads, national parks, provincial parks, provincial visitor information centers, provincial/national historic sites, ferries, airports, and natural scenic attractions in Western Newfoundland.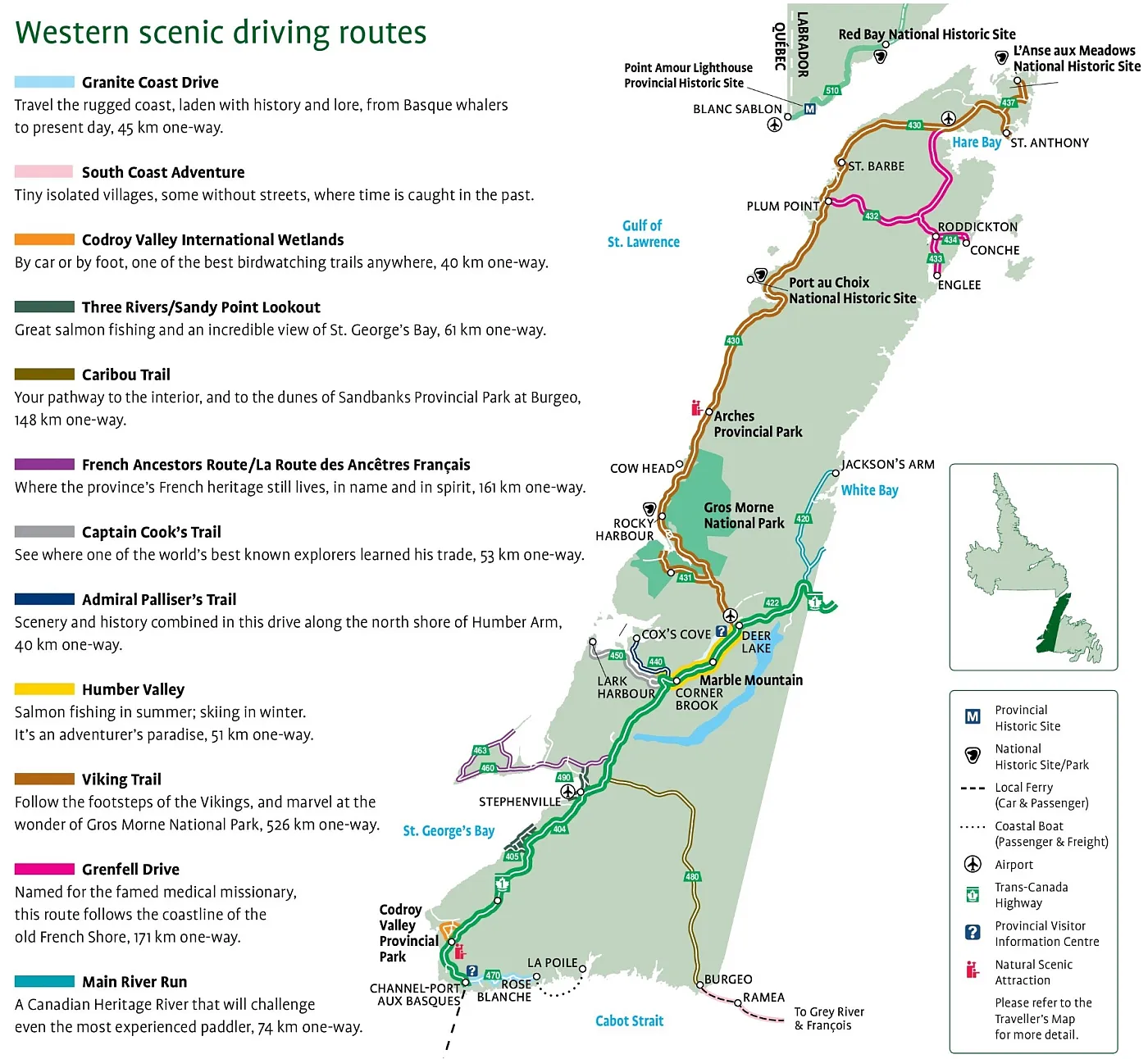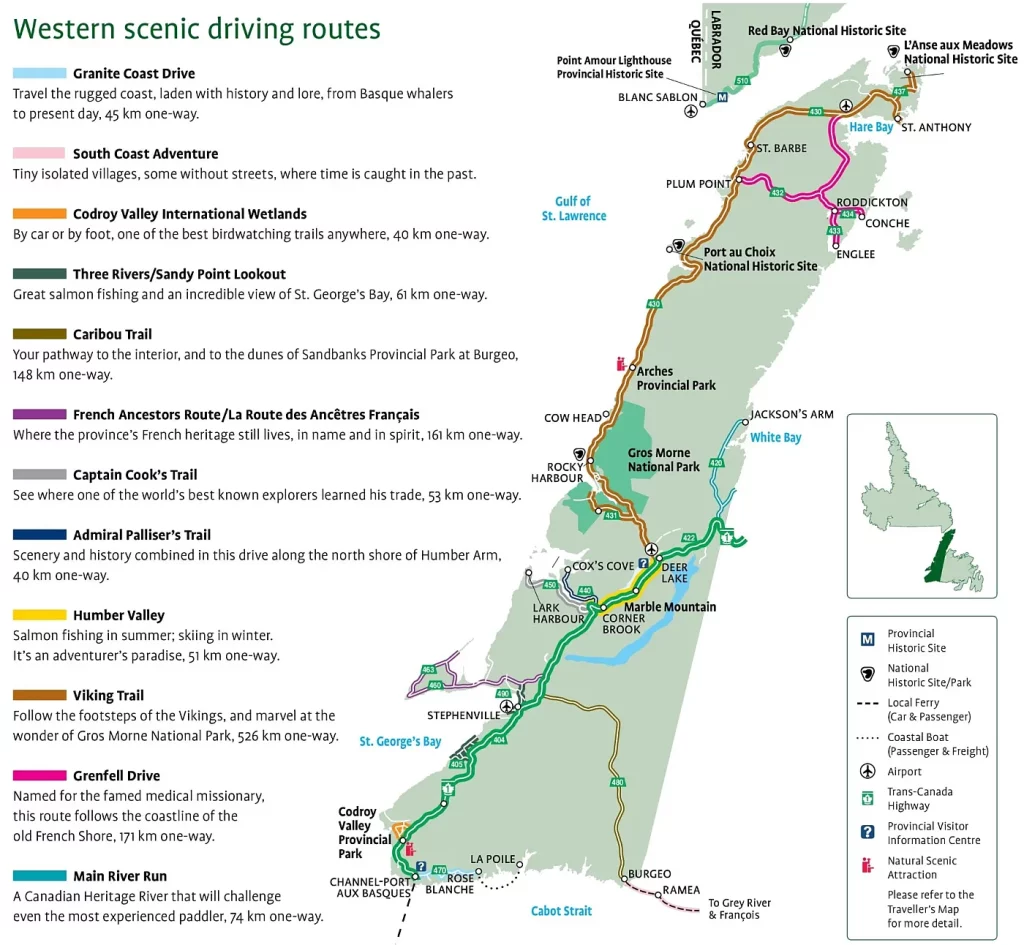 Please visit this page for other map resources or Google Maps.
What are Scenic Driving Routes Maps Used for?
The Western Newfoundland scenic driving routes map is an excellent resource for exploring the region's most beautiful natural landscapes. The map highlights some of the area's best scenic routes and natural attractions, including national and provincial parks, historic sites, and trails. The Trans-Canada Highway and secondary roads offer stunning views of the coastline and the majestic mountains of Western Newfoundland. The map also includes information on provincial visitor information centers, airports, and ferries, making it easy to plan your itinerary. You can explore the stunning scenery of Gros Morne National Park, the Bay of Islands' rugged coastline, or the Northern Peninsula's stunning fjords. The scenic driving routes map also highlights several natural scenic attractions, such as the breathtaking Western Brook Pond, the magnificent Tablelands, and the stunning Blow Me Down Mountains. From the charming coastal towns of Rocky Harbour, Woody Point, and Trout River to the stunning natural scenery of the region, the Western Newfoundland scenic driving routes map has everything you need to plan an unforgettable road trip. Whether you are looking for adventure or relaxation, this map is the perfect guide to exploring the beauty of Western Newfoundland.
What are the Western scenic driving routes?
Granite Coast Drive: Travel the rugged coast, laden with history and lore, from Basque whalers to the present day. 45 km one-way.
South Coast Adventure: Tiny isolated villages, some without streets, where time is caught in the past.
Codroy Valley International Wetlands: One of the best birdwatching trails anywhere, 40 km one-way by car or by foot.
Three Rivers/Sandy Point Lookout: Great salmon fishing and an incredible view of St. George's Bay, 61 km one-way.
Caribou Trail: Your pathway to the interior and the Sandbanks Provincial Park dunes at Burgeo, 148 km one-way.
French Ancestors Route/La Route des Ancêtres Français: Where the province's French heritage still lives, in name and spirit. 161 km one-way.
Captain Cook's Trail: See where one of the world's best-known explorers learned his trade, 53 km one-way.
Admiral Palliser's Trail: Scenery and history combined in this drive along the north shore of Humber Arm, 40 km one-way.
Humber Valley: Salmon fishing in summer; skiing in winter. It's an adventurer's paradise, 51 km one-way.
Viking Trail: Follow the footsteps of the Vikings, and marvel at the wonder of Gros Morne National Park, 526 km one-way.
Grenfell Drive: Named for the famed medical missionary, this route follows the coastline of the old French Shore, 171 km one-way.
Main River Run: A Canadian Heritage River that will challenge even the most experienced paddler, 74 km one-way.
Did you Know about Western Newfoundland?
Western Newfoundland is home to Gros Morne National Park, a UNESCO World Heritage site that boasts some of Canada's most striking natural landscapes. The park features the Tablelands, a section of the earth's mantle pushed to the surface, creating a unique geological phenomenon. Gros Morne is also home to the Long Range Mountains, a range that runs through the park and offers some of the most stunning hiking trails in the region. Other notable attractions in Western Newfoundland include the L'Anse aux Meadows National Historic Site, a Viking settlement dating back to 1000 AD, and the Blow Me Down Provincial Park, which offers excellent opportunities for hiking, kayaking, and fishing.
Exploring Western Newfoundland with a Scenic Driving Routes Map With so much to see and do in Western Newfoundland, it can be challenging to know where to start. That's where a scenic driving routes map comes in handy. The map lets you plan your journey, take detours to explore smaller towns and attractions, and experience the region's natural beauty at your own pace. Some of the best driving routes in Western Newfoundland include the Viking Trail, which takes you through Gros Morne National Park along the rugged coastline, and the Humber Valley, which offers stunning views of the Long Range Mountains and the Humber River.
Conclusion
If you're planning a trip to Western Newfoundland, a scenic driving routes map is essential to help you navigate the region and discover its hidden gems. With so much to see and do, planning your journey and exploring at your own pace will ensure you make the most of your time in this stunning part of Canada.