Canada's Northwest Territories are vast, covering over 1.1 million square kilometers of pristine wilderness. It has rugged terrain, breathtaking scenery, and a rich cultural heritage. From the Arctic coastline to the southern boreal forests, there's so much to explore in Canada. A large and detailed map of the Northwest Territories is essential for anyone planning a trip to the area. In this blog post, we'll look at what such maps are used for and some interesting facts about this particular map.
Large Detailed Map of Northwest Territories with Cities and Towns
This map shows cities, towns, rivers, lakes, Trans-Canada highways, major highways, secondary roads, winter roads, railways, and national parks in Northwest Territories.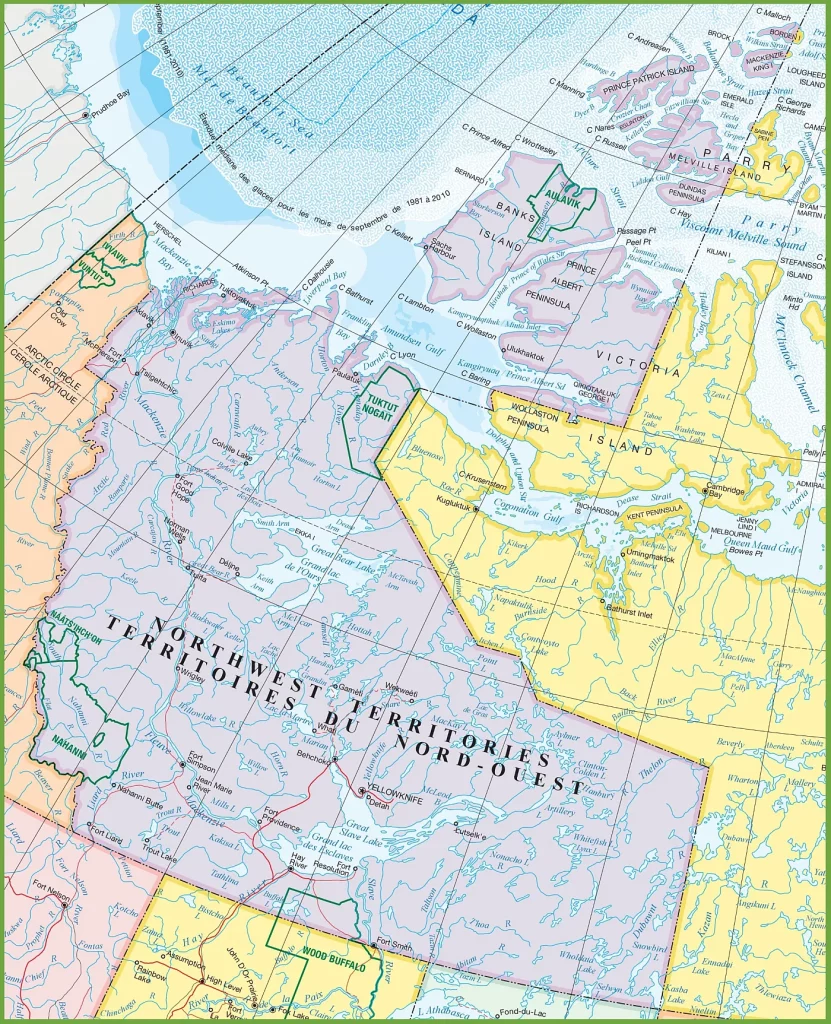 Please visit this page for other map resources or Google Maps.
What Such Maps are Used for
Large detailed maps of the Northwest Territories are handy for anyone traveling there. They show all the major cities and towns and the various transportation routes, including highways, secondary roads, and railways. These maps also highlight the various bodies of water, such as rivers and lakes, essential for anyone traveling by boat or canoe. For those interested in outdoor recreation, such as hiking, camping, or fishing, these maps also show the location of the various national parks and wilderness areas.
Did you Know about Canada and the Northwest Territories?
The Northwest Territories is one of Canada's three territories and was created in 1870 when the Hudson's Bay Company transferred its vast holdings to the government of Canada.
Yellowknife, the capital of the Northwest Territories, is located on the north shore of Great Slave Lake, the deepest lake in North America, with a maximum depth of 614 meters.
The Mackenzie River, which runs through the Northwest Territories, is the longest in Canada, stretching over 4,200 kilometers from the Rocky Mountains to the Arctic Ocean.
The Northwest Territories is home to several national parks, including Nahanni National Park Reserve, a UNESCO World Heritage Site, and Wood Buffalo National Park, the largest national park in Canada and one of the largest in the world.
Conclusion
Exploring the Northwest Territories is an adventure of a lifetime, and having a detailed map of the area is essential for any traveler. The map on canadamaps.com is an excellent resource for anyone planning a trip to the region. It shows all the major cities and towns, transportation routes, and national parks, making planning an itinerary easy and getting the most out of your visit to this stunning part of Canada.