Welcome to the download page of Canada Maps, where Yukon Relief Map is free to download in both printable JPG and PDF file formats. Whether you're planning a road trip, researching a project, or want to understand better the political or geographical Canada, our collection of maps has got you covered.
About the Yukon Relief Map
This detailed relief map of Yukon, a territory located in northwest Canada, provides a visual representation of the region's diverse topography. Using hypsometric tints – a technique that blends a range of colors to indicate elevation changes – this map shows the varying elevations of different areas of Yukon. Spot elevations provide specific points of reference for key locations, making it easier for users to navigate the map.
In addition to using hypsometric tints and spot elevations, the map also shows significant lakes that are prominent in the region. This feature allows for more straightforward navigation as it helps identify significant bodies of water in the area. Using a map legend provides users with important information on the area's elevation ranges, helping them understand the different elevations and terrain types they may encounter during their travels.
Notably, the elevation data used in this map was derived from the highly acclaimed map Canada-Relief, Fifth Edition, National Atlas of Canada, published in 1986. This ensures that the information provided in this map is based on the most accurate and up-to-date data available at the time of its creation, providing a reliable and comprehensive source of information for geographers, hikers, and other users who require detailed information on Yukon's topography.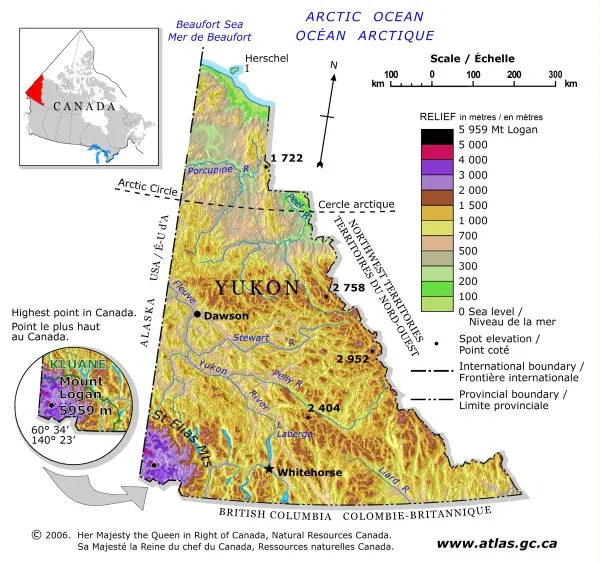 The image is a relief map of Yukon, a territory in northwestern Canada. This map is specifically designed to depict the topographical features of Yukon, emphasizing its physical landscape. The map's dimensions are 600 pixels in width and 562 pixels in height, and it is presented in the WebP format.
As a relief map, it highlights the elevations and depressions in the Yukon terrain. This includes the territory's rugged mountain ranges, river valleys, and vast wilderness areas. Relief maps are particularly useful for visualizing the three-dimensional aspect of a landscape, which is important for geographical studies, environmental research, and planning in such a unique and challenging environment.
The resolution of the image is adequate to convey Yukon's general topography. This makes it a valuable resource for anyone interested in the physical geography of this northern Canadian territory, for educational purposes, or for planning activities that are dependent on the terrain.
Download link for Relief map Yukon – Bilingual printable JPG.
Download link for Relief map Yukon – Bilingual printable PDF.
Looking for more similar maps to Yukon Relief for printing? Check them out here.
Downloading these maps is easy and hassle-free. Select the map you want, choose the file format that works best for you, and hit the download button. These Canada-related maps are designed to be printer-friendly, so you can print them out at home or take them to a local print shop.
Use cases for the Yukon Relief Map
The relief map of Yukon serves a variety of use cases, including:
Geography and Geology: The map is an essential resource for researchers, geographers, and geologists interested in studying the physical characteristics and topography of the region. It provides detailed information on the area's landscape's varying elevations, landforms, and water features.
Outdoor Recreation: The map is valuable for hikers, campers, and other outdoor enthusiasts looking to explore Yukon's wilderness. It provides detailed information on the terrain, including the elevation ranges, that can help hikers plan their routes and navigate the region safely.
Tourism: The map can also be helpful for tourists who are planning a visit to the area. It overviews the region's topography, highlighting the key natural features and attractions visitors may want to explore.
Environmental Studies: The map can be a valuable tool for environmental studies, as it provides information on the location and extent of different natural features, such as lakes, rivers, and mountains, which are essential for understanding the region's ecology.
Planning and Development: The map can also be helpful for planners and developers interested in using the region's natural resources for economic development. The map can help identify areas suitable for different land use types, such as forestry, mining, and agriculture while providing information on potential environmental impacts.
Overall, the relief map of Yukon is a valuable tool for anyone who needs to understand the physical characteristics and topography of the region, including researchers, hikers, tourists, environmental scientists, and planners.
We are committed to providing high-quality, informative maps accessible to everyone. These Canada maps are available for personal or educational purposes, and we encourage you to share them with your friends and colleagues.
Driving Directions, Google Maps, and more
To use these services, please visit the Driving Directions, Google Maps, or OpenStreetMap pages.
Provinces and territories
If you are looking for detailed information on the Canadian provinces and territories, consult the following pages: Alberta, British Columbia, Manitoba, New Brunswick, Newfoundland and Labrador, Northwest Territories, Nova Scotia, Nunavut, Ontario, Prince Edward Island, Quebec, Saskatchewan, and the Yukon.
The map of Yukon Relief above contains information licensed under the Open Government Licence – Canada.
Thank you for visiting Canada Maps! We hope our maps will help you explore and discover the beauty of Canada.