Introduction
Are you planning a trip to Canada but unsure when is the best time to go? Well, worry no more! With its diverse geography and varying weather patterns, Canada offers something for everyone at any time of the year. Whether skiing in winter or hiking in summer, exploring colorful foliage in fall, or witnessing blooming flowers in spring, there's never a shortage of things to do and see. So let's dive into each season and discover the optimal time to experience this beautiful country on your next adventure!
Seasons in Canada
Canada has four distinct seasons: spring, summer, fall, and winter. Each season offers unique experiences and attractions, making it an excellent destination year-round.
In the summer, visitors can enjoy outdoor activities such as hiking, camping, fishing, and kayaking in national parks such as Banff National Park and Jasper National Park. The weather is warm, and the days are long, making it a great time to explore the country.
In the Fall, Canada is famous for its stunning autumn foliage, which peaks in late September to mid-October. Visitors can take scenic drives or hikes to see the colorful leaves or attend fall festivals, such as the Toronto International Film Festival or the Calgary Stampede.
In the winter, Canada is a winter wonderland, with opportunities for skiing, snowboarding, and ice skating. Visitors can experience the magic of the Northern Lights or attend winter festivals, such as Quebec City's Winter Carnival.
Spring is a quieter time of year to visit Canada, but it offers unique attractions, such as the blooming of cherry blossoms in Vancouver or the maple syrup harvest in Quebec.
Summer
Summer in Canada is the season of festivals, outdoor activities, and breathtaking natural scenery. With warm temperatures and long days, it's a great time to explore this vast country from coast to coast.

One of the most popular summer destinations in Canada is Toronto. This bustling city offers a variety of events and attractions, including the Toronto International Film Festival and Caribana, North America's largest street festival celebrating Caribbean culture.

Banff National Park in Alberta is a must-visit destination for outdoor adventures. Hiking trails wind through stunning mountain landscapes dotted with glacier-fed lakes, while wildlife sightings are common.

Another summer hotspot is Vancouver Island in British Columbia. Here you can relax on sandy beaches or go whale watching off the rugged coastline. And remember to sample some delicious seafood while you're there!

Summer is an ideal time to experience all Canada offers – just be sure to pack sunscreen!
Winter
Winter in Canada is unlike any other season. The country transforms into a winter wonderland with snow covering the landscape and creating picture-perfect scenes. While temperatures can drop to extreme lows, it's also the perfect time for skiing, snowboarding, ice skating, and other winter sports.

The ideal time to visit Canada during winter is between December and February when most ski resorts are open and outdoor activities are at their peak. Many festive events are happening throughout this period, such as Winterlude in Ottawa or Banff Snow Days.

If you're heading to Quebec City during winter, you must experience the magical Ice Hotel that takes about 50 workers nearly six weeks to build annually. Alternatively, head to Jasper National Park, where you can soak in hot springs surrounded by snowy peaks.

Pack warm clothes, including insulated jackets, gloves, hats, and boots, because temperatures can easily reach below zero degrees Celsius. Trust us; staying cozy will make your trip much more enjoyable!
Fall
Fall in Canada is a breathtaking season with vibrant colors and cooler temperatures. With the leaves changing to stunning shades of red, orange, and yellow, it's an ideal time to explore the country's natural beauty. There are plenty of activities to do during this season.

One popular activity is hiking through the mountains or forests, where you can witness the fall foliage up close. Another activity is visiting pumpkin patches or apple orchards with your family and friends. You could also attend harvest festivals held in various cities across Canada.

For those who love food, fall brings seasonal produce like apples, pumpkins, squash, and cranberries- all great for baking delicious pies or making warm soups.

Moreover, Fall weather conditions are comfortable for outdoor activities such as camping trips while enjoying scenic views of nature's colorful displays.

In conclusion, the fall creates a peaceful ambiance throughout Canada. It is a perfect time to visit whether you want a quiet retreat into nature or to enjoy outdoor sports before winter sets in.
Spring
Spring in Canada is a beautiful time of year. As the snow melts away, the trees and flowers bloom, and the weather begins to warm up. It's a great time to explore all this amazing country offers.

One of the best things about spring in Canada is the abundance of outdoor activities. You can go hiking or biking on one of the many scenic trails, take a trip to see Niagara Falls, or visit one of Canada's stunning national parks.

Spring is also a great time for foodies visiting Canada. Many regions have unique culinary specialties that are only available during this season. There's something for everyone, from maple syrup festivals in Quebec to fish fries on Prince Edward Island.

If you're looking for some cultural experiences, springtime events like Toronto's Canadian Music Week and Montreal's Festival TransAmériques offer plenty of opportunities for music, art, and theater lovers alike.

Spring is an ideal season to plan your travel itinerary around if you want more moderate temperatures and appreciate nature coming back from winter slumber while indulging in local delicacies or seeking out artistic performances across various cities throughout Canada.
Average temperatures and snowfall in Canada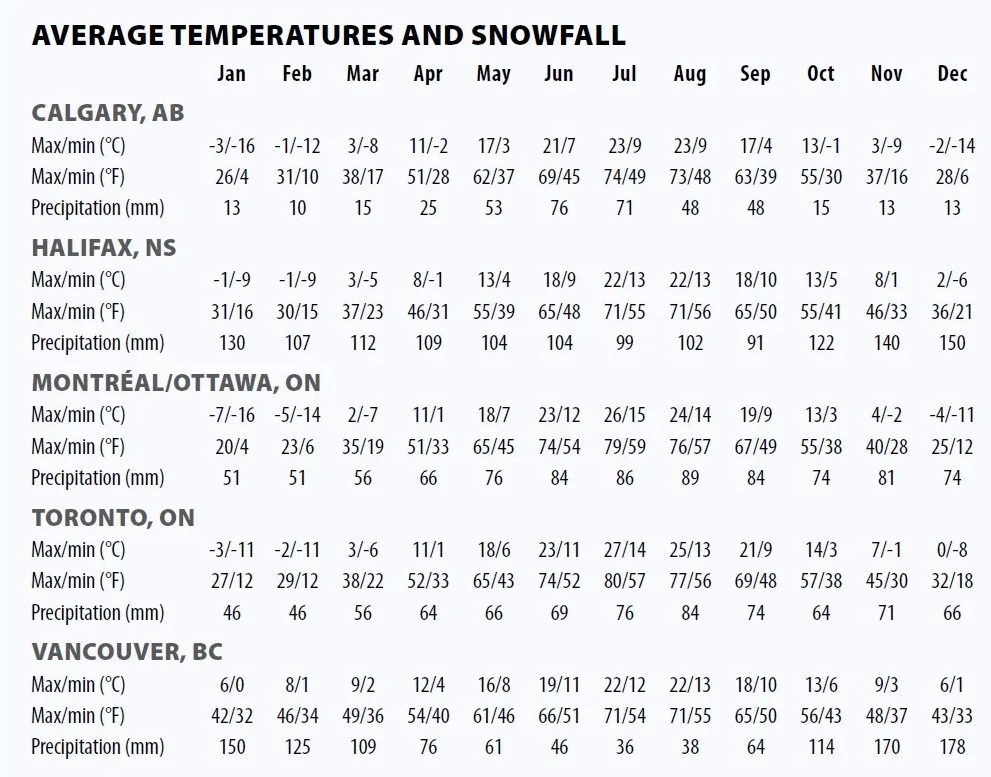 Peak Tourist Seasons
Canada's peak tourist season is during the summer months of June to August. The warm weather and long days make it an ideal time for outdoor activities, but it also means that popular destinations can be crowded, and accommodations can be more expensive.
Another peak season in Canada is during the winter months of December to February. This is due to the country's reputation as a winter wonderland and the popularity of winter sports.
If you want to avoid the crowds and save some money, consider visiting Canada during the spring or fall shoulder seasons. These times offer pleasant weather, fewer tourists, and lower prices.
Regional Considerations
When planning your trip to Canada, it's essential to consider the region you will be visiting. The country is vast, and the weather can vary greatly depending on where you are.
For example, the west coast of Canada experiences mild, wet winters and dry summers, while the east coast experiences harsh winters and hot, humid summers.
If you plan to visit the Canadian Rockies, the best time to go is during the summer when the weather is warm and dry. However, winter is the best time to visit if you plan to ski or snowboard.
Conclusion
Canada boasts a highly diverse climate, but as a rule of thumb, coastal regions typically experience milder winters and cooler summers compared to the interior. July and August generally yield warm weather across the country, including in the far north, causing these months to be the most bustling for tourism. September also tends to be warm (and busy) in the south, and it's worth noting that in the far north, summer days have extended hours of sunshine. In Newfoundland, the Maritime Provinces, and the north, tourist facilities may shut down from October until May. Still, the lengthy autumn period can be an ideal opportunity to visit Ontario and Québec, where temperatures are temperate and crowds are minimal. Sub-zero temperatures are commonplace from November until March virtually everywhere except British Columbia's West Coast.
Nevertheless, winter days in many locations are sunny and dry, and all major Canadian cities are equipped with covered walkways and indoor malls to provide shelter from harsh weather conditions. The southwestern parts of British Columbia typically see more moderate temperatures and less extreme fluctuations than other regions in Canada. However, much of the province is hit with Pacific depressions, making it one of the wettest regions in the country, with late spring through early autumn offering the best chance of avoiding precipitation.
When you travel to this diverse country, pack accordingly for the weather conditions in your desired region. With so much natural beauty waiting to be explored, a trip to Canada will surely leave lasting memories for years to come!