Prince Edward Island is a small province located in eastern Canada. It is known for its red sand beaches, beautiful landscapes, and delicious seafood. Tourists flock to the province every year to enjoy the natural beauty and charm of the island. If you are planning a trip to Prince Edward Island, then you need a comprehensive tourist map to help you navigate the island.
Prince Edward Island Tourist Map
This map shows cities, towns, rivers, lakes, highways, major roads, secondary roads, confederation trail, north cape coastal drive, blu heron scenic drive, points east coastal drive, scenic heritage roads, kilometer distance, islands welcome centers, beaches, campgrounds, accommodations, heritage sites, museums, parks, washrooms, lighthouses, scenic views and theatres in Prince Edward Island.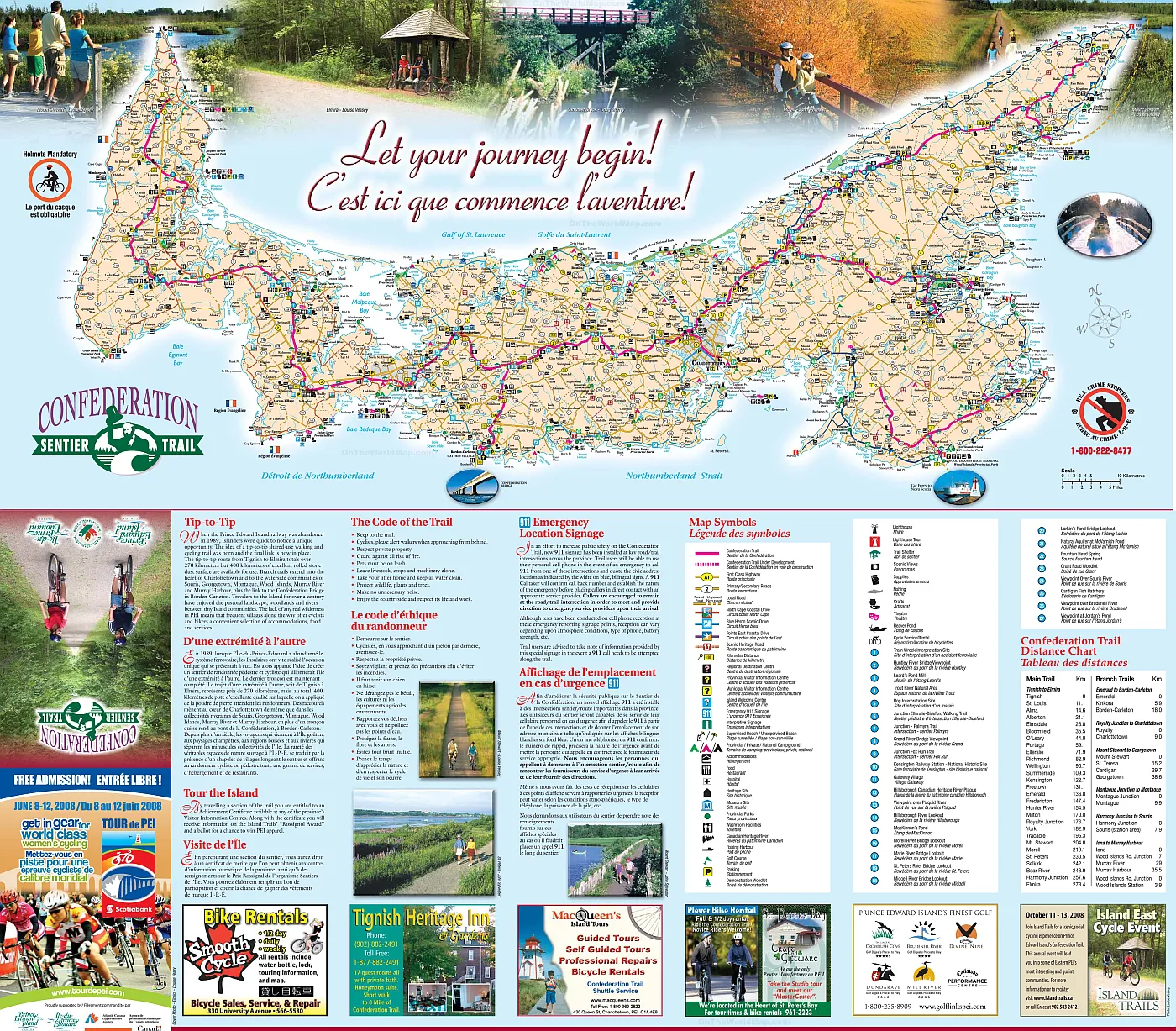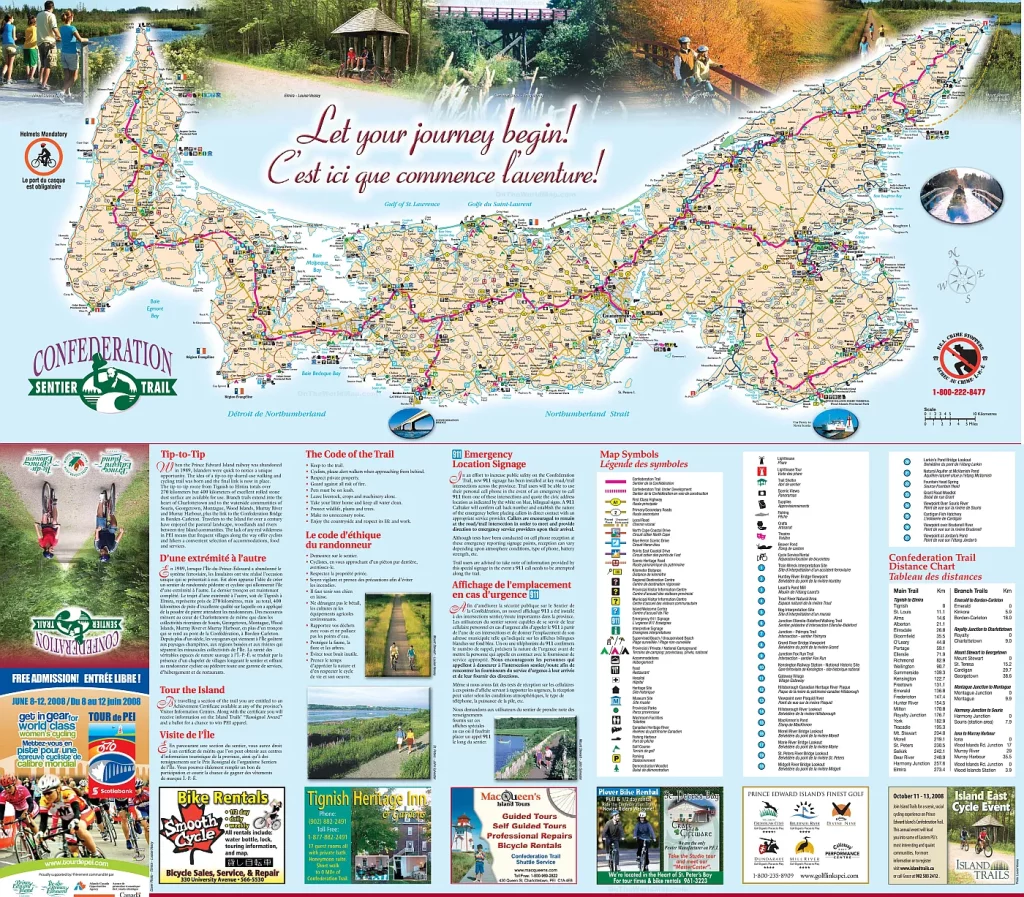 Please visit this page for other map resources or Google Maps.
Prince Edward Island is a stunning destination for nature enthusiasts and adventure-seekers alike. The pastoral landscape, woodlands, and rivers between tiny Island communities have attracted travelers for over a century. However, when the Prince Edward Island railway was abandoned in 1989, Islanders quickly noticed a unique opportunity to create a one-of-a-kind experience for visitors. The idea of a tip-to-tip shared-use walking and cycling trail was born, and the final link is now in place.
The Tip-to-Tip Trail
The tip-to-tip route from Tignish to Elmira totals over 270 kilometers, but 400 kilometers of excellent rolled stone dust surface are available for use. The trail provides a breathtaking experience that allows visitors to explore the Island's beauty up close. Travelers can take in Prince Edward Island's stunning coastline views while walking, running, or cycling along the trail.
Branch Trails
Branch trails extend into the heart of Charlottetown and to the coastal communities of Souris, Georgetown, Montague, Wood Islands, Murray River, and Murray Harbour. These communities offer visitors a unique experience to discover the local culture, delicious cuisine, and charming accommodations. The lack of any natural wilderness in PEI means that frequent villages along the way offer cyclists and hikers a convenient selection of accommodations, food, and services.
What is a tourist map?
A tourist map is a specialized map designed to provide information to tourists about an area. It typically includes detailed information about landmarks, attractions, accommodation options, and transportation routes. A good tourist map helps visitors navigate an area and plan their itinerary.
Did you know about Prince Edward Island?
Prince Edward Island is the smallest province in Canada, both in terms of area and population. It is also known as the "Cradle of Confederation" because the Charlottetown Conference, which led to the creation of Canada, was held here in 1864. The province is home to the famous Anne of Green Gables House, which inspired the classic children's book series.
Features of the tourist map
The Prince Edward Island tourist map is a comprehensive map that includes detailed information about the island's highways, primary and secondary roads, and scenic routes such as the Confederation Trail and the North Cape Coastal Drive. The map also provides information about various landmarks and attractions, including beaches, parks, museums, lighthouses, and theatres. Additionally, it includes information about accommodations, campgrounds, and welcome centers, making it a valuable resource for tourists planning a trip to the island.
Conclusion
Prince Edward Island is a destination that has something for everyone. The Tip-to-Tip Trail is a must-see attraction that will leave visitors breathless. With this tourist map, you can discover the best of Prince Edward Island and explore the Island's beauty up close. If you plan a trip to Prince Edward Island, get a copy of the tourist map. It will help you navigate the island, plan your itinerary, and make the most of your trip. With its comprehensive information about the island's attractions, landmarks, and accommodation options, the tourist map is a must-have for anyone visiting Prince Edward Island.